Intel's Atom-Based Medfield CPU Offers Promising Benchmarks
Earlier this month, Intel had begun showing of prototype Android smartphones and tablets running on its Medfield processor, an Atom-based CPU, as the company hopes to take on ARM-based chipsets in the mobile space. Now, we're hearing that the Medfield chip can hold its ground against dual-core ARM-based chips like NVIDIA's Tegra 2 and Qualcomm's Snapdragon CPU.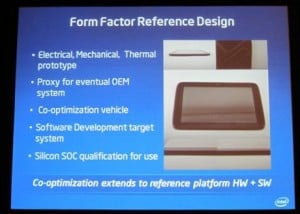 These early benchmarkings were done on a 10.1-inch Android tablet with a Medfield CPU clocked at 1.6 GHz and 1 GB RAM. Resolution on the tablet comes in at 1280 X 800 pixels.
Utilizing the Caffeinemark 3 benchmark utility, the 1.6 GHz Intel chipset scored 10,500. That's favorable considering that the Tegra 2 fared 7,500 and the Qualcomm Snapdragon MSM8260 nabbed a score of 8,000.The Medfield chipset even edged out the Samsung Exynos chipset, which had a score of 8,500. It's still unclear how Medfield will stack up against quad-core chipsets, considering that the Tegra 3-powered Transformer Prime units are coming into play.
In terms of battery consumption, the Medfield chipset utilized 2.6W in idle and consumed 3.6W while playing HD videos. Target goal is 2W in idle and 2.6W for HD video playback.
We're going to have to wait and see how Medfield devices will fare in 2012.
Via: Netbook News