Intel's Silvermont Atom Processors Promise Double CPU, GPU Performance
Intel has been aggressively updating its mobile Atom architecture for processors as it hopes to shift the landscape of mobile devices from ARM Holdings' reference chip designs to its own x86 platform. With the new Silvermont platform for its Atom processor series, Intel is promising notebooks, tablets, and smartphones to be fast, efficient, and power-friendly. These chips, with their low price points relative to the flagship Core i-Series processors, and performance boost, should remedy any issues of lags that prior Atom processors had suffered from and made inexpensive netbooks in the past a clunky and slow experience.
This will be significant for consumers who may want a relatively inexpensive notebook or tablet running Windows, but may not want to pay $1,000 or more for an Intel Core i-Series slate or notebook.
The company is saying that the new Silvermont platform will deliver up to two times the processing power and graphics power of prior generations of Atom processor. This is a huge leap as Intel had typically relied on PowerVR's graphic engine to deliver GPU performance, but with increased graphics prowess we should see more capable devices with lower price tags.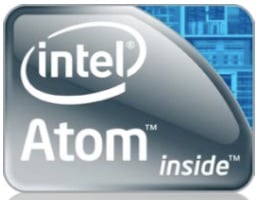 In fact, performance of the new Atom Silvermont chips are said to be comparable to a 2010 MacBook Air, which was based on an energy efficient and low voltage Core 2 Duo processor.
And according to reporting from The Verge, Atom's Silvermont platform should deliver up to "three times the performance, or the same performance at five times lower power than the current gen Atom core."
In the past, Intel had demonstrated that it's dual-core Atom processors best quad-core ARM processors in performance, so we should see the same power efficient but powerful performance through quad-core Atom processors like the new Bay Trail chips that will begin appearing in notebooks and tablets this year.
"If you have an efficient solution, you don't need to play the core count game," says Intel's Belli Kuttanana.
Silvermont's performance boost is achieved thanks to a smaller 22nm architecture design, which will further be shrunken to a 14nm architecture with Airmont coming next year in 2014.
The best part about Bay Trail is that not only will it pack serious performance, but it will enable cheap devices. The company had hinted that this technology could empower $200 Windows 8 tablets, for example.

As an Amazon Associate I earn from qualifying purchases.