Earlier this week, Apple rolled out yet another update for its iOS 6.1 software, this time, in the form of iOS 6.1.2. The update, which is the second of two that Apple has rolled out since releasing iOS 6.1 back in February, is aimed at wiping out an Exchange issue that had been wiping out the battery life of iPhones and iPads since the arrival of iOS 6.1. As we've mentioned, and as iDevice owners know, these smaller updates can often fix other unspecified issues or bring other problems along with them. That said, here are our impressions of the iOS 6.1.2 update for the iPad 3 in particular.
Read: iOS 6.1.2 on iPhone 5 Review: Impressions and Performance.
About three weeks ago, Apple released the long-awaited iOS 6.1 update for iPhone, iPad and iPod touch owners. The update brought quite a bit new to the table as it represented the first major update to the iOS 6 operating system since its release all the way back in September of last year.
Instead of just bug fixes, the iOS 6.1 update actually brought a number of new features to the table for owners of Apple's devices running iOS 6 or above. Those include new movie buying functionality for Siri, a larger Report a Problem button in Apple Maps and my personal favorite, the new lock screen music controls that were a big improvement from those found in iOS 6, particularly on the iPhone.
Of course, for all the good that iOS 6.1 brought with it, there was also quite a bit of bad as well, so bad in fact, that Apple has had to issue two iOS 6.1 updates since then.
The first was iOS 6.1.1, an update strictly for the iPhone 4S, and one that tackled a 3G connectivity issue that iPhone 4S owners were struggling under after the release of iOS 6.1.
The second was released earlier this week in the form of iOS 6.1.2, an extremely small update that arrived for owners of all iPhone, iPad and iPod touch models running iOS 6. This update was issued, according to Apple, to take care of some battery drain issues that arose due to an Exchange bug that was housed inside its calendar.
Exchange, a common email service used by both small and large businesses had an issue in its calendar wherein network activity would increase and the iPhone would start losing battery life quickly. Again, in one particular case, we saw iOS 6.1 battery life on the iPhone 4S drop to 55% with just a few hours of actual usage.
Apple promised a fix shortly after the bug came to the surface and after companies advised their iPhone users to refrain from updating until the bug was worked out.
So, earlier this week, iOS 6.1.2 finally rolled out the very necessary update to owners of the iPad. The update is available now through iTunes or through an Over-the-Air update.
That said, here now are my impressions about the iOS 6.1.2 update for the iPad.
Easy Installation
As I've stated in my reviews several times, many times I've run into issues installing iOS updates. Typically, they happen during major upgrades, say iOS 5 or iOS 6, but I've also encountered some problems with incremental updates as well whether its an update freezing or an update taking longer than it should.
iOS 6.1.2 for iPad was an extremely flawless installation. I decided to install the software Over-the-Air as I typically do, and while it was a bit larger than the iPhone 5's iOS 6.1.2 update, checking in at around 40MB, it still went fairly swiftly.
From start to finish the process took all of seven so minutes. After that was through, my iPad installed the update automatically and started up with iOS 6.1.2 on board.
Of course, iPad owners looking for something new from iOS 6.1.2 aren't going to get it. The software will look exactly the same as iOS 6.1 did on the iPad and there are no new features.
New iOS 6.1 Features Still Working Well
Speaking of the new features, all of them are still working well in iOS 6.1.2. While the ability to purchase movie tickets with Siri may have been the largest addition to iOS 6 in iOS 6.1, I am still finding the new lock screen to be the best overall addition.
When iOS 6.1 first arrived, I wasn't in love with the iPad's new lock screen controls. At least not as much as I was with the iPhone 5's. Due to the larger display, the controls are a bit different than the iPhone's as they aren't as spread out on screen.
Still, they've grown on me and while I wish there was even more space between all of the buttons, they are certainly an improvement over the previous version of the lock screen music controls, which I encountered on an older iPad earlier this week.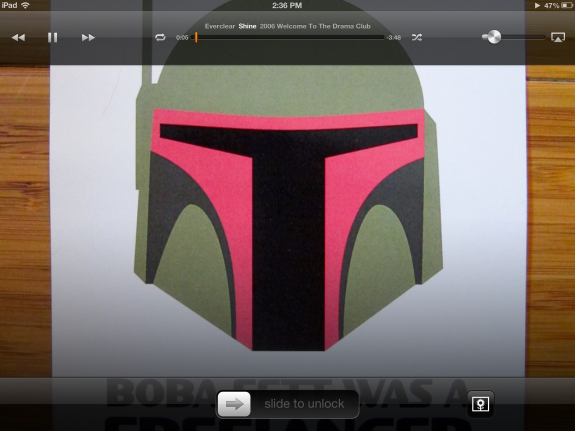 The other feature, the new Report a Problem button in Apple Maps, is still there, though I will say that I haven't used it yet as I haven't used the Maps app on my iPad since installing iOS 6.1.
Wi-Fi is Snappy
I own a Wi-Fi only version of the iPad third-generation which means that I rely solely on Wi-Fi connectivity when I need to get on the web or check my email from my tablet. So, if and when an iOS update bungles Wi-Fi, I am in big trouble.
Fortunately, I have come out of iOS relatively unscathed. Prior to iOS 6.1, I had indeed heard from a few iPad owners who were complaining about Wi-Fi connectivity and for the most part, those have settled down.
iOS 6.1.2 seems to keep the same snappy Wi-Fi connection that I have been accustomed to. And so far, my connection to public Wi-Fi has been stable as well.
As I've said before, I suggest checking in with this thread if you are indeed experiencing issues after iOS 6.1.
Battery Life Remains Solid
After installing iOS 6.1, I saw iPad owners complaining about battery life issues. It now appears that those issues, at least for most people, were likely caused by the Exchange bug that was plaguing Apple's mobile device owners.
As someone who doesn't own a cellular enabled iPad or one that has an active Exchange account on board, I can't confirm whether or not the issues have been hashed out by iOS 6.1.2. From what I have heard though, the issue should be taken care and battery life should have returned to normal. I suggest taking a look at our how to fix iOS 6.1 battery life in ten seconds if you're still experiencing issues.
What I can confirm is that after installing iOS 6.1.2, my battery life is solid on my Wi-Fi only iPad model. It's as good as it was when I got iOS 6 and as good as it was after the iOS 6.1 update rolled out.
So those that are accustomed to the iPad's fantastic battery life can expect more of the same from this update.
Security Issue Still an Issue
One issue that still is an issue in iOS 6.1.2 is the lock screen security bug that allows users to bypass the lock screen by using the Emergency Call button.
The issue was not taken care of in iOS 6.1.2, likely because Apple needed to rush out a fix for the Exchange battery drain bug, but it does look like relief will be coming soon in the form of iOS 6.1.3.
Today, iOS 6.1.3 Beta 2 rolled out and sure enough, Apple listed a fix for the security flaw. The company has not yet said when the update might roll out though given the stature of the bug, we imagine that it will likely be released in the near future.
No Other Major Issues
So far, I haven't discovered any other major bugs within iOS 6.1.2. All of the features seem to be working properly on my iPad including all of the applications I use on a daily basis.
Often, these updates find a way to break the harmony with some apps, I saw it with iOS 6.1 in Chrome on my iPhone 5, but so far, iOS 6.1.2 has performed admirably and I haven't noticed any significant issues.
Should You Install to iOS 6.1.2?
At this point, I can't find any reason for iPad owners not to install the iOS 6.1.2 update, at least those that are already on iOS 6.1. Battery life is solid, the Exchange issue seems to have been taken care of, Wi-Fi connectivity is strong and I haven't been able to dig up any significant bugs.
In addition, the Evasi0n jailbreak currently supports iOS 6.1.2.
We recommend that those who may still be lingering on iOS 5 wait for iOS 6.1.3 to patch the security bug. Other than that, iOS 6.1.2 is perfectly safe to install through iTunes or Over-the-Air through the iPads settings.