iOS 7.1 Release Date Inches Closer
Apple has released its latest iOS 7.1 beta, iOS 7.1 beta 2, to developers today which means that the public iOS 7.1 release date for iPhone, iPad and iPod touch has inched closer to reality.
In November, Apple released the first version of iOS 7.1 in the form of iOS 7.1 beta 1. The update rolled out to developers shortly after Apple pushed the iOS 7.0.4 update live for the iPhone, iPad and iPod touch. The iOS 7.1 beta 1 included a number of bug fixes, a sign that the iOS 7.1 update is going to be geared towards fixing some of the issues that have been inside of iOS 7 since its release in September.
Today, Apple replaced iOS 7.1 beta 1 with a new iOS 7.1 beta 2, an update that is around 120MB in size and is said to contain bug fixes and improvements to Apple's iOS 7 operating system. More specifically, the update is said to improve the speed of animations, add a more visible section for TouchID and Passcode settings, add a new animation to Control Center. It also appears to have added a new list function to the calendar in iOS 7.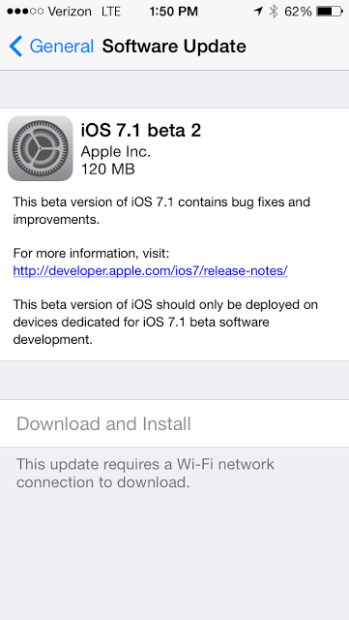 The new iOS 7.1 beta 2 is available to all developers running iPhones, iPads and iPod touches with iOS 7 on board. Those who aren't keen on downloading and installing the software have until January 13th to install the second version of iOS 7.1 beta as that is when the first beta will expire.
The arrival of iOS 7.1 beta 2 means that Apple and its developers have inched closer to the iOS 7.1 Gold Master and the public release of the first major update to the iOS 7.1 operating system. Apple's iOS 7.x updates typically deliver fixes in addition to a few new features, features that help to bridge the gap between major update and major update. In this case, that means iOS 7 and iOS 8.
Those dealing with iOS 7.0.4 issues and in particular, those looking to jailbreak their iPhone, iPad or iPod touch are extremely interested in the iOS 7.1 release date. An iOS 7 jailbreak is expected to arrive after the release of iOS 7.1.
Apple does not announce release dates for its incremental iOS updates and there is no pattern to beta releases. So it could be days, weeks or months before the iOS 7.1 release date arrives. However, the arrival of a new beta means that iPhone, iPad and iPod touch users are now a step closer.

As an Amazon Associate I earn from qualifying purchases.