iOS 8.1.2 on iPhone 6: Impressions & Performance
Apple's newest iOS 8 update isn't iOS 8.2. Instead, it's an iOS 8.1.2 update that's aimed at some of the iOS 8 problems that iPhone and iPad users have faced in the weeks after the operating system's release. With the iOS 8.1.2 release here, we take a look at how the iOS 8.1.2 update is performing on iPhone 6. This is our early iPhone 6 iOS 8.1.2 review.
In mid-September, Apple released an iOS 8.0 update to replace last year's massive iOS 7 upgrade. iOS 8 did not bring sweeping changes to the iOS operating system for iPhone and iPad. Instead, it built on what the iOS 7 update left behind delivering some brand new features of its own including massive changes to the camera app and the Messages app.
The iOS 8 update also delivered a number of iOS 8 problems, problems that Apple's been trying to fix for several months now. First, it rolled out an iOS 8.0.1 update for the iPhone and iPad. A day later, the company pushed out iOS 8.0.2 to fix iOS 8.0.1 problems. A few weeks later, the company shifted to the iOS 8.1 update. A few weeks after that, iPhone and iPad users moved to iOS 8.1.1.
Today, Apple replaced the iOS 8.1.1 update with a new iOS 8.1.2 update. The iOS 8.1.2 update is small and delivers fixes including one for a ringtone issue on the iTunes Store. As many of you know, small updates like iOS 8.1.2 have the potential to have a huge impact on performance. iOS 8.0.1, for example, killed Touch ID and cellular data on the iPhone 6. And that's why we take a look at these updates. We want to provide you with feedback.
After some quick preparation, I installed Apple's brand new iOS 8.1.2 update in an effort to provide iPhone and iPad users with some initial impressions of Apple's new software. These impressions don't serve as a final review but they will help those of you who are straddling the fence about whether to install the company's latest iOS 8 upgrade.
Here are my early impressions of the iOS 8.1.2 update for iPhone 6.
iOS 8.1.2 Installation
I never anticipate major installation issues with minor iOS upgrades. They don't get the same kind of attention that major upgrades get and because they do not get that type of attention, Apple's servers don't get hammered with requests. iOS 8.1.2 is an extremely small update and unsurprisingly, I did not run into any issues installing the software on my iPhone 6.
The whole installation process, from start to finish, took about 10 minutes or so. The update for the iPhone 6 is about 25MB or so so it didn't require much download time. The installation process itself took only a few minutes to complete. I still recommend setting aside some time for the update to download and install, especially if you're installing over a slower Wi-Fi connection.
iOS 8.1.2 on iPhone 6 Performance
Today, I've spent a ton of time with iOS 8.1.2 on iPhone 6. Before getting into the early review and my impressions, I should note that mileage is going to vary from device to device, person to person. That is to say, I probably don't have the same apps installed and there's a chance that I use Google Chrome, LTE, or my home screen more than you do. So, consider this a general guide as you try to decide whether iOS 8.1.2 is worth installing on your new iPhone.
Apps
As I've noted in my ongoing review of iOS 8, third-party app developers have done an outstanding job post-iOS 8 release. Most of my apps have been outfitted with support for the iPhone 6's larger screen, support for iOS 8, and various bug fixes. These changes have helped make the transition from one iOS 8 update to another extremely smooth.
Thus far, apps are agreeable with iOS 8.1.2. I haven't run into any major or startling app issues after getting it on board and all of my key applications including Google Hangouts, Twitter, Instagram, Asana, Slack, and others are running well. I haven't even run into a single crash in Google Chrome, surprising given that it crashes fairly regularly.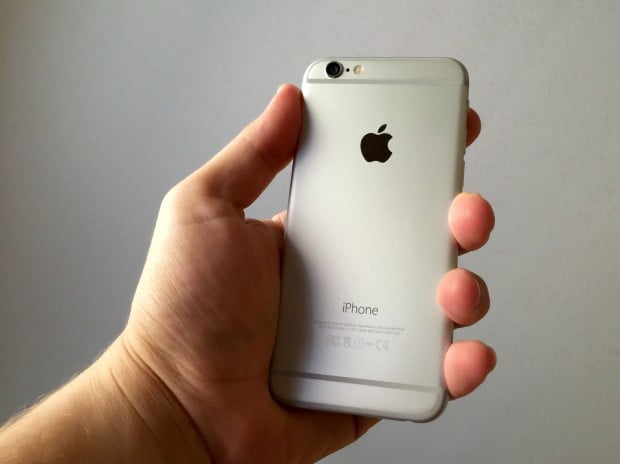 I've literally opened and used every single app on my iPhone 6. I have well over 50 and all of them, so far, are working fine. My hope is that this continues as the hours and days go on.
As I've noted before, there's a chance that performance will decline in the hours, days and weeks after the iOS 8.1.2 release. That said, I'm pretty confident in iOS 8.1.2 given how good my app experience has been thus far. If you are experiencing issues with iOS 8.1.2 or another iOS 8 update, you should consider installing the latest bug fix updates. They will almost certainly help.
iOS 8.1.2 Battery Life
Battery life on the iPhone 6 remains excellent with iOS 8.1.2 on board. I've only been using it for a few hours but even in that amount of time, I can usually diagnose serious issues affecting iOS software. So far, I've detected nothing wrong with iOS 8.1.2. My iPhone 6 isn't experiencing any abnormal battery drain, it's not charging slowly, and it's holding a solid charge.
Typically, battery drain issues reveal themselves right off the bat so I'm pretty confident that my battery life is going to remain solid moving forward. iOS 8.1.2 might prove me wrong but I'm optimistic.
iOS updates like iOS 8.1.2 aren't supposed to bring battery life problems to the iPhone. Typically, bad battery life is caused by third-party apps or by users themselves. I've outlined a number of strategies to get better battery life inside iOS 8 and the same advice applies to Apple's latest iOS 8.1.2 update. Have a look at those if you install iOS 8.1.2 and you start noticing issues.
Wi-Fi, Cellular Data & Bluetooth
I know that Wi-Fi, cellular data and Bluetooth have all be causing problems for iPhone 6 users. I've run into a few sporadic issues but nothing major. So while I can't speak to fixes for these issues, I can tell you that all three are performing well with iOS 8.1.2 on board the iPhone 6. Wi-Fi is strong and reliable, LTE connectivity on AT&T's network is still good, and I've been able to connect to an assortment of Bluetooth devices including speakers.
If you're having issues with these connections after getting the iOS 8.1.2 update on board, we advise you to take a look at these potential fixes. They might dislodge your issues. Just keep in mind, iOS fixes aren't guaranteed to work for everyone so while they might work for a friend or family member, they may not solve your problems.
Bugs & Issues
As I noted in my previous iOS 8 reviews, I was experiencing some frustrating iOS 8 problems up until the iOS 8.1.1 update's arrival. iOS 8.1.1, in my opinion, was Apple's most stable version of iOS 8 and so far, iOS 8.1.2 is retaining that stability. I haven't run into any noticeable bugs though, I must remind you, I've only used this software for a few hours.
It's worth noting that bugs typically don't jump up in the hours after an update's release. It can take days, sometimes weeks for iOS problems to show themselves.
For the moment though, the iOS 8.1.2 update appears to be very stable, as stable as Apple's iOS 8.1.1 update. If you're struggling on iOS 8.1.1 or below, and you're not yet sure about iOS 8.1.2, have a look at our fixes for common iPhone 6 problems. They might help.
Speed
The iPhone 6 is still fast with iOS 8.1.2 on board. This doesn't come as much of a surprise given that the iPhone 6 has been fast throughout my experience with iOS 8. iOS 8.0 included.
Transitions are fluid, animations are crisp and snappy, and I've yet to experience any sluggishness or abnormal slow down with the new iOS 8 update on board. Again, not surprising given the history and the hardware that's inside the iPhone 6.
Should You Install iOS 8.1.2?
If you are dealing with iOS 8.1.1 problems or iOS 8 problems that you can't seem to fix, it might be worth upgrading to the iOS 8.1.2 update right now. It delivers fixes and there's always a chance that it will fix issues that aren't listed on the change log. From what I can tell, iOS 8.1.2 is extremely stable on the iPhone 6.
If you're having a good experience on iOS 8.1.1 or below, my suggest is to wait a few days for the smoke to settle so that you can make sure the iOS 8.1.2 update is stable. It's not a big update but it has the potential to cause problems. I haven't run into any yet but that doesn't mean that I won't run into any in the hours and days ahead.

As an Amazon Associate I earn from qualifying purchases.