iOS 8.1.3 for iPhone 5s: Impressions & Performance 
All at once, owners of Apple's iPhone smartphones are about to get another lesson in updating to Apple's latest and greatest software. Today, Apple released iOS 8.1.3, a new version of the operating system that powers all of their mobile devices. That includes the iPhone, iPod and even the iPad. Mostly, the update takes care of some issues that surfaced for users since the last release. Still, that may have you wondering about performance and whether it's a good idea to download iOS 8.1.4 for iPhone 5s right now.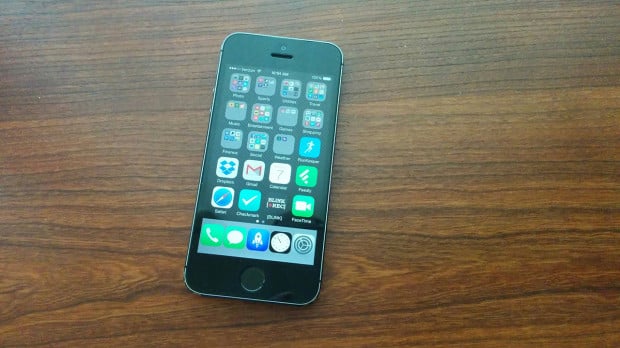 iOS 8.1.3 for iPhone 5s: Features
Mostly iOS 8.1.3 for iPhone 5s is a behind the scenes upgrade. In that sense it fixes thing that needed to be address and changes some thing that didn't necessarily paint Apple hardware and software in the best light.
Easily the biggest change in iOS 8.1.3 for iPhone 5s is Apple's new upgrade process itself. Past updates to iOS have required that users have large chunks of storage free. Apple required users to have that storage set aside in case they wanted to do an upgrade without a computer and iTunes. It achieved what Apple wanted to, every year millions of users have upgraded their iPhone without having to tether it to a PC or Mac.
Lately though, the amount of storage required to perform an upgrade on the iPhone 5s or any iPhone had gotten egregious. It was so bad that many found themselves having to delete crucial apps, their favorite photos and more just to get the latest upgrade. iOS 8.1.3 for iPhone 5s addresses this by lowering the amount of free space future updates to iOS will require. This will do wonders for improving the upgrade experience for most users. That's especially true since Apple insists on selling iPhone 6 devices with as little as 16GB of storage. Unfortunately, there's no way to tell if anything was broken by this change since we won't be able to experience it until the next time there's an iOS update.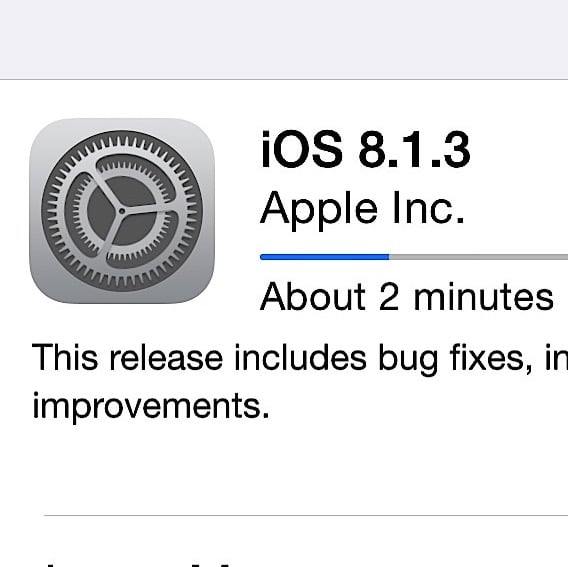 Also included in iOS 8.1.3 for iPhone 5s are two fixes that have frustrated users to no end. Sometimes users couldn't put in their Apple ID and Password to chat with others using FaceTime or the messaging app. That's fixed in this update and so is another bug that prevented users from seeing real-time search results in Spotlight. Spotlight is the iPhone's built-in search utilities for files, apps and websites. Without the feature working properly users were left to dig into the files they have on their iPhone, which can be a pain. I'd never experienced this issue on my iPhone 5s and I'm still not. That's definitely a good thing.
Finally, iOS 8.1.3 includes fixes for a multitasking issue with the iPad and some management features that workers in the education market will enjoy.
iOS 8.1.3 for iPhone 5s: Performance
Overall, I'd say iOS 8.1.3 for iPhone 5s performs well. The update only weighed in at about 260MB. It downloaded to the iPhone 5s quickly, and I was up and running again about 15 minutes after first telling it to install.
Every time there's a major iOS update, there are users who conclude that their device is somehow running faster than it was before the update. I don't doubt that there are performance fixes and changes tucked into this update for owners of older devices. I can't say iOS 8.1.3 for iPhone 5s includes a significant upgrade in battery life or performance.
Apps on the iPhone 5s launched as quickly as they did before. That was true whether it was a simply app like iShows or a heavier app with a lot of processing going on like the Microsoft Word app and a few games. When users report better performance after an iOS upgrade, they're usually talking about everyday tasks that are essential taking up less time. As such, I tried taking a picture, recording video and using Siri with no noticeable speed improvements. Pulling down the notification shade didn't seem any smoother. Installing apps didn't seem to go any faster.
If you're downloading iOS 8.1.3 for iPhone 5s hoping to see gains in performance, you're going to be disappointed. You shouldn't be though, Apple has always optimized iOS for their hardware. You're not going to notice any speed improvements because the iPhone 5s is already pretty stable and fast.
iOS 8.1.3 for iPhone 5s: Should You Upgrade
Whether you should upgrade to iOS 8.1.3 for iPhone 5s is up to you. There definitely aren't a lot of legitimate reasons not to. The upgrade doesn't break anything and it doesn't require you to sacrifice any important features. It's also free and easy to install. In short, it is everything we expect an iOS 8 upgrade to be.
If you've jailbroken your iPhone 5s you have to ask yourself if losing some of the features you care about is worth the upgrade. That's a decision on you can make. Just remember to choose wisely, it's unlikely we'll see a jailbroken version of iOS 8.1.3 for iPhone 5s very soon.