iOS 8.2 Update: 5 Things to Know Right Now
With a new iOS 8.2 beta out for developers and an iOS 8.1.3 update now rumored for arrival, we want to take an updated look at Apple's upcoming iOS 8.2 update for iPhone and iPad and tell you what you need to know about its features and its upcoming release date.
At the end of last year, Apple released two new iOS 8 updates. The first, iOS 8.1.2, the current version of iOS 8 and one that delivered a tiny bug fix to iPhone and iPad users. The other, a much larger update, an iOS 8.2 update for iPhone and iPad that is currently in the beta program for developers ahead of its release date.
With iOS 8 problems still annoying iPhone and iPad users, we continue to get questions about the iOS 8.2 update, what we know about it, and what we expect from Apple. The questions haven't been too surprising given what we know about iOS 8 and its performance. We, like many others, have stumbled into some annoying bugs during our time with iOS 8 and it's clear that Apple still has some kinks to work out.
iOS 8.2 is confirmed for arrival thanks to the beta but there are still some missing pieces. Apple doesn't like to spout off details ahead of release and that's left iPhone and iPad users searching for answers. In the beginning, we could only offer vague answers to those questions. Now, with an iOS 8.2 release inching closer, we're able to fill in a lot of those blanks.
Today, we want to take a look at how the iOS 8.2 update is progressing and what you, the common iPhone and iPad user, need to know about Apple's upcoming iOS 8 release.
iOS 8.1.3 Release Rumored
The first thing that you need to know is that iOS 8.2 may not be the next iOS 8 update in line for the iPhone and iPad. Credible rumors indicate that Apple is working on an iOS 8.1.3 release. And while those rumors suggested that a release could come this week, software release dates can change at the drop of a hat thanks to the testing process behind the scenes. iOS 8.1.3 may not be out yet but that doesn't mean that it won't ever see the light of day.
iOS 8.1.3, if and when it arrives, should be an incremental bug fix update aimed at shoring up the experience on iOS 8 powered iPhones and iPads. iOS 8.1.2 is a very stable update but there are still some bugs and exploits (Jailbreak) that Apple needs to patch up. The update would help to stabilize the iPhone and iPad ahead of the Apple Watch release.
We've outlined some pre-release tips that we think you should look at ahead of the iOS 8.1.3 update. These will help you prepare if and when Apple does release the software. The sources that pointed to its arrival are credible ones so we're still expecting an update to arrive at some point down the road. Maybe later this month.
iOS 8.2 Release Date Inching Closer
What we do know for a fact is that the iOS 8.2 release date is inching closer. Three days ago, Apple released another iOS 8.2 beta, iOS 8.2 beta 4. It's a sign that the company is making progress with the iOS 8.2 update. At this point, it's looking like its release will coincide with the Apple Watch release which we now have a bead on thanks to credible rumors.
Apple Watch release date rumors indicate that Apple is planning to start training employees in February ahead of an Apple Watch launch in March. It's not clear if the actual announcement date will take place in February or March but the release date looks like it's set for March. There could, of course, be delays that push it back but for the moment, it's looking like it's on track.
What this means is that iOS 8.2 could, and should, be released in and around the month of March. It's clearly tied in with the Apple Watch and we're expecting a release to arrive alongside Apple's new hardware.
You Will Probably Know Its Release Date Ahead of Time
It's still not clear if Apple will hold a media event for the Apple Watch though we're expecting one given how broad the announcement was on stage last year. The device was clearly still in development and the company will almost certainly want to trot out the finished product on stage ahead of its release date. Similar to what Apple does with its iOS software and iPhone in the fall.
These keynotes serve a great purpose and that purpose is to sell the consumer on a product. This is a new product category and one that's dominated by Android and other rivals so there's certainly incentive for Tim Cook and company to take the stage to better explain the company's vision and the benefits of buying one.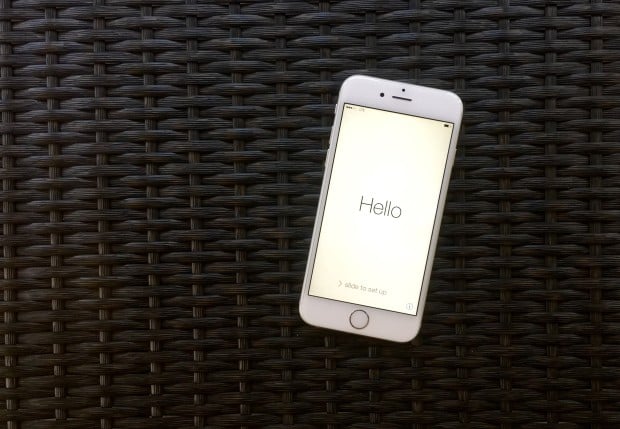 If Apple does take the stage, we would expect it to outline an iOS 8.2 release date then. Even if it sticks to a press release to announce the details, we'd expect the company to detail the iOS 8.2 release date. It has to.
iOS 8.2 will almost certainly deliver the support that iPhone users will need to pair their device with their Apple Watch. And that's a date that they'll want to know about. Apple doesn't shy away from concrete release dates for important iOS updates, just look at the iOS 8.1 update that delivered its new Apple Pay service.
New Apple Watch Details Emerge
iOS 8.2's latest beta revealed some interesting details about its tie-in to the new product. In iOS 8.2, the Bluetooth settings menu has an additional message for those using an Apple Watch, saying that these users should download the "Apple Watch app" in order to pair their Apple Watch with the iPhone. This message did not appear in previous betas so it's clear that Apple is ramping up this update in the weeks ahead of its product launch.
Previous iOS 8.2 betas have included the WatchKit software development kit allowing developers to create apps for the new wearable. It's clear that this is an update that will be geared toward Apple's new device but there are also some other features that iPhone and iPad users need to be aware of as we move closer to its release.
Not All About Apple Watch
iOS 8.2 will be much bigger than iOS 8.1.2 and perhaps, iOS 8.1.3 as well. Not only will it include support for the Apple Watch, it will also deliver new bug fixes and enhancements to the iPhone and iPad. There are a few listed in the developer change log that we expect to be listed in the public change log as well. We also wouldn't be surprised if Apple tacks on more fixes and enhancements by the time the update is out.
What this means is that this update should be an important one for those dealing with iOS 8 problems. It probably won't fix everything but it should help to stabilize the experience. Future betas should reveal more details in the coming weeks.