iOS 8.3 vs iOS 8.2: What's New in iOS 8.3
What's new in iOS 8.3? Apple delivers a massive update that adds new iPhone Emoji, fixing major problems that plagued users since iOS 8 last year and many other great changes. Here's a list of what's new and how the iOS 8.3 vs iOS 8.2 comparison stacks up.
Apple outlines nine different sections of iOS 8.3 update features and fixes, with nearly 70 new fixes and upgrades listed. Here are 12 key new iOS 8.3 features that users will want to use and build into their daily iPhone habits.
The iOS 8.3 update is available for the iPhone 4s, iPhone 5, iPhone 5c, iPhone 5s, iPhone 6, iPhone 6 Plus, iPad 2, iPad 3, iPad 4, iPad Air, iPad Air 2, iPad mini, iPad mini Retina, iPad mini 3 and the iPod touch 5th generation. This is essential for users who are experiencing any iOS 8 problems, 8.1 Problems or iOS 8.2 problems.
Apple delivers several visual changes to this update, so you'll notice a few changes in how things look with iOS 8.3. These are not dramatic changes, and in most cases will help you use the iPhone better.
Read: 10 Things to Do Before Installing the iOS 8.3 Update
Once you read about what's new you can use our iOS 8.3 installation guide to update your iPhone, iPad or iPod touch. If you don't like the update you can downgrade to iOS 8.2 for a limited time.
Here are a dozen of the most important new iOS 8.3 features, that show you what's new compared to iOS 8.2 and earlier versions of iOS 8.
iOS 8.3 vs iOS 8.2: What's New in iOS 8.3
New iPhone Emoji in iOS 8.3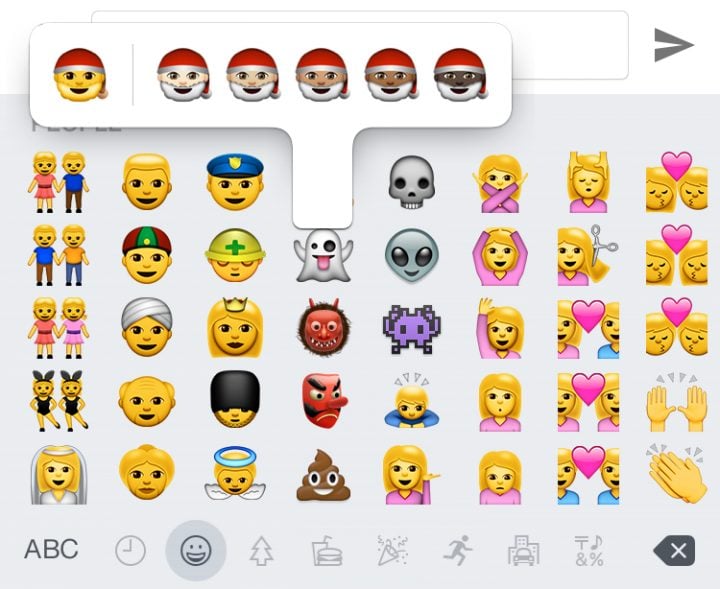 Apple adds over 300 new iPhone emoji in iOS 8.3. There are new Emoji like the Apple Watch and a new Mac, but most users will focus on the addition of more family choices including more kids, families of two men or two women and now there is an option to change the skin tone of many emoji.
Read: How to Use New Emojis
With this update you can tap and hold to choose the skin tone of an emoji icon for many emoji options and then tap to pick the color option. Tap and hold on a new color option to make it the default.
The iOS 8.3 emoji keyboard for iPhone now offers continuous scrolling so it is easier to scroll through the emoji options and find the ones you want.