iOS 9.1 on iPhone 5: Impressions & Performance
We heard good things about the iPhone 5 iOS 9.1 update in the run up to its release and the update is already paying off in more ways than one. Here we take an early look at the highly anticipated (for me at least) iPhone 5 iOS 9.1 update and its performance.
In September, Apple confirmed an iOS 9.1 update for the iPhone 5 and all of its other iOS 9 powered devices. The company didn't confirm a iOS 9.1 release date leaving the release of the first milestone update up in the air.
In the buildup to the iOS 9.1 release date, I had heard (from a few birds) that the iOS 9.1 update improved performance on older devices like the iPhone 5. I trusted the sources but I remained skeptical given my track record with recent iOS upgrades and the age of the device. The iPhone 5 is now three years old and counting.
Earlier today, Apple released the iPhone 5 iOS 9.1 update into the wild. And, after some prep work, I downloaded the upgrade onto the device I've had with me since 2012. (Hard to believe.)
Before I get into my thoughts on the update's performance, I want to take a look at the installation process.
iOS 9.1 Installation
The iPhone 5 iOS 9.1 update actually isn't the massive file that I was expecting it to be. Instead of a 200MB+ file, the iPhone 5's latest upgrade is actually a mere 178MB.
Of course, this is coming from iOS 9.0.2. If you're coming from something older, say iOS 8, it's going to be a whole lot bigger.
The move from iOS 9.0.2 to iOS 9.1 took no time at all. From start to finish it took me about 20 minutes to get the update on board. The longest part wasn't the download but the installation. Something to keep in mind if you start to feel impatient.
I haven't heard about any major installation problems and now that we're hours removed from the update's release time, I doubt you'll run into any major problems. If you do, consult our list of fixes for iOS installation issues.
iOS 9.1 on iPhone 5 Performance
This feedback isn't going to focus on the iOS 9.1 update's features. If you need some insight about features, take a look at our iOS 9.1 vs. iOS 9 walkthrough. It will catch you up to speed on the differences between the two.
I'm going to instead focus on key areas of performance including battery life and connectivity. Before I run down my impressions, it's important to note that I'm just one human with one version of the AT&T iPhone 5.
Mileage varies when it comes to iOS update performance so you'll want to branch out and gather additional feedback if you're feeling uncomfortable after reading my recommendations.
Apps
I have over 75 apps installed on my iPhone 5 but I don't use all of them.
Today, I've focused on my core group of applications which include Asana, Slack, YouTube, Twitter, Instagram, Gmail, Hangouts, Chrome, Dark Sky, Amazon, SoundCloud, Spotify, and Xbox One Smartglass. All of them are working like they were with iOS 9.0.2 on board. Which is great.
I haven't seen any crashes or weird bugs after moving to the iOS 9.1 update and my hope is that these apps, and the other apps I have on board, deliver excellent performance in the hours, days, weeks, and months ahead. I'm optimistic.
If you are seeing issues with your apps on iOS 9.1 or something older, my advice is to dig into the latest bug fixes. They could help. If reviews or bad or the bug fix update doesn't help, try reinstalling the application. If that doesn't work, you'll want to contact the developer and pass along the bad news.
iOS 9.1 Battery Life
Believe it or not, I've never run into any major battery life problems on my iPhone 5. As bad as iOS 8 was, battery life was never a problem.
The streak continues. I haven't seen any weirdness with iOS 9.1 on board. The device is still holding an excellent charge, particularly in standby. This is crucial because the iPhone 5 is no longer my daily driver. I mostly use it for quick texts and responding to email.
Obviously, I haven't been able to test the battery long term. I'll be doing so over the course of the next few days to provide you with some insight. Battery life issues tend to pop up immediately after an update so I'm pretty confident that I'll escape from the iOS 9.1 update without any major issues.
If you do run into problems, give it a day or two. Battery life sometimes takes a few days to even itself out. If you're still noticing problems after two days with iOS 9.1, take a look at our list of fixes and tips.
Wi-Fi, Cellular Data & Bluetooth
Connectivity issues are common on iPhone. Thus far, I've yet to notice any major problems with my iPhone 5, iOS 9.1 and my connections.
I've successfully paired the iPhone 5 with several Bluetooth devices including Bose's popular SoundLink Mini speaker. I've been able to pull down fast speeds on several different routers including the TP-Link Archer C9. And AT&T's LTE network is working like a charm.
Unfortunately, problems with connectivity can strike at any time so I'm going to remain on my toes for the next week or so.
iOS 9.1 Problems on iPhone 5
Nothing to speak of yet. While I've noticed a bit of keyboard lag on the iPhone 6s, I haven't stumbled into the same on the iPhone 5. A bit odd given the iPhone 5's age.
I'm pretty confident that there aren't any major bugs on board the iOS 9.1 update though there's always a chance that something pops up from the depths in the days ahead.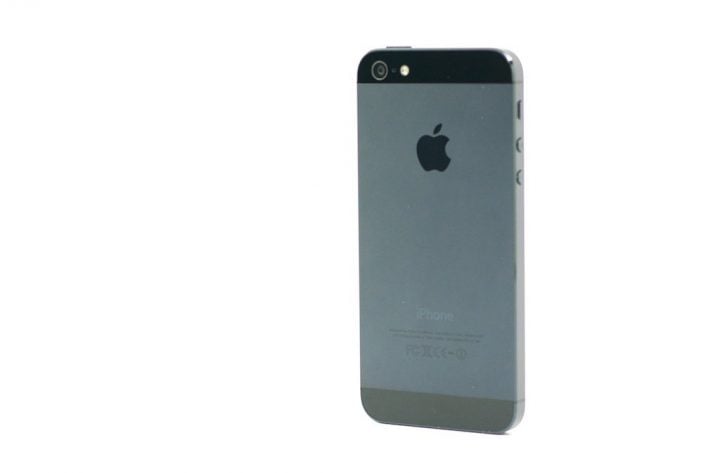 Smaller bugs are a lot harder to spot on day one so I'll continue digging and report back any findings in the near future.
If you do run into an iOS 9.1 problem, take a look at our list of fixes.
Speed (!)
I've been dealing with speed issues since last year. The sluggishness that I experienced with iOS 9, iOS 9.0.1 and iOS 9.0.2 on board pushed me to the brink. The brink being a factory reset on a device I've owned for three years.
Now, I mentioned I had heard good things about iOS 9.1 ahead of its release. Specifically, I heard that iOS 9.1 was faster than iOS 9.0 GM and iOS 8.4.1. So, were these little birds right about the iPhone 5 iOS 9.1 update? In a word: Yes. For right now at least.
iOS 9.1, for the moment, feels like iOS did before the iOS 8.1 update. It's snappy, responsive and fluid. I'm finally able to open folders without slowdown. I'm finally able to scroll through my home screens without wanting to throw my phone against the wall.
Opening apps still isn't as fast as it once was but I can live with that if everything else is fast. Which it is. For right now.
I'm not going to get too excited just yet because iOS updates have a funny way of going downhill a few days after a release. That said, it's looking promising. (Ok, I'm a little excited.)
Should You Install iOS 9.1 Right Now?
I'm tempted to say yes but my advice is to hold out for a few more days if you haven't made the jump already.
The emojis are great and so is the performance but you still need to be very careful with the iPhone 5 iOS 9.1.
I'm liking what I see from Apple's latest upgrade and my hope is that performance holds as we push away from the release date.
How's the iOS 9.1 update treating you?
5 iOS 9.1 Upgrade Tips
If You're On iOS 9.0.2, You Can Trial the iOS 9.1 Update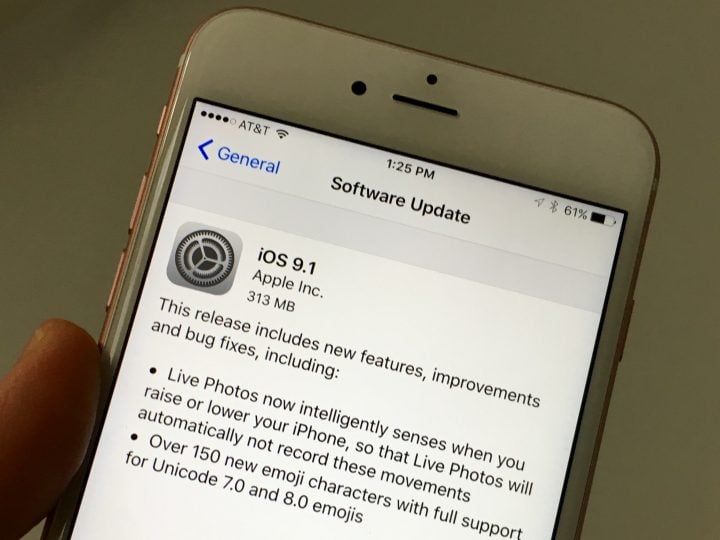 If you're already on the iOS 9.0.2 update, you can trial the iOS 9.1 update without any penalty. Here's what we mean.
If you download the iOS 9.1 update and you decide that you don't like it or its features, you can drop back down to iOS 9.0.2.
Apple is still signing off on iOS 9.0.2 which means you can take advantage of a loop hole. This loop hole will only be open for a limited amount of time, probably a week or two, before Apple closes it. So you need to act fast.
You can't drop back down to anything older than iOS 9.0.2 though. Apple's closed off the downgrades to iOS 8, iOS 9.0, and iOS 9.0.1.
If you're interested in trialing iOS 9.1, you'll want to dig into our downgrade instructions so that you can easily drop back down to iOS 9.0.2 if and when you decide that iOS 9.1 isn't worth it.