iOS 9.1 on iPhone 6: Impressions & Performance
Yesterday, Apple pushed out the highly anticipated iPhone 6 iOS 9.1 update, an update that brings bug fixes for iOS 9 problems and new emojis for the keyboard. With a day of use under our belts, we want to take a look at how the iPhone 6 iOS 9.1 update is performing.
When the iPhone 6 arrived in September 2014 it was running Apple's iOS 8 update. Since then, the device has received a number of important updates from Apple including an iOS 8.1 update with Apple Pay and an iOS 8.4.1 update with Apple Music.
Last month, the iPhone 6 received a flurry of new iOS updates including the iOS 9.0 update that delivered a brand new operating system to the former flagship.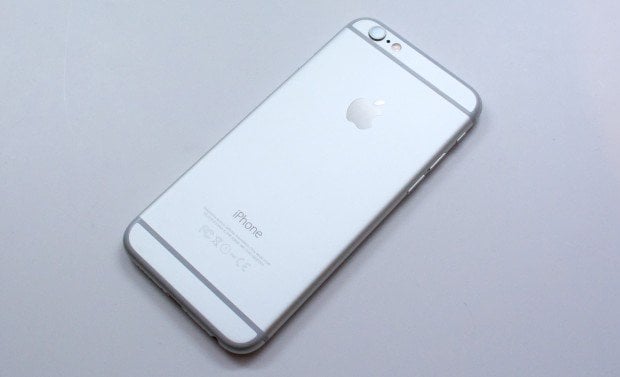 Apple also rolled out iOS 9.0.1 and iOS 9.0.2, two bug fix updates, and an iOS 9.1 beta. The iOS 9.1 beta confirmed the first milestone upgrade to iOS 9 but it didn't outline a specific iOS 9.1 release date for iPhone 6 and Apple's other devices.
Yesterday, Apple delivered. The iOS 9.1 update, its new emojis, and its fixes are all here for the iPhone 6, Apple's former flagship that is still in the hands of millions of users around the world. Myself included.
The iPhone 6 iOS 9 update has, for the most, treated my device pretty well. I've encountered a few problems but nothing substantial. I was hoping for more of the same from the iOS 9.1 update and its additions.
After some prep work, I installed the iOS 9.1 update on iPhone 6 and for the past 12 hours or so, I've been using the software on the aging former flagship. Before I get into performance though I want to touch on the installation process.
iOS 9.1 Installation
The iPhone 6 iOS 9.1 update is much larger than the iOS 9.0.1 and iOS 9.0.2 updates that came before it. It's well over 200MB in size so make sure you set aside some time to properly download and install the software.
From start to finish, it took me about 12 minutes to get the software downloaded and installed on the iPhone 6. I downloaded it over an extremely fast connection and results will vary based on your connection speed.
The installation time will also be dependent on what version of iOS you're coming from. I moved from iOS 9.0.2 to iOS 9.1. If you're coming from iOS 8, the file will be larger and thus, take a little more time to complete. Make sure you are prepared before making the jump.
If you do run into trouble with the install, take a look at our list of fixes for iOS 9 problems. Installation issues are easy to fix.
iOS 9.1 on iPhone 6 Performance
If you are coming from iOS 8 and you're unfamiliar with iOS 9, you're in the wrong place. These impressions are focused on performance not features. If you want some insight about iOS 9 features, take a look at our comparison.
Here, I'll focus on performance. And while I'll do my best to steer you in the right direction, it's important to remember that mileage always varies when it comes to iPhone updates. My experience probably won't be identical to yours so use this feedback as a general guide.
I definitely encourage you to seek out a second or third opinion before you make your move.
Apps
I've been trimming my apps and I'm now down to about 65 applications on my iPhone 6. I haven't used them all during my time with iOS 9.1 but I've used a lot of them and here's what I've found.
All of my core apps are behaving. The apps I use the most include Asana, Slack, YouTube, Twitter, Instagram, Gmail, Hangouts, Chrome, Dark Sky, Amazon, SoundCloud, Spotify, and Xbox One Smartglass. All of them, including Chrome, have been behaving.
I haven't noticed any odd bugs or frequent crashes though those could engulf my iPhone 6 at any time. Chrome started crashing with great regularity a few days after the iOS 9.0 and iOS 9.0.1 updates so I'm definitely not out of the woods yet.
I've kept all of my apps updated with the latest bug fixes and support updates so I encourage you to seek those out if you run into trouble. If those don't help, or they have bad reviews, try reinstalling the app or restarting your iPhone. That could help.
If nothing works, contact the developer and detail the issue so that it can fix the problem in a future bug fix update.
iOS 9.1 Battery Life
I can't speak to long term battery life yet, I've only been using the official iOS 9.1 update for a few hours now, but what I can tell you is that I've yet to come across any abnormal battery drain during my time with the upgrade.
I've been using my iPhone 6 virtually non-stop since yesterday's release and it's holding up well. Both in use and in standby mode. I've been keeping a close eye on my battery usage in Settings as well and I haven't seen any services or apps acting up. At least not yet.
If you're already on iOS 9.1 and you're seeing weird drain, wait a day or two. Battery life issues typically iron themselves out after a couple of days. If nothing improves, take a look at our list of tips and fixes.
Wi-Fi, Cellular Data & Bluetooth
I've been testing my iPhone 6 and the iOS 9.1 update with various Bluetooth devices. Speakers and headphones to be precise. So far, I haven't had any issue pairing the phone and its new software to my devices.
I've also been testing the iOS 9.1 update with various routers including devices from Belkin and TP-Link. I haven't noticed any problems with speeds and my connections have held up nicely. No random drops or anything like that.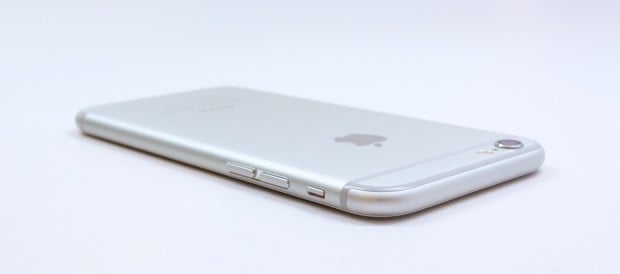 I own an AT&T iPhone 6. I haven't run into any problems with cellular data during my time with iOS 9.1 and I don't expect that to change.
Connectivity issues can pop up at any time and you better believe that the first place I'll turn to is my very own list of fixes for LTE, Wi-Fi and Bluetooth problems.
iOS 9.1 Problems on iPhone 6
While I've been experiencing some odd keyboard lag on my iPhone 6s, I haven't noticed anything out of place on my iPhone 6. That doesn't mean there are iOS 9.1 problems on board, it just means I haven't noticed them yet.
Same goes for my colleagues. None of them have seen problems, big or small, jump off the page at them in the hours since the iOS 9.1 release.
iOS 9.1 comes with a ton of bug fixes for iOS 9 problems but it will also bring its own collection of problems to iPhone users. This is why I recommend doing some prep work ahead of your install.
If you're worried about iOS 9.1 problems or you happen to run into something after you install the software, take a look at our list of fixes.
Speed
In the weeks leading up to the iOS 9.1 release, little birds had been telling me good things about the iOS 9.1 update and its performance. They weren't lying.
iOS 9.1 performance on the iPhone 6s is excellent. iOS 9.1 performance on my iPhone 5 is game-changing. And iOS 9.1 performance on the iPhone 6 mirrors them both. The UI is fast, fluid and stable and that's all you can really ask for from a milestone update.
Should You Install iOS 9.1 Right Now?
There's a lot to like about iOS 9.1. It fixes some annoying iOS 9 problems. It delivers some useful features including new emojis. And its running well on the iPhone 6 variants we have lying around the office. It's a great update and one that's worthy of your consideration right now.
If you're nervous about its potential impact, wait a few days. We'll start to see more feedback emerge as we push away from the update's release date. Apple won't force you to install iOS 9.1 so take your time and install when you're ready.
5 iOS 9.1 Upgrade Tips
If You're On iOS 9.0.2, You Can Trial the iOS 9.1 Update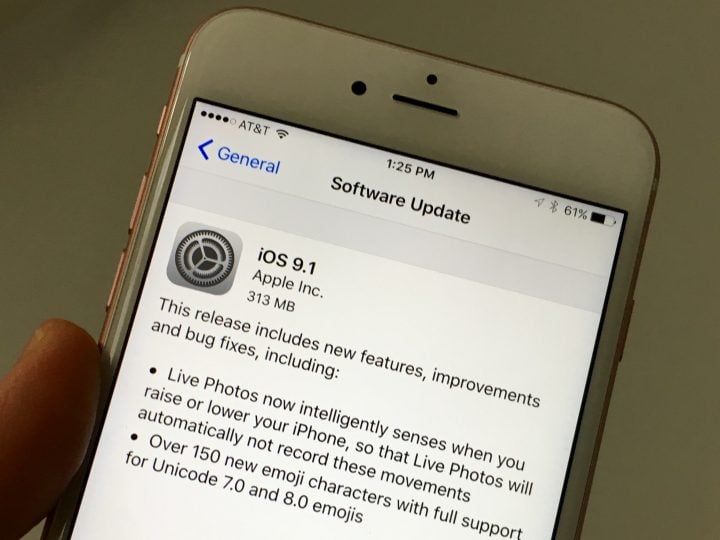 If you're already on the iOS 9.0.2 update, you can trial the iOS 9.1 update without any penalty. Here's what we mean.
If you download the iOS 9.1 update and you decide that you don't like it or its features, you can drop back down to iOS 9.0.2.
Apple is still signing off on iOS 9.0.2 which means you can take advantage of a loop hole. This loop hole will only be open for a limited amount of time, probably a week or two, before Apple closes it. So you need to act fast.
You can't drop back down to anything older than iOS 9.0.2 though. Apple's closed off the downgrades to iOS 8, iOS 9.0, and iOS 9.0.1.
If you're interested in trialing iOS 9.1, you'll want to dig into our downgrade instructions so that you can easily drop back down to iOS 9.0.2 if and when you decide that iOS 9.1 isn't worth it.