If you've decided to install the iOS 9.1 update on your iPhone, iPad or iPod touch, you'll want to take a look through these iOS 9.1 upgrade tips.
In September, Apple confirmed an iOS 9.1 update with the release of an iOS 9.1 beta. The iOS 9.1 beta confirmed many of the iOS 9.1 update's features but it didn't confirm a specific release date for the new software.
In the weeks that followed the initial release, Apple rolled out four more iOS 9.1 beta updates including the iOS 9.1 beta 5 that rolled out earlier this month. With the release of the fifth beta update, we had a feeling the iOS 9.1 release date was close and today Apple finally delivered.
The iOS 9.1 update is out of beta and in the hands of iPhone, iPad and iPod touch users around the world. As expected, the update brings over 150 new emojis to the iOS 9 keyboard. It also offers some crucial fixes for iOS 9 problems.
Apple's first milestone upgrade for iOS 9 is a big one and naturally, iPhone and iPad users are excited. Some have already gone ahead and installed the update while others are taking a more cautious approach with the software.
While there are some reasons to avoid the iOS 9.1 update, at least for the moment, many of you will ultimately decide to install the update, its fixes and its new emojis. And that's when these tips will come in handy.
We want to help you prepare for your iOS 9.1 upgrade. Here, we share some of the strategies we use before, during and after the upgrade process.
If You're On iOS 9.0.2, You Can Trial the iOS 9.1 Update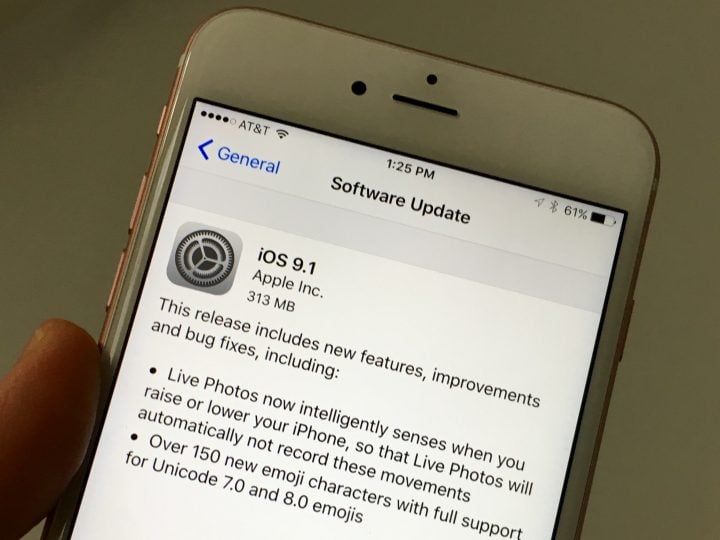 If you're already on the iOS 9.0.2 update, you can trial the iOS 9.1 update without any penalty. Here's what we mean.
If you download the iOS 9.1 update and you decide that you don't like it or its features, you can drop back down to iOS 9.0.2.
Apple is still signing off on iOS 9.0.2 which means you can take advantage of a loop hole. This loop hole will only be open for a limited amount of time, probably a week or two, before Apple closes it. So you need to act fast.
You can't drop back down to anything older than iOS 9.0.2 though. Apple's closed off the downgrades to iOS 8, iOS 9.0, and iOS 9.0.1.
If you're interested in trialing iOS 9.1, you'll want to dig into our downgrade instructions so that you can easily drop back down to iOS 9.0.2 if and when you decide that iOS 9.1 isn't worth it.