10 Things to Know Right Now About the iOS 9.3 Update
How to Try Night Shift Without the iOS 9.3 Beta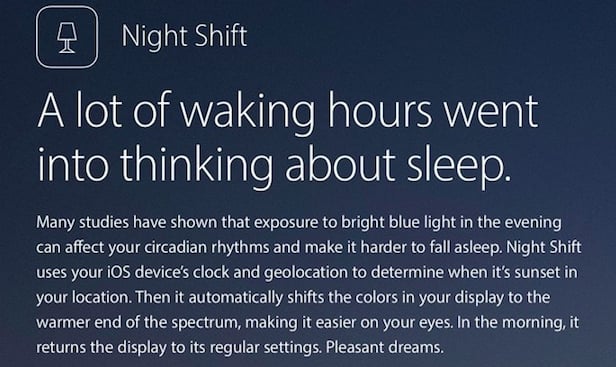 One of the more notable iOS 9.3 features is Night Shift.
When iOS 9.3 arrives, iPhone users will be able to enable Night Shift. With Night Shift enabled, your iPhone display will start using warmer colors at night time. This is supposed to help you get a better night's sleep.
During the day, the iPhone will revert back to the normal, more natural looking colors that you've grown accustomed to. It's a neat feature and it's one that you can try right now without using the early version of iOS 9.3.
Night Shift is very similar to a popular third-party app for Mac called F.lux. The app does what Night Shift does on the Mac and it's an app worth trying if you find that you're up working late at night on your iMac or laptop.
F.lux isn't available on the App Store. Apple pulled it. However, you can still get F.lux on your Mac if you head on over to the company's website.
Give it a try. It'll help you get familar with Night Shift and who knows, maybe it'll help your sleeping habits.

This article may contain affiliate links. Click here for more details.