10 iOS 9 Features Apple Stole from Android
Today Apple took the stage at its annual WWDC conference and announced iOS 9, an upcoming software update that will replace iOS 8 for most iPhone and iPad users. And while Samsung and Android steal features from Apple, they aren't the only ones, and Apple also steals or borrow features from the competition.
Competition is getting stronger by the day, and each mobile operating system has its own strong points. Everyone copies from each other every now and again, and below is a list of 10 or so features Apple and iOS 9 will be "borrowing" from Android, Google, Samsung and app developers to help improve iOS 9.
Read: How to Get the iOS 9 Beta Right Now
With iOS 9 Apple announced tons of exciting new features, improvements to the core experience for iPhone and iPad users, a smarter and faster Siri, split-screen mode and more. It all looks wonderful, but most of it we've seen already.
Starting today select users can get their hands on the iOS 9 developer preview, and early beta access for regular iOS users is coming later this summer. There are tons of new features and plenty to be excited about, and we'll be going over a lot of the new features below.
We're not going to argue what OS is better, or who stole what from who first. As we said above, everyone copies the competition to some extent. Whether that be Google, Apple, Samsung, HTC, LG, app developers, Microsoft and more. It's a never-ending cycle all aimed at making our devices better, faster and smarter.
With that all said, lets get started with what's new by showing you some of Apple's new features coming to iOS 9, all features we've seen before on multiple Android devices.
Split Screen & Multi-tasking
With iOS 9 Apple finally announced a highly anticipated feature users have been asking about forever, and something that has been rumored for months. That being split screen view, or running two apps simultaneously.
With this users will be able to have two apps open at the same time, on the same screen. Essentially being able to browse iTunes while reading an email or browsing the web, or watch Netflix while shopping online. This is only available on the iPad Air 2.
Read: How to Use Two Apps at the Same Time on the LG G4
This is an excellent feature that users have been enjoying on Android for more than a few years. Devices like the Galaxy S6, Galaxy Note 3, LG G3, LG G4 as detailed above and more can all do this. With some Samsung Galaxy Tablets you can even have four windows open at once. We're limited to what apps can use split screen, and the same will likely hold true for iOS.
Apple also made a magical announcement about a newly improved multitasking system that makes it easier than ever to multitask on iOS. Similar to Android a large card-style UI will show you running apps, and you can easily switch between them. One nice thing is with "Slide Over" a swipe from the left edge will let iOS owners open a recent app on the screen and keep the current app open at the same time, which we mentioned above. Sadly split screen multitasking will only work with the iPad Air 2, as it's the only iOS device with enough power to support such a task.
Picture-in-Picture
Something we've enjoyed on TV forever and also an Android feature users have been enjoying for more than a few years is picture-in-picture. With this magical new iOS 9 feature you can minimize and watch video while doing something else at the same time. This was first delivered to Android by Samsung called Pop-Up Play, and is a popular feature many owners use today.
Above is our Galaxy S6 playing a video while browsing the web at the same time. In fact, this feature was available with the Galaxy S3 some years ago. With Samsung and other Android manufacturers you can resize the video in seconds, or tap and go back to fullscreen instantly. It's a wonderful feature, something many iOS 9 users will love.
Spotlight
The entire notifications and Spotlight features of iOS 9 will be smart, easy to use, and learn as it goes. This is probably the most notable and best aspect of iOS 9 if you ask me. Spotlight will suggest recently used contacts, apps, or even places you may be interested in, before you even go to do it. If you've recently called someone, their contact information will be in Spotlight. Along with locations you frequent, or apps you use often.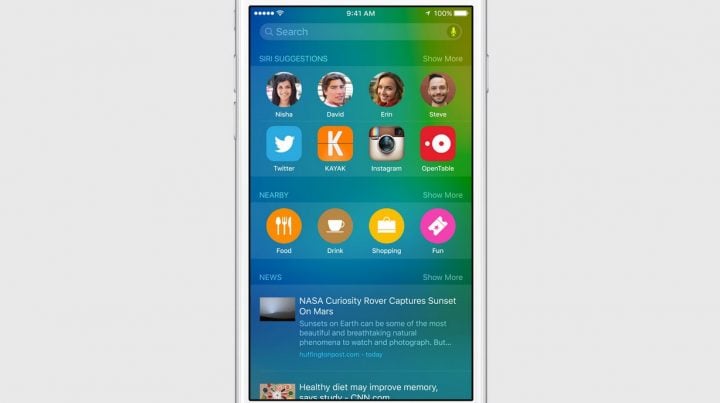 This is extremely useful, and something millions of iOS 9 owners will absolutely love. However, Google Now has been suggesting frequent places for over two years, along with directions to those places, and even how long it will take to get there.
Read: Android M Hands-on & Impressions
Popular 3rd party apps like Textra will show Android users their most often used contacts and make them easy to access to send a message, or star as a favorite. And in Android M the top of the application tray will also curate often-used or most recently opened apps too. This feature isn't in stock Android, but many manufacturers and app developers use it because Android is so open and powerful, and now Apple is integrating this right into Spotlight.
Low-power Mode
Something that Android users have been enjoying for 3-4 years, and a native feature to Android that debuted last October with Android 5.0 Lollipop is low-power mode, or battery saver mode. This puts your device into a low-power state, preserving the last 10-20% of battery for things you truly need. The basics like making calls or sending texts.
With low-power mode Apple promises another 3-4 hours of battery life out of iPhone's running on iOS 9. Of course you won't be able to use all the "smart" features of the device, as it puts everything into a low power state. This is available on Android devices from Samsung, HTC, LG, Motorola, Google and many more.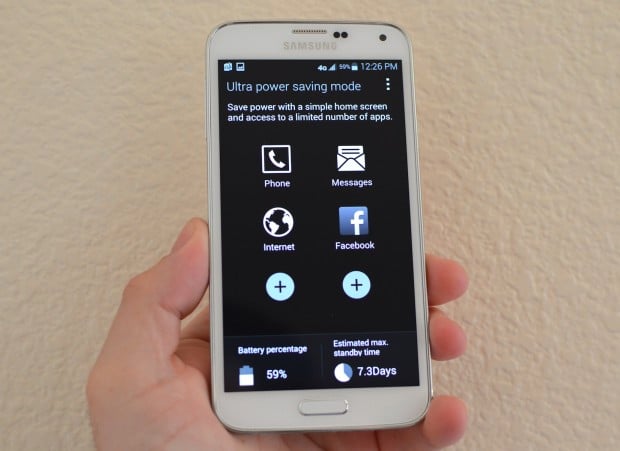 Above is a preview of  the ultra power saving mode Samsung introduced with the Galaxy S5 back in February of 2014.
Siri Reminders, Search, Proactive Assistant & More
In iOS 9 Siri is about to get very smart, and extremely fast. Apple claims it will be 40% faster and 40% more accurate. Users will be able to tell Siri to remind them about something, and it will instantly make a calendar entry, alarm, or other reminders. Then, using the new Proactive feature, Siri will see a calendar entry and remind users about them. Being proactive and telling you to leave for the Airport early because of traffic, to even giving you information based on location.
With Siri you can even ask to see photos, and it will instantly search and bring up an online search of photos. "Ok Google, show me photos of the the Green Bay Packers" works the same way. This is wonderful, but again, something we've seen on Android for years. Google Search, and more importantly Google Now, is extremely powerful and lets you do all of this and more. Everything from turning on the flashlight or WiFi, setting an alarm, putting a note in your calendar and more. Not to mention searching for anything and everything.
Google Now is one of the best aspects of Android, and with Android M it will be even better with Google Now on tap.
Siri Proactive Assistant looks to do some pretty neat things, but there's so many third party apps on Android that do that, on top of Google Now, that it's hardly new, but a welcomed addition for iOS users. One big benefit of Siri Proactive is that it's completely anonymous and doesn't track the user, it isn't linked to other devices or your Apple ID, and doesn't invade your privacy. With Google Now you have to opt in, and even give Google access to your entire Gmail account to let it work to the fullest.
News App
With iOS 9 Apple is essentially cutting out a lot of app developers and integrating features right into its own core apps. A brand new app with iOS 9 is called News. This will source out and deliver tons of news content curated from your own personal preferences all in one place.
News is basically a news aggregator of sorts. Similar to Flipboard, which comes pre-installed on all Samsung devices, or like HTC Blinkfeed, but not nearly as powerful. Flipboard has been around forever, even on iOS, and Blinkfeed was introduced with the original HTC One back in 2013.
Keyboard Shortcuts
The Quicktype keyboard in iOS is about to get more powerful too. They've announced a new shortcut bar with tools to instantly add photos or files to apps, messages, emails and more all right from the keyboard. Taking a photo, copying text and more is all right at the top.
Instantly taking a photo, adding one from your gallery, or inserting a file or document on Android has been available for a long, long time. Whether this be the stock keyboard, manufacturer keyboards, or third party keyboards like SwiftKey, Swype, and more. Not to mention in text messaging applications. This makes using iOS easier, but again is another feature stolen right from Android and it's OEM's or app developers.
iOS Notes
Similar to Google Keep, Evernote and many other note-taking apps, with iOS 9 the Apple Notes app will let you take down notes, make a note with your voice using Siri, or even snap a photo (like of a recipe) and save it to the Notes app. Basically access your camera from the Notes app.
The Notes app will be more powerful and feature-rich than ever before, but all of this has been available from third party apps on both Android and iOS, as well as Google's own Android apps for years. While we're talking about notes, or a recipe for that matter, with iOS 9 when you're viewing a recipe iOS will instantly let you open a recipe right inside of a cooking app to help you make the perfect meal. Essentially letting you choose what app a link uses.
This isn't very widespread, and is no where like the "default apps" feature Android uses. With Android you can click a link for IMDb and open it inside the browser, or with the IMDb app itself. This works with almost all Android apps, and is still very much limited to Apple's own apps, Twitter, and a few other select apps that Apple feels deserves this type of treatment.
Apple Maps
Forgetting about all the hassle of Apple Maps from last year, with iOS 9 Apple Maps will be better than ever before. They've integrated tons of features that 3rd party apps use. Borrowing features from Nokia HERE maps, Google Maps, and many more.
With iOS 9 Apple Maps will let users get directions for public transportation like buses, subways, and more. Maps lets you find nearby restaurants, bars, shops, and activities, not to mention places that accept Apple Pay.
Google Maps has been finding nearby places as long as I can remember, offers more transit information that anyone would ever need, integrates Google reviews, Yelp review and more to give you as much information as possible in a matter of seconds. In fact, Google added transit directions and times way back in 2011.
There are hundreds of changes coming for iPhone and iPad users with iOS 9, and here we detailed 35 features users will love. Many of them are great additions to the entire Apple ecosystem, but a vast majority have been available from Microsoft, or on Android for years and years. These are just a few of the biggest features we noticed during the iOS 9 announcement, but expect more to appear when iOS 9 is released later this fall.