Iota FLEX aims to add voice and text to non-phone Android devices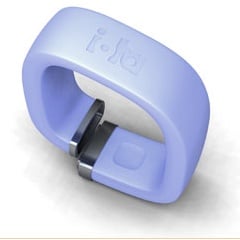 Voice and data are key elements of any smartphone, but not so much for tablets and PMPs. Well, a company called Iota aims to fix that with a device called FLEX, a flexible square ring that can route voice and text to your Android-based tablet, eReader or media player effectively turning it into a phone. Get ready for funny looks when people see you talking to your electronic book.
Okay, seriously, they don't expect you to hold your tablet up to your head to make calls. Rather, the scenario they show in this YouTube clip is making and receiving calls on headphones. The FLEX connects via Bluetooth to the device so your Android device must have Bluetooth installed for this to work though the FLEX itself has a built-in 3.5mm headset/mic jack for headset use. Presumably BT headsets are a possibility, though bouncing traffic three ways might be a bit much to handle at the moment. The FLEX easily attaches to a purse (or the more manly satchel) or wrist and charges its 400mAh battery via micro USB. They're aiming for a price of $100.
Iota is partnering with Simple Mobile, a mobile virtual network operator (MVNO) with a wholesale deal with T-Mobile, which offers $40 unlimited voice and text. The system, of course, is GSM and the FLEX includes a SIM card slot. Simple Mobile is itself a newcomer to the industry, so we'll see how these kids do. The system reminds me somewhat of the phone + tablet arrangement I'd envisioned, but with the phone part stripped down to basically a transmitter/receiver. I can see this being an initial stepping towards that vision. Once they include a built-in mic and speaker and the ability to speak to my car, I'm buying one.
Via Engadget
https://www.youtube.com/watch?v=VMzi297BuEo&feature=player_embedded

As an Amazon Associate I earn from qualifying purchases.