iPad 2: Apps and Accessories to Replace Your Notebook or Netbook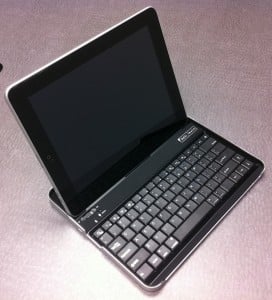 When it comes to going mobile, the iPad and iPad 2 are a lot slimmer than many notebooks and netbooks, which has led to a growing number of users turning to the iPad to replace their notebook as the go to mobile device.
Over at Notebooks.com we are still pretty tied to the benefits of the notebook, but in order to help out users who desire to be more mobile we've rounded up the apps and accessories needed to help you use your iPad as a notebook replacement.
The first goal was to provide a feel of the notebook and deliver a workspace that is a little more ergonomic than sitting your iPad or iPad 2 on the table. We rounded up seven iPad accessories you need to have if you want to replace a notebook with your iPad 2. Some of these will be more useful at home, while others will be a must have for hitting the road.
Unfortunately we haven't found an accessory that gets around the requirement that you plug your iPad into a computer from time to time.
Just like Specs aren't everything, neither are the iPad accessories. We also put together a list of iPad Apps that help you use your iPad like a notebook. From using LogMeIn to get to a PC when needed to relying on apps like Dropbox and Evernote to keep your files and notes backed up to the cloud we have you covered. We even share one of our favorite apps that lets you type in a document and view a webpage side by side on the iPad which will be a huge help if you plug your iPad 2 into a monitor with the HDMI adapter.
What do you think, is it possible to replace a notebook with the iPad?