iPad 2 Outranking the Xoom in the Attention Department Ahead of Apple Announcement
As we've mentioned over and over again, the iPad 2 is most likely going to be the best selling tablet device of 2011, despite valiant efforts by Motorola and others. A couple of data points show exactly how big of an uphill battle that is.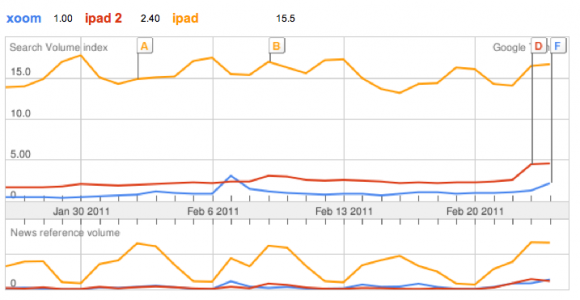 Consumers are already busy searching for information about the iPad 2. As you can see in the above graph, 2.4 times the number of people are searching for the iPad 2 as the Xoom. That's an exact phrase for a product that hasn't even been announced yet. The word iPad has been searched for over 15 times as often as the Xoom in recent days.
The Xoom, PlayBook and other tablets that have been announced, but haven't yet launched have been aiming their sites on the original iPad. But just as they begin to hit the market, the iPad 2 (or whatever it's going to be called) will be announced and take the wind out of their sails. Sumocat has an excellent article that goes over the iPad 2's competitors follies.
A quick glance at Google News shows that there are 5,333 recent articles that mention the Xoom, which is a little less than the 6,050 currently mentioning the iPad 2 by name. I expect that number to increase by at least a factor of 15 when the iPad 2 is officially announced, though the 'iPad 2′ might not end up being the second-generation iPad's official name.
For better or worse, the world's attention is on the iPad 2 the same week the Xoom and Honeycomb 3.0 finally found its way into consumers' hands.
The above graph is pretty indicative of  what consumers are thinking about these days. I've had countless friends and family members ask me about when Apple's going to introduce the iPad 2 and what it's going to be like. I haven't had a single non-geek friend utter the words Xoom or Honeycomb. Android tablets have  a ton of potential and I've enjoyed playing with my Xoom for a few hours, but the spotlights on the iPad 2 for now.

As an Amazon Associate I earn from qualifying purchases.