iPad 3 Leaked Photos Shows A5X Processor, Not A6 Model
It looks like Apple may giveth and Apple may taketh, especially when it comes to the hotly anticipated Apple iPad 3 next-generation tablet that's been speculated for an early March debut. The latest leaks suggest that the iPad 3 will probably debut with iOS 5.1, will come with a higher resolution Retina-like Display for tablets, and come with an option for 4G LTE mobile broadband networks as supported by Verizon, AT&T, and Sprint in the U.S. However, not all is glorious, it appears, as Apple may be shoehorning in only a slightly updated applications processor, or CPU, for the iPad 3.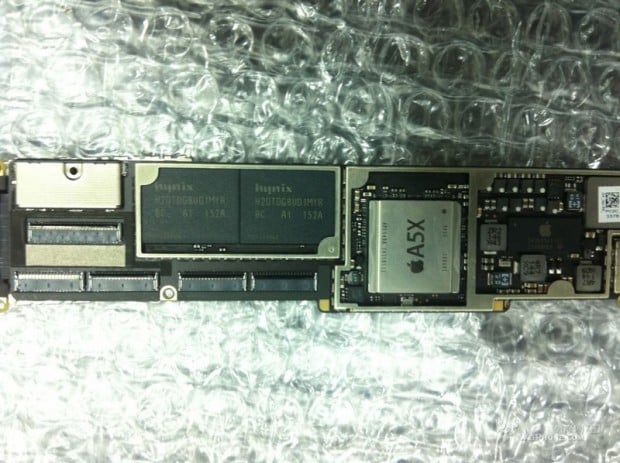 A leaked photo of what appears to be the iPad 3's logic board, or main motherboard for PC users, shows a chip with an Apple logo and the word 'A5X' labeled on top. This goes contrary to what many are expecting as it is expected that Apple may debut the iPad 3 with an A6 CPU. Apple debuted the iPad 1 with an A4 single-core 1 GHz CPU, the iPad 2 with a dual-core gigahertz processor, and it appears that the A5X may be a modest upgrade from the A5X at best as it doesn't warrant a full number upgrade.
The move may be akin to what Apple is doing on its smartphone lineup. On the iPhone hardware, if a new design isn't introduced, it appears that Apple is adding an 'S' after the model name, such as the move between an iPhone 3G and the iPhone 3GS, and the iPhone 4 and the iPhone 4S.
It's been rumored in the past that the iPad 3 will utilize a dual-core ARM architecture, perhaps with a faster clock speed, but that the iPad 3 won't be moving to a quad-core architecture as many had originally hoped. Additionally, Apple is said to be making big graphics improvements to the iPad 3's chipset while keeping the dual-core mobile processor architecture. Perhaps, then, the reason why A5X is chosen instead of A6 is because Apple feels that the bump is not enough to warrant a full numerical upgrade on its applications processor side. Another reason to go with dual-core may be to offset the power-draining features of supporting 4G LTE.
While Android manufacturers will be utilizing the Mobile World Congress trade show in Barcelona at the end of this month to introduce a number of new models with quad-core Tegra 3 chipsets, Apple has chosen in the past to compete on the overall user experience rather than on hardware specs alone.
Via: Apple Insider