iPad 3 vs. Samsung Galaxy Tab 2
Samsung didn't wait until the upcoming Mobile World Congress to announce its newest tablet, the Samsung Galaxy Tab 2, a device that will join the company's crowded Android tablet ranks. Sammy has already released the Galaxy Tab 10.1, Galaxy Tab 8.2 and Galaxy Tab 7.7 unto the world. Besides having to compete with those, it will also have to compete with a new iPad which will presumably be called the iPad 3.
Now, we understand that it's tough to compare a device that is official (Galaxy Tab 2) to a device that hasn't been announced yet (iPad 3), but after last week's flurry of leaks, we now think we have a pretty good idea of what to expect from Apple's new tablet.
So, we're going to pit what we think we know about the iPad 3 against Samsung's Galaxy Tab 2 and see how everything stacks up.
Ready?
Good, here we go.
Hardware
Samsung Galaxy Tab 2
We'll start with what we know for sure. The Galaxy Tab 2 is going to come with the same 7-inch display found on the original Galaxy Tab. Specifically, the screen is going to be a 1024 x 600 (WSVGA) PLS LCD display.
It'll also feature a 1GHz dual-core processor, 1GB of RAM, Wi-Fi, Bluetooth 3.0, 3MP rear camera, VGA front-facing camera, and 8GB, 16GB, or 32GB internal storage options.
The features are not mind blowing by any stretch of the imagination but if the price is right, many could be tempted by the versatility of a solid 7-inch tablet.
iPad 3
The iPad 3 is rumored to be an absolute beast, a beast with the same design as the iPad 2. Rumor has it, the iPad 3 will keep the same design as the iPad 2 save for an increase in thickness. An increase of 1mm.
In addition, Apple will apparently include a full-on Retina Display, likely the same 9.7-inches found on the iPad 2, which will boast a ridiculous 2048 x 1536 resolution.
We've also heard that the iPad 3 might feature a new camera. The rear camera on the iPad 2 was a letdown so it's possible that Apple might be stepping up its game in that department, especially after the release of the iPhone 4S which features of the best smartphone cameras of all-time.
The iPad 3 is also rumored to have a new Apple A6 processor on-board which will either be dual-core or quad-core in nature. The latest has it being dual-core, but still better than the dual-core A5 chip found in the iPad 2.
How much better?
That remains to be seen.
You can also expect it to come in a variety of flavors, storage wise.
Software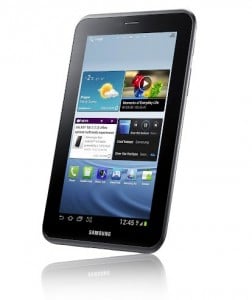 Samsung Galaxy Tab 2
Back in 2011, Google announced its latest mobile operating system which is Android 4.0 Ice Cream Sandwich, To check out the benefits, you can head here.
Long story short, it's a fantastic piece of software but it's only available on a few devices.
Luckily, the Galaxy Tab 2 will feature it right out of the box. No Android Gingerbread 2.3 or Android Honeycomb 3.2 to be found here and the Tab 2 is better for it.
This means that you'll have access to the Android Marketplace and its 500,000+ applications and because Android is Android, you should be able to root and unlock the Galaxy Tab in order to install custom skins/ROMs to better personalize your device.
It'll also come packed with Music Hub, Readers Hub and Video Hub, all apps from Samsung that are aimed at media hounds. These will allow you to download content and watch it across your Samsung devices. Download a video on the Tab 2, watch it on your Samsung smartphone.
These aren't bloatware.
The Galaxy Tab 2 will also include AllShare Play, a new service that lets you stream music and multimedia from your computer or smartphone to your Galaxy Tab 2.
iPad 3
Apple's iPad 3 will surely have the latest and greatest version of iOS on board when it arrives which is likely going to be iOS 5.1, a piece of software that has been rumored now for quite some time.
The benefits that iOS 5.1 will bring to the iPad 3 are as of yet, unknown, but we expect it to feature one of the main draws of the iPhone 4S.
That draw?
Siri, of course.
Siri is a personal assistant that can schedule meetings, find the nearest coffee shop, send messages, and more by using simple voice commands. It's one of the unique features on the iPhone 4.
And because consumers use their tablet on-the-go, you'd think Apple would have reason to include it with their next tablet.
iOS 5.1 is also rumored to be bringing a couple of new features to Siri including:
Interact with Apps
Turn Bluetooth and WiFi on and off
Capture a video or photo
Here's a video to help you better understand the powers of Siri:
https://www.youtube.com/watch?v=rNsrl86inpo&feature=player_embedded
The iPad 3 will also be able to access Apple's iOS 5 app store which is actually larger than the Android Marketplace if you can believe it.
Release Date
Samsung Galaxy Tab 2
Unlike the iPad 3, the Samsung Galaxy Tab 2 has an official launch month. The company announced that the Galaxy Tab 2 will be launching at some point in March. Sammy is likely waiting for Apple to announce an iPad 3 announcement or launch date before it gives off any details.
So, for those of you interested, go ahead and circle March on your metal calendar.
iPad 3
As for the iPad 3 release date, it's rumored to be March as well. Right now, the latest has the company both announcing and releasing the iPad 3 during the month of March.
More specifically, the announcement may be coming during the week of March 5th at the Yerba Buena Center for the Arts which is the same venue that the company used to announce the iPad 2.
We've also heard that the iPad 3 might be arriving alongside iOS 5.1 and right now, iOS 5.1 has a rumored release date of March 9th.
By no means is that official, but it's a date to keep in mind for both iOS 5.1 and the iPad 3.
Connectivity
Samsung Galaxy Tab 2
Samsung currently has a 4G LTE tablet available on Verizon in the form of the Galaxy Tab 10.1, but the Galaxy Tab 2 doesn't figure to be one. Instead, it will be a 3G device that also features Wi-Fi.
What's the difference between that and 4G LTE?
The world.
4G LTE will offer data speeds of up to 10 times faster than normal 3G which means better streaming of content on-the-go.
To see what that means, have a look at the video below:
iPad 3
Apple is rumored to finally be releasing 4G LTE devices this year and it appears that it will start with the iPad 3. Look for the iPad 3 to be compatible with AT&T and Verizon's 4G LTE networks from the get-go.
Just keep in mind, AT&T's 4G LTE footprint is much smaller than Verizon's, and even Verizon's network doesn't cover every single city in the United States.
Pricing
Samsung Galaxy Tab 2
Samsung neglected to give the Galaxy Tab 2 any sort of official price tag, on-contract or off-contract. Again, it's probably waiting for Apple to release the iPad 3 before it makes anything official.
However, judging by its specifications, we assume that Sammy will be attaching a fairly cheap price tag onto the Galaxy Tab 2, maybe something like $300, in an effort to lure consumers away from the Amazon Kindle Fire and Barnes and Noble's Nook Tablet.
iPad 3
While there are tons of rumors swirling around about the iPad 3, none of them have anything to do with the device's pricing. Based on history though, we don't expect Apple to raise the price.
The company launched both the original iPad and the iPad 2 with a starting price of $499. That price is still the price that Apple is asking for the 16GB Wi-Fi-only iPad 2. The most expensive iPad that Apple offers is the 64GB Wi-Fi/3G iPad 2 which checks in at $829.
4G LTE connectivity throws a little bit of a twist into the pricing but we are seeing 4G LTE devices become less and less expensive at carriers like Verizon and the current price of the iPad is definitely a sweet spot.
Don't look for Apple to change it up.
Final Thoughts
Clearly, the Samsung Galaxy Tab 2 isn't going to be the iPad 2's main rival. However, that main rival might arrive in the form of a 2GHz-powered Galaxy Tab that is rumored for launch at the Mobile World Congress later this month.
But that's not to say the Galaxy Tab 2 won't appeal to be people, especially those who like the size of the 7-inch display paired with Android 4.0.
Still, if you're in the market for a tablet, you're definitely going to want to wait until Apple makes its iPad announcement which should only be a few weeks out into the distance.