iPad Camera Kit offers unlisted abilities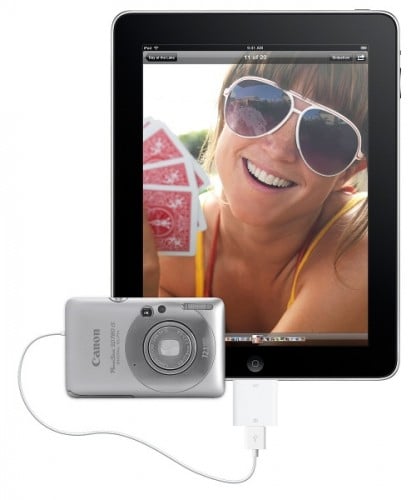 The iPad Camera Connection Kit is reaching buyers and, wouldn't you know it, some of them are looking into what else it can do. Turns out it's not limited strictly to photos, but its USB port is far from being "universal".
If you're interested in how its camera connection works, TidBITS has a good run down. They also reveal that the USB connector works with a USB audio headset. From the description, it sounds like it routes the same way iPod and iPhone audio dock connections do.
For keyboard junkies, TUAW reports that one of their readers plugged a USB keyboard to the iPad through the connector and was able to type away.  No surprise since the iPad already has a keyboard dock. Should probably also work with the iPhone running iPhone OS 4, which has been shown to work with the iPad keyboard dock.
There could be other things it can do, but there are also things it definitely can't. It can pull in photos and videos from a camera or SD card, but it can't do the reverse (and the iPhone is recognized as a camera). The iPad is reported to pull over an MP4 file from a Flip MinoHD, but couldn't play it. Otherwise, it seems only photo files will transfer over. Possibly apps could open up more options, but until then, don't bank on the iPad Camera Connection Kit doing much more than its name implies.
Hat tip to Liliputing

As an Amazon Associate I earn from qualifying purchases.