iPad Deals Continue as New iPad Rumors Swirl
As we push closer to the rumored iPad Air 2 and iPad mini 3, we continue to see iPad deals emerge for Apple's current iPad lineup, deals that could make it difficult for some consumers to wait through weeks of iPad rumors.
With the fall fast approaching, we've begun to hear quite a bit about Apple's plans for consumers in 2014. While the first half of the year was relatively quiet, it appears that it was simply just the quiet before the storm as the company is rumored to have a number of new products up its sleeve including a new iPhone 6, iWatch, MacBook Air with Retina, and two new iPads in the iPad Air 2 and iPad mini 3.
With rumors swirling, we're starting to see retailers get a bit antsy as they attempt to drive consumers to Apple's current crop of mobile products, including the iPhone and iPad.
In recent weeks, we've seen deals on the iPhone 5s, iPhone 5, iPad mini with Retina Display, and iPad Air and today, we've spotted a deal at Best Buy that lasts through Saturday and could be tempting to those that don't want to spend a ton of cash on Apple's full-sized 9.7-inch iPad.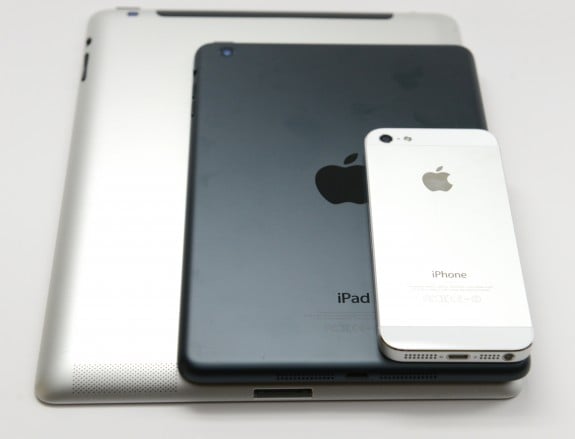 Best Buy is currently offering a discount on the fourth-generation iPad, known to consumers as the iPad 4 or iPad with Retina Display. The retailer has knocked $70 off across the board which brings the base 16GB Wi-Fi only iPad 4 down to just $329. That's cheaper than the iPad mini with Retina Display at Apple and much cheaper than the iPad Air, Apple's current full-sized tablet.
The retailer is also offering up iPad deals on select iPad Air and iPad mini with Retina Display models. Those deals knock $100 off the base price of these models offering deep savings to those that want to buy into Apple's ecosystem.
While these iPad deals are certainly going to be tempting to those in the hunt, we're starting to see new iPad rumors sprout up as we head closer to the fall and Apple's usual iPhone and iPad release window.
In the past few weeks, we've started to see iPad Air 2 and iPad mini 3 leaks pick up, teasing a number of possible features for the fall. A recent report out of China suggests that Apple will start production for its two new iPads in September. With an Apple launch event rumored for October, it could be that Apple once again announces its iPads just weeks ahead of the holiday shopping season.
Both the iPad Air 2 and iPad mini 3 are rumored to be incremental updates to the current models with the focus said to be on improved cameras, processors, and design. While the designs likely won't see a massive overhaul, Apple is said to be including the Touch ID fingerprint technology that debuted last year inside the iPhone 5s' home button.
Apple's new iPads are thought to be a small piece of the puzzle. Rumors also point to the arrival of the iWatch in October, new Mac hardware to go along with the new OS X Yosemite update, and a new iPhone 6 to accompany Apple's brand new iOS 8 update to shelves. That same report out of China suggests that production of Apple's 4.7-inch iPhone 6 is underway.
The company is rumored to be coming out with two new iPhones, a 4.7-inch model and a 5.5-inch model, though it appears that the production on the 5.5-inch model has yet to begin.
Unlike the iPads, the iPhone 6 is expected to feature some significant changes including a thin redesign, better screen resolution, a brand new camera with image stabilization technology, a new A8 processor with M8 co-processor, and Touch ID.
Apple's iPhone 6 is rumored for September with a launch event said to be tentatively scheduled for the middle of the month.
Top 5 Tablets to Consider Before Buying the iPad 4 [July, 2014]
iPad Air
If you're thinking about buying the iPad 4, you absolutely must rule out the iPad Air before buying it. For $100 more, you're going to get a much better tablet, the best that Apple has ever made.
The $499 iPad Air comes with several bells and whistles that the iPad 4 simply does not have. Maybe the biggest difference is the design. The iPad Air is thinner and more compact than the iPad 4 which makes it easier to take with you on the go. It also comes with a better processor.
The $100 difference is significant for a lot of people but the extra cash might just be worth the investment for many of those in the hunt for a new slate. Be sure to rule out the more expensive iPad Air before you plop down $400 on a tablet that's simply not as good as the iPad Air.

As an Amazon Associate I earn from qualifying purchases.