iPad mini 2 vs. Nexus 7: Key Tips for Buyers
Right now, and in the next few weeks, many consumers are going to be weighing two 7-inch tablets, one official, one that hasn't been announced yet. The former, the Nexus 7, is Google's current 7-inch Nexus slate, the latter, Apple's upcoming iPad mini 2. For those that are looking into these devices, here are some things to think about as you begin making the final preparations to buy.
Last year, Google unleashed its first Nexus tablet, the Nexus 7, which arrived on the Google Play Store to great fanfare and even better, stellar reviews. The device and its high quality design, software, screen, and affordable price tag drew in Android enthusiasts and average consumers alike. It was also, a foreshadow of things to come.
Later in the year, Amazon and Apple revealed their 7-inch Nexus 7 competitors. In particular, it was Apple's 7.9-inch iPad mini that posed the greatest threat to the Nexus 7 and its success, thanks to an arsenal of quality features and sterling reviews that painted it as the iPad to buy. For the last part of 2012 and the first half of 2013, these devices battled each other for supremacy and it came as no surprise that Google had a new Nexus 7 up its sleeve, just in time for the first anniversary of the original Nexus 7.
Earlier this year, Google announced a new Nexus 7, a device that is currently sold on the Google Play Store and through various retailers and one that comes with a host of improvements over the last model. New features include a higher-resolution display, faster processor, sleeker design, and even a rear camera for those that like to take photos with their tablet. It's also available with 4G LTE data. Its price jumped a bit, but only a few dollars, nothing that sent consumers for the hills.
Just like last year, the Nexus 7 got out of the gates first with a ton of good looking features but it's about to face some serious opposition in just a few weeks. On October 22nd, Apple is expected to debut an iPad mini 2, a follow up to the current model, and one that will try to compete with the Nexus 7. It likely will.
With the launch date coming up, many consumers have likely started to think about whether to buy the Nexus 7 or the iPad mini, either for themselves, or as a gift for someone else. In an effort to make that process a little easier, here are some tips for those trying to decide between the two 7-inch tablets.
Nexus 7 Will Be More Widely Available
The Nexus 7 is out on shelves right now and it has been on shelves, readily available, since it arrived back in July. More recently, Google released the 4G LTE version of the Nexus 7 and like the Wi-Fi model, it has not seen its stock fluctuate. While this could be blamed on a lack of demand, we think it has more to do with Google getting its act together after the chaotic Nexus 7 and Nexus 4 launches last year. There is simply a ton of supply to meet demand and there will be in the buildup to the holiday season and during the holiday season.
The iPad mini 2 likely won't be as lucky. Rumors suggest that it's going to be in short supply due to supply chain issues pertaining to its new Retina Display. While these rumors could be off-base, similar rumors emerged ahead of the iPhone 5s release and they were dead on. The iPhone 5s has experienced supply issues in the weeks since it launched. We expect the iPad mini 2 to be in short supply but high demand, something that could push its shipping dates back into the core weeks of the shopping season.
The point is this. Buyers don't need to panic, don't need to make any extra preparation for the Nexus 7. Assume it's going to be on shelves and ready available to buy ahead of a holiday. The iPad mini 2 will likely experience some shortages that could foul up plans for many consumers. So, the sooner that you can decide on one of these, the better. Fortunately, that's what the remaining tips are for, to help those in need decide.
iPad mini 2 Will Be More Expensive
Nexus 7 buyers and iPad mini 2 buyers will need to save some cash, these are not cheap devices. However, it's the iPad mini 2 that is likely going to cost more than the Nexus 7. One of the advantages that the Nexus 7 has is its price. It starts at $220 for a 16GB model while the iPad mini, the current one, starts at $330 for a 16GB Wi-Fi model. Furthermore, the LTE version of the Nexus 7 starts at $350 for a 32GB model while the iPad mini 16GB with LTE is $450. There is a pretty big price difference here.
While we don't know the price of the iPad mini 2 just yet, it's safe to assume that it's going to be starting at $330, just like the iPad mini. Apple typically doesn't alter prices and sticks with a price, even while its competitors try to take advantage with price drops. Just remember though, as is the case with most things, you'll get what you pay for.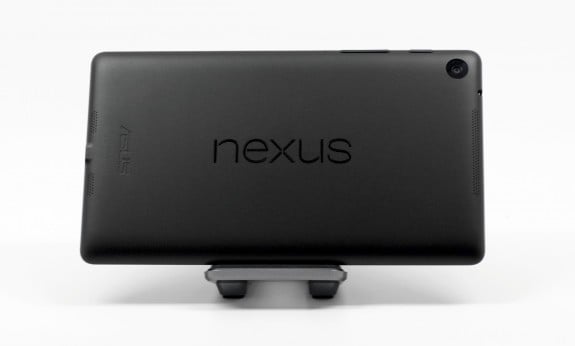 Nexus products are great and they are affordable, but they have had their share of issues. In fact, the Nexus 7 that I bought last year abruptly stopped working. It's currently sitting on my desk, paperweight style. This is not an isolated issue. Others saw their Nexus 7's die as well. Apple products are dependable and they last. That's not to say that the new Nexus 7 won't last, but an Apple product is a safer bet. And perhaps, for many people, the extra $110 will be for peace of mind.
With Apple, iPad mini 2 owners will also get a virtually guaranteed three years of software support. Google is more of a mixed bag though it has done a better job in recent years as it issues smaller, incremental updates, rather than big ones. iOS updates tend to be bigger.
Think Hard About LTE, Carriers
These are 7-inch slates which means that they are going to be extremely portable. Simply put, they are designed to be taken out of the house. So that means that buyers needs to consider two things in particular.
One, LTE data speeds. The Nexus 7 does use LTE, the iPad mini 2 will use LTE, and you will need to think about how you will use the tablet before buying. Going to use it on a commute? Might be worth taking a look at the LTE models and remember, the iPad mini 2 is going to be more expensive.
Carriers are not going to be equal though. While the Nexus 7 is available on AT&T, T-Mobile and at some point Verizon, the iPad mini 2 should be available on all three of those, plus Sprint. So think about what carrier to bring it to, LTE networks different in size, and if you're headed to Sprint, you'll probably need to look at the iPad mini 2 unless Google pulls a fast one.
Don't Buy Into Display Spec Hype
The Nexus 7 features a gorgeous display that uses 1920 x 1200 resolution with a high 323 pixels per inch count. Simply put, content looks gorgeous on the Nexus 7 and it's a feature that Google is likely to ram down consumers throats this holiday season, especially since the iPad mini 2 is expected to boast a Retina Display.
Rumors suggest a big display upgrade on the iPad mini 2 as it moves from 1024 x 768 resolution at 163 pixels per inch to 2048 x 1536 resolution with a pixel-per-inch count around 324. Content on the iPad mini 2 is going to look great as well, so long as Apple upgrades the display. And like Google, expect Apple to advertise the new Retina Display non-stop throughout the holidays.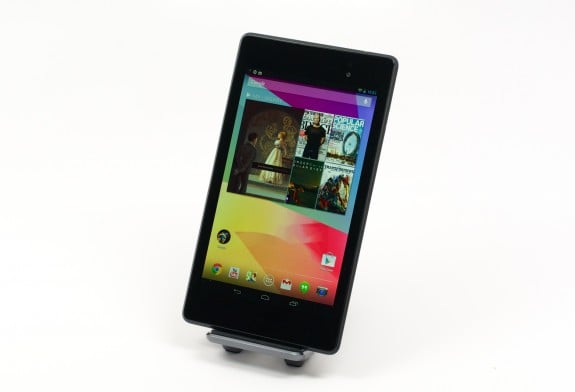 Word of advice, don't get swayed by the marketing, don't read too much into pixel counts and resolutions. Both displays are going to be fine for average users who watch some videos, use the web, and a play a game. Power uses will likely notice some slight differences but we expect them both to offer similar high quality text, photos, video, etc.
Do not focus on the displays when it comes to choosing between the iPad mini 2 and Nexus 7. It's not pointless but it's close to it. They're both going to produce great looking content.
Use the Nexus 7
Maybe the best thing that buyers can do at the moment is to head down to a retail store that carries the Nexus 7 and play around with it. Google put this bad boy into a ton of stores so that consumers could do this very thing, use before buying.
This way, you can get a feel for it in your hands, play around with the Android 4.3 Jelly Bean software and its features, get a good look at the Google Play Store that houses content like apps and video, and just get an overall feel for the device that could set you back up to $350.
If that's not your cup of tea, at least check out our Nexus 7 review, at the very least.
Use the iPad mini
We also suggest going into an Apple Store or a retailer to get a sense of what will be coming with the iPad mini 2. Rumors suggest that it will keep the same design as the original iPad mini which will allow owners to get a feel for what it might be like to tote one around.
The device should also be running Apple's iOS 7 which will allow buyers to get up close and personal with Apple's software which is vastly different than Google's Android. We wouldn't read too much into performance because the iPad mini 2 will likely have a better processor, screen, camera and more, but getting an overall feel is important. We highly suggest taking a look at our iPad mini review for reference.
For many people, it's going to come down to performance, battery life, screen quality, design and software. While we don't have an iPad mini 2 to reference yet, we expect performance, battery life, screen quality to be around the same. Both designs will be solid as well. So for many buyers, it's likely going to come down to Android or iOS and spending some time with them ahead of time is a wise decision.
Don't Impulsively Buy Accessories
No matter how you decide, don't feel the need to buy Nexus 7 or iPad mini 2 accessories right off the bat. There are going to be some fantastic accessories available for both devices during the holiday shopping season, no doubt about it, but we recommend buying the tablet first and then seeing where an accessory might fit in.
For those that don't take it out of the house all that often, a case may not be necessary. For those that don't watch a lot of content, an accessory that allows you to prop it up won't likely be needed. For others, they will need one or both of those. But it's best to decide after buying the device. These accessories aren't going anywhere and best of all, by waiting, you'll open yourself up to more options.

This article may contain affiliate links. Click here for more details.