iPad Sale Has 16GB iPad Mini for $249 at Walmart
It might not be the best deal we've seen for the iPad mini, but Walmart has the first-generation model on sale for a decent $249.
This is for the 16GB WiFi-only version, which may not be enough for some users, but those who just need the barebones will ultimately win out on this one. Furthermore, while there does seem to be sold-out stock on Walmart's website, we noticed that there's no "Sale" tag attached to the listing, which makes us believe that this could be a permanent price for the first-generation iPad mini at Walmart.
Again this isn't the best deal that we've seen for a first-generation iPad mini, as Target has sold them for as low as $199 at times and even Apple's own refurbished store had them discounted to $219. These are crazy good deals considering what you're getting. It's known that iPads come at a premium cost, but $199 puts the iPad mini right on par with the Nexus 7, Kindle Fire HD, and other cheaper Android tablets.
We've already seen plenty of iPad sales this year from a plethora of retail stores, including Walmart, Best Buy and Target, where you can usually find an iPad for around $50 off the normal retail price. The number of deals that we've seen has drifted off slightly since the beginning of the year, but they've still been rolling in steadily over the last few weeks.
2014 has certainly been the year of iPad sales so far, with deals coming from every which direction from practically every big franchise store. Walmart had a big sale on the iPad 2 at $299 awhile back, and Staples even took $30 off on every iPad model. Best Buy also knocked $50 off the price of the iPad Air back in January, allowing consumers to pick one up for as little as $450.
All of these deals came at off-peak shopping times (save for Valentine's Day, we suppose), so we can't imagine what future sales will be like throughout the year and even leading up to Apple's annual fall event where the company usually announces a new iPad model. This time around, the iPad Air 2 is expected to make an appearance.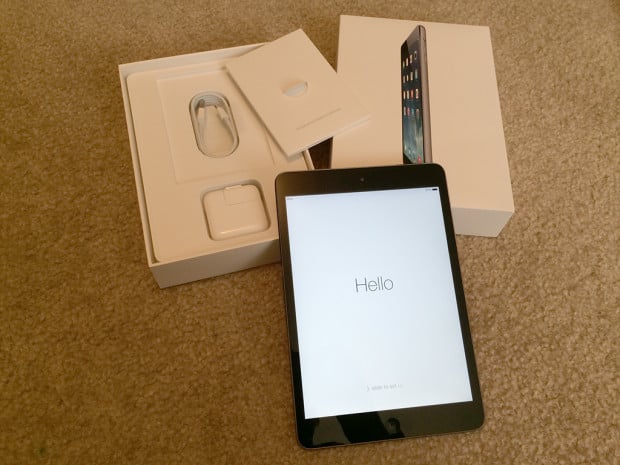 The iPad Air 2 is expected to come equipped with a slightly new look and the inclusion of Apple's Touch ID fingerprint sensor. Touch ID was definitely one of the features that users were looking forward to the most ahead of the iPad Air event back in October last year, especially after it was introduced on the new iPhone 5s just a month earlier, but Apple sadly did not deliver such a feature, which we weren't too surprised about. It's possible that Apple wanted the Touch ID technology to be around for a year or so and see how it did before expanding the feature to other iOS devices.
Read: iPad mini Review: The New Default iPad
One of the biggest reasons that the Touch ID fingerprint sensor is so popular on the iPhone 5s is because of the convenience it offers when unlocking your device and purchasing apps in the iTunes App Store. It's a lot quicker and easier than entering in your passcode every time, as well as typing in your confusing Apple ID password whenever you want to buy an app.
That same convenience could easily be used on the iPad as well. It wouldn't necessarily be more useful on the iPad compared to the iPhone 5s, but Touch ID on the iPad would bring over the same great conveniences that we've known from the iPhone 5s for the last several months. Plus, iOS 8 introduces third-party support for Touch ID, so we should be seeing a lot more capabilities with the fingerprint sensor come this fall.

As an Amazon Associate I earn from qualifying purchases.