iPad Used as Teleprompter by Hollywood Entertainment News Show
Warner had talked about an iOS app used as a teleprompter and a tool for actors to rehearse and memorize lines, I discovered in Los Angeles, California at an outdoors shooting of the entertainment news show Extra, the iPad was used by production crew to help actors with their lines.
The entertainment news show was taped at The Grove Los Angeles, an outdoors shopping area, which means that the set, stage, and equipment has to be mobile. The equipment is set up every day before the show gets taped and dismantled and stored every night after Extra is finished taping at The Grove.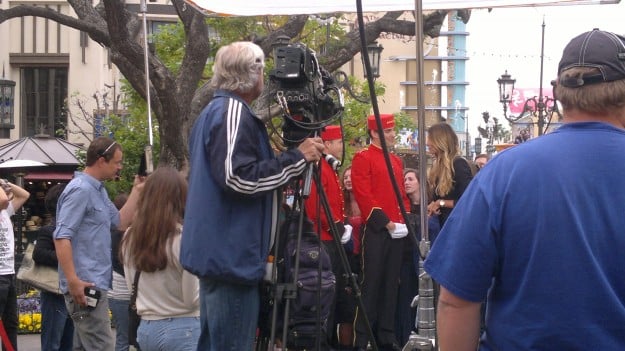 The tablets were used as a tool to flash keywords, display prompts, and show lines to the anchors of the show.
New consumer tablets that are on the market today, particularly those running mobile operating systems such as Android and iOS, are seen more as content consumption tablet so it's nice to see consumer technology brought to use in a different space. Though at the Extra taping, the iPad was not used in the traditional enterprise sense–driven by emails, word processing, spreadsheets, and PowerPoint presentations–it was used in a way that helped to save money and space by the production crew.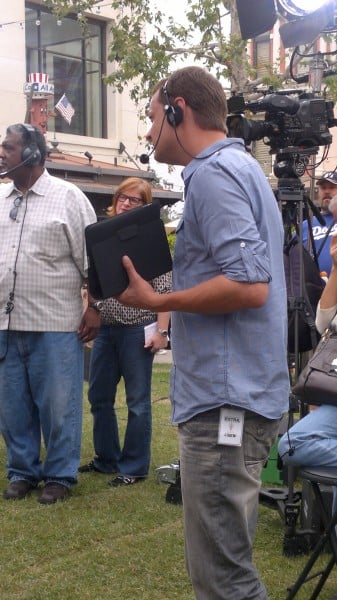 As a teleprompter, the iPad is a lot cheaper than traditional teleprompter equipment. It also has a ten-hour battery life, which is more than enough for a 30-minute segment taping of the show, and has a durable unibody aluminum shell. Additionally, the taping was done in an outdoors mall at The Grove LA, so while the iPad saved the production crew money over traditional equipment, it also helped to reduce equipment space. The crew could more easily maneuver the iPad and set up their stage and dismantle it with ease–the stage area is removed every day after taping is done to not obstruct the area from shopping traffic. Moreover, it's not as unsightly while in use as traditional equipment.
Beyond the traditional enterprise market that we immediately associate with businesses, high rises, and Microsoft Office, tablets are taking on new purpose and meaning. In hospitals, doctors are using them to record medical data, view charts, and help integrate patient care with the mobile technology. In entertainment, Extra is demonstrating that beyond Excel and PowerPoint, consumer tablets can be used in a cost-effective, productive, and meaningful way to help producers, directors, and reporters create content.