iPad's Split Keyboard Has Hidden Buttons
The iPad's split keyboard is a little more flexible than it appears. Tap in the blank area immediately next to each half of the keyboard and you'll see letters from the other side of the screen appear.
The hidden keys allow iPad typists to eek out three more letters per thumb. Why does this matter?  Typing on a touch screen is quite different than hammering away on a physical keyboard. Touch typists are accustomed to tapping on certain keys with specific fingers. That's not the case when typing with your thumbs, which have to cover all the letters and special keys when using split keyboard mode.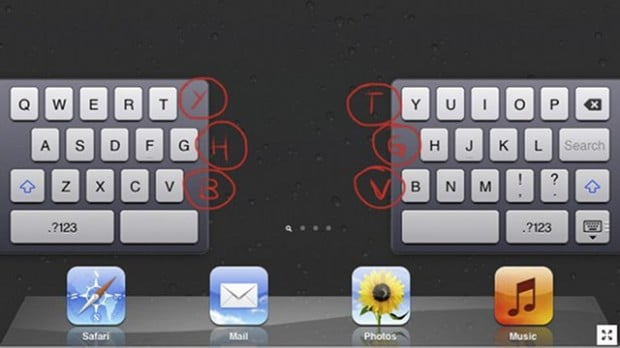 Here's the real layout of the iPad's split keyboard, with the hidden keys sketched in. Apple hasn't bothered to document the hidden keys anywhere and even those of us who've used the split keyboard layout since the introduction of iOS 5 have been missing out.
The hidden keys aren't just there when using the standard letter layout. The hidden keys remain when switching to the numbers and special characters layouts. Users can tap out "6" by hitting the blank area next to the number 5 key, for example.
Apple's been criticized for not allowing alternative keyboards. While its iPad keyboard does meet many users' needs, iOS users are left with few options. Android users can choose from countless keyboards, many of which have features that allow users to type faster.
The hidden keys aren't going to make or break or iPad experience, but it will make it a little easier to tap out certain words with one thumb.
via Life Hacker