Developer Sneaks iPhone 5 Compatible App Into App Store
At least one developer is already building support for the iPhone 5 into their app.
Tout, a social network stats app, recently updated to version 1.2 to add a new service (Instagram), but more interesting is that it adds support for a taller iPhone.
As Chris Herbert mentioned on Twitter, the second bullet point in the apps' change log says "Added support or the new rumored tall iPhone."
Despite the typo, it is interesting that Tout was able to get its app approved with such a description. We've seen leaks of a taller iPhone 5 for weeks now, but nothing from Apple. We wouldn't expect Apple to let any app talk about a rumored iPhone in an app description. The company doesn't even let developers talk about certain iOS 6 features in change logs.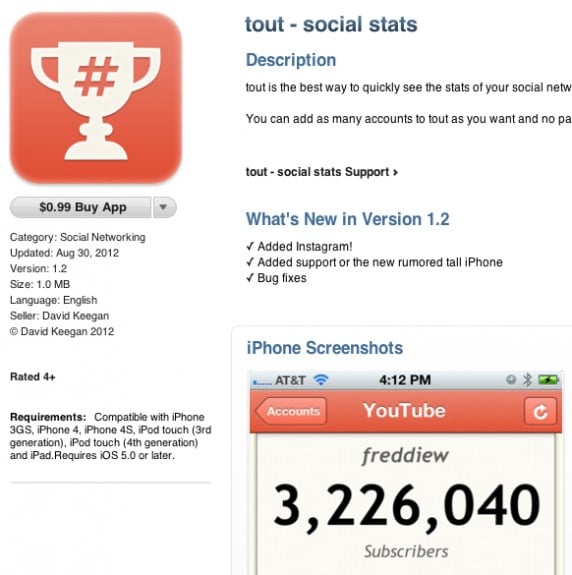 We assume David Keegan, the developer of Tout had to use a workaround to get Xcode to work with a taller iPhone screen. We know such a workaround is possible, and that some Apple apps already support the taller screen.
Keegan likely isn't the only iOS developer to test his apps with a taller screen, but he is the first that we know of to acknowledge it. It shouldn't come as a surprise if Apple takes down this version of Tout until Keegan removes the mention of a taller iPhone in the description.
Apple will likely announce the new iPhone on September 12. The rumors suggest an iPhone 5 release date is just nine days after the announcement on September 21.The new iPhone will likely have a 4-inch screen with a resolution of 640×1136, 4G LTE, a slightly larger battery, and a smaller dock connector.