iPhone 5 Benchmarks Say It's Twice as Fast as iPad
The iPhone 5 uses Apple's brand new A6 chip which the company claims is twice as fast as the iPhone 4S, but it won't give out exact numbers. Today we have some benchmarks from the new iPhone that shows just how fast it is.
According to 9To5Mac someone with access to an iPhone 5 ran a GeekBench test on the new smartphone to see how it fares against other devices. The results were very impressive, and faster than almost everything else on the market.
The iPhone 5 scored 1601 on the GeekBench test, which is about double that of the new iPad. The new iPad was the previous fastest iOS device with a GeekBench score of about 800. The increase is dramatic, and shows just how powerful the new A6 chip inside the iPhone 5 really is.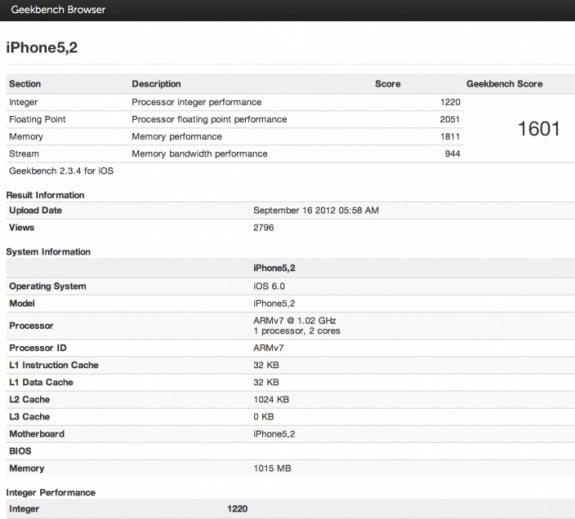 While it's great that Apple made the iPhone 5 faster than the iPad, some users will want to know how fast it is compared to other smartphones. The iPhone 5 still beat most high-end Android phones and the Nexus 7 in the GeekBench score.The difference isn't large, however.
The Nexus 7 scores 1591 on the GeekBench test, just 10 below the iPhone 5. The International Samsung Galaxy S III with the quad-core Exynos processor running Android 4.0 Ice Cream Sandwich scores 1560, 41 points below the iPhone 5.
Only the Samsung Galaxy S III with an Exynos processor running Android 4.1 Jelly Bean tops the iPhone 5 by 120 points with a score of 1781.
Apple doesn't like to talk specs about the iPhone, but it's nice to see that those who do want numbers can get a look at benchmark comparisons.

As an Amazon Associate I earn from qualifying purchases.