Claimed iPhone 5 Front Panel Photo With Final Assembly Leaks
The iPhone 5 is likely less than a month away, which means more and more parts escape from the production line to the web. Today's leaked parts include the front panel we've seen a few times before, complete with its full assembly.
The leaked parts come from UBreakIFix by way of BGR. The photos of the parts show the new taller display mounted on the back of the front display panel. Unfortunately there's no screen behind the glass, so we can't see how it looks when turned on but we can see that it is taller than the screen on the iPhone 4S.
The assembly also seems to leave holes for other parts of the phone, particularly the FaceTime camera, earpiece, and light sensor. The existence of the final assembly might confirm the authenticity of the front panel and other parts of the iPhone 5 we've seen. If nothing else, it helps prove the front panels we've seen recently are real.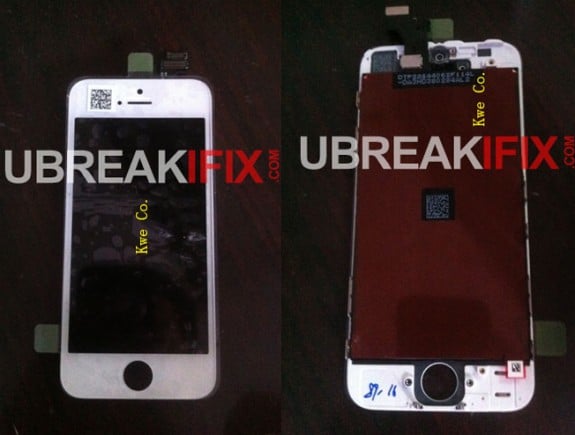 The images don't show how thin the new display is. The screen will likely use a new "in-cell touch" technology that makes the display thinner than most other screens. The new screen might also be easier to read in sunlight.
According to current rumors Apple will likely announce the iPhone 5 on September 12 and release it on September 21. Pre-orders for the new iPhone could start on the same day as the launch announcement. The new iPhone will likely have 4G LTE, a 640×1136 display resolution, a smaller dock connector, and a slightly larger battery.
We also know iOS 6 will bring a number of enhancements like new Maps and an improved Siri, but we don't know if it will have any iPhone 5-exclusive features.
Catch up on the latest iPhone 5 news.