iPhone 5 Release Date and Rumor Roundup
From the iPhone 5 release date to potential features, GottaBeMobile is taking a deep dive into the iPhone 5 news and rumor pool to figure out what to expect from the new iPhone.
Apple sets the standard for secrecy around product launches, but in the months leading up to the new iPhone release, leaks spring out from anonymous sources and suppliers.
Read: 11 iOS 6 Features We Want on the iPhone 5
While most iPhone rumors end up false, collectively, they offer an idea of what we might expect from the new iPhone. When the same information appears from multiple leaks, it lends to the credibility of the information.
iPhone 5 Release Date
Rumors say the iPhone 5 will launch in June or October of this year, but June is as good as written off as an iPhone 5 release date. Instead, October looks like the most likely time for a new iPhone.
Apple typically launches a new iPhone once a year. In 2011, the iPhone 4S launched on October 14th, months later than the typical June release. The iPhone 4S release date alone would not be enough to make us believe that the iPhone 5 will launch in October, but there are a number of other reasons we are looking to the fall for the iPhone 5 release date.
Apple is likely to include new 4G LTE connectivity in the iPhone 5, with a Qualcomm chip. Qualcomm is having trouble ramping up production to meet demand, and analysts expect this will last until September. If Apple cannot secure enough Qualcomm 4G LTE chips to build up the supply of the new iPhone until the fall, we don't expect to see a launch any earlier.
WWDC 2012 takes place in June, and has served as a stage for iPhone announcements in the past, but this year we expect that Apple will use WWDC to talk about iOS 6, and announce an iOS 6 beta. Typically the iOS beta is available for several months ahead of a new iPhone launch, which lines up with October.
With supply chain issues, Apple's preference for at least a year between iPhone launch cycles and the lack of any iOS 6 news fall 2012, more specifically October, looks good for an iPhone 5 launch.
Thinner, Lighter Unibody iPhone 5
The next iPhone has seen it's fair share of mockups, dating back before the iPhone 4S launched in October 2011, but this year we expect a new look for the iPhone 5. While graphic designers will share their visions for the iPhone 5 up til release, we want to touch on some of the rumors about the design and the build of the iPhone 5.
Recent reports say that the iPhone 5 will use a new touch screen technology called in-cell touch, which will allow Apple to design a 0.44mm thinner iPhone 5, and that Apple is shooting for a new iPhone less than 8mm thick.
While users love thin devices, Apple is not afraid of adding thickness to deliver all day battery life. It is very possible that Apple will use new in-cell touch technology on the iPhone 5, but  it is much more likely that Apple will use the saved space to include a bigger battery capable of powering a 4G LTE connection and a larger display.
We've also heard reports that Apple will use Liquidmetal to design a lighter iPhone 5. Apple makes the iPhone SIM ejector tool from this strong and light material, which could give a more durable iPhone 5 back. This rumor first appeared with a source citing a June launch date, so there is some skepticism.
Apple may also design the iPhone 5 with a unibody construction. Apple uses unibody design in the MacBook Air and MacBook Pro line of notebooks, where it is known for delivering extra strength to the devices. Unibody design makes the body of the device out of a single piece of material, not multiple pieces.
iPhone 5 With 4-Inch Display
Apple may finally bump the iPhone 5's screen size. The latest rumors say that Apple will design an iPhone 5 with a 4-inch display.
While the competition is pushing screens in the 4.3 inch to 5.3 inch range, Apple could finally increase the screen size of the iPhone. There are users who love the small 3.5-inch display, because a thumb can reach anywhere on the screen for one-handed operation, but a 4-inch display doesn't detract from one-hand operation in my testing.
Adam Mills outlines why he wants a 4-inch iPhone 5, sharing a number of reasons why a larger display makes sense for users.
Apple doesn't need to make a monster phone to incorporate a larger screen. New iPhone 5 mockups show one way Apple could increase the screen size, keep the same aspect ratio and still sell a well sized smartphone.
iPhone 5 With 4G LTE
The iPhone 5 is very likely to come with 4G LTE connectivity, capable of delivering speeds up to 10X faster than 3G connections.
Apple includes 4G LTE in the new iPad, and is reportedly using the Qualcomm 4G LTE chip to include 4G LTE on Verizon and AT&T for the iPhone 5. Sprint will roll out 4G LTE later this year, before the anticipated iPhone 5 release.
Verizon will only release 4G LTE smartphones in 2012. Sprint's CEO Dan Hesse believes the iPhone 5 will have 4G LTE. C-Spire, the fourth U.S. carrier for the iPhone 4S, will have its 4G LTE network in place in September, for a fall iPhone 5 launch with 4G LTE.
iPhone 5 Processor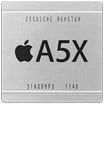 The iPhone 5 may have the rumored Quad-Core Apple A6 processor, but it is also likely that Apple will use the Apple A5X processor already found in the new iPad to power the iPhone 5.
Reports show that Apple is already testing an iPhone with the A5X processor, but the company typically launches new processors in the iPad and brings them to the iPhone later.
An iPhone 5 with the Apple A5X processor would likely have 1GB of RAM and the same faster quad-core graphics found in the new iPad's version of the A5X.
If Apple delivers more graphical power to the iPhone 5, it could pave the way for better looking iPhone games and apps.
Bigger iPhone Battery
The rumor mill is mum on the iPhone 5 battery, but it would not be surprising to see Apple include a larger battery in the iPhone 5 to cope with the power draw of 4G LTE.
The new iPad has a larger battery and is slightly thicker than the iPad 2 to deliver the expected 10 hour battery life.
If Apple includes a larger battery in the iPhone 5 it could mean longer charging times, which means afternoon top ups would deliver less battery life.
iOS 6
The new iPhone will most likely ship with iOS 6, the next version of the iOS software that delivers a stellar user experience on the iPhone and iPad.
Apple has not commented on iOS 6, something that we expect to change at WWDC 2012 in June. There are few rumors about what to expect from iOS 6.
Read: Top iPhone 4S Jailbreak Apps
At the least we expect that Apple will provide enhancements to Siri and possibly incorporate some of the features users must jailbreak to use, like an enhanced lockscreen or quick access to settings from the notification center. Apple has a habit of making jailbreak tweaks a part of the stock iPhone experience.
Many iPhone users would love to see IntelliscreenX features, shown below, as part of iOS 6.
Read: 5 Things Siri Needs
Hopefully we will see Siri leave beta and gain new features like the ability to open apps and control playback of media outside of the stock music app. Siri might also be able to tell users the scores of their favorite sports teams.
New iPhone Name
The last piece of the puzzle is the name of the new iPhone. Last fall we expected Apple would release the iPhone 5, but instead we received the iPhone 4S. This year Apple could give us the iPhone 5, or it could go the iPad route with the new iPhone. If the iPhone has 4G LTE, Apple might even opt for the iPhone 4G LTE.
[polldaddy poll=6168278]
The two most likely candidates are new iPhone and iPhone 5, and our readers agree, based on the results of our "What will Apple Name the new iPhone?" poll.

As an Amazon Associate I earn from qualifying purchases.