iPhone 5 Release Date Details in 2 Minutes (Video)
The iPhone 5 release date looks incredibly likely for late September on Verizon, AT&T and Sprint.
The iPhone 5, or the new iPhone, as it may be called looks ready to arrive a month earlier than many originally thought.
The latest iPhone 5 release date rumors point to in store availability on September 21st, with preorder delivery slated for the same day.
Here's everything we know about the iPhone 5 release date in under 2 minutes.
iPhone 5 Release Date Details in 2 Minutes (Video)
The iPhone 5 release date is not confirmed, but based on the sources weighing in, it looks very good for late September. This short video includes all the iPhone 5 release date, preorder and launch details we think we know so far.
iPhone 5 Release Date
Apple will not confirm rumors or details about the next iPhone, but expect the iPhone 5 announcement at a major Apple event on Wednesday September 12th. Apple is also likely to announce the new iPad Mini and other products at the event.
Apple may provide a live video feed of the iPhone 5 announcement, but odds are users will need to tune into news coverage to get the first look at the new iPhone.
While many rumored iPhone 5 release dates surface during this time of year, several factors back up the September 21st date.
iMore was first to state that Apple will announce the iPhone in early September. Apple insiders like Jim Dalrymple from The Loop and publications like The New York Times and All Things D also weigh in agreeing that Apple will announce the iPhone 5 on September 12th.
iMore also reports that the iPhone 5 release date will occur 9 days later on Friday September 21st. iMore further states that the iPhone 5 release date in international markets is on track for October 5th.
This fits Apple's model for launching products. Apple can announce the iPhone 5, to excitement, take preorders and ship the iPhone 5 in 9 days, just as it did during the iPhone 4S launch .
Adding more fuel to the September 21st release fire, is a new leak from AT&T. AT&T is telling employees not to request vacation time at the end of August according to BGR. The source says that AT&T rescheduled training for a "huge event".
iPhone 5 Preorders
Apple started taking iPad preorders at the end of the New iPad event earlier this year, and rumors suggest the company is planning to do start iPhone 5 preorders on September 12th.
iPhone 5 preorders for deliver on release date will likely sell out within a day. Expect trouble ordering during the first hour of iPhone 5 preorders, as the Apple site buckles under the strain of iPhone shoppers.
Online iPhone 5 preorders from AT&T, Verizon and Sprint placed on the first day should arrive on doorsteps on the iPhone 5 release date, though a few shoppers may get lucky and see the iPhone 5 early.
On the iPhone 5 release day the new iPhone will likely be available in Apple Stores and at corporate Verizon, AT&T and Sprint locations. Skip the line and check to see if your local mall kiosk will sell the iPhone 5 if you want to snag one early without spending the morning in line.
iPhone 5 Rumors and Features
Apple won't talk about the upcoming iPhone, but based on leaks and analyst information we think we know at least five of the iPhone 5 features.
The iPhone 5 will almost certainly feature 4G LTE connectivity on Verizon, Sprint and AT&T, as well as on smaller carriers down the road. While Sprint's 4G LTE coverage is minor, AT&T is making progress and Verizon boasts coverage of 75% of the U.S. population. Apple held off on 4G LTE, but it's time to stop waiting.
Read: iPhone 5 Features Solidify as Launch Approaches (Video)
Expect a faster Apple A5X dual core processor in the iPhone 5. This will likely be a variant of the processor used in the new iPad. It's not a quad-core processor, but it features quad-core graphics for better visualizations and in-game graphics.
Apple is also likely to switch to a smaller 8 or 9-pin dock connector. This smaller dock connector may feature magnets that guide it into the port and may connect in either direction. Expect the iPad and iPod Touch to receive a similar dock connector update this fall.
All leaks point to a larger 4-inch display. The taller display will likely be 4-inches, adding 17% more viewing area. The new display is also rumored to change to a 16:9 aspect ratio which means it will be wider like a HDTV when used to watch movies in landscape mode. iOS 6 is ready to support a taller iPhone, and many users want to buy an iPhone with a bigger screen.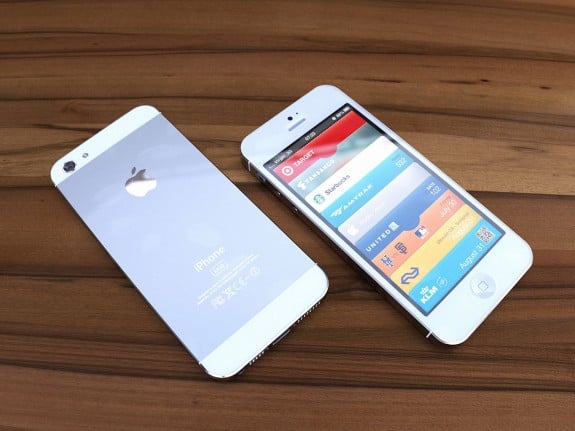 Potential new iPhone design rendered by Martin uit Utrecht
The iPhone design language is similar, but Apple may switch to a two-tone back like the image above. Additionally, the iPhone is expected to be 6mm to 8mm taller and thinner. Estimates suggest the iPhone could be as thin as 7.6mm, but that could cramp battery life for the new iPhone.
For all the latest iPhone 5 news and rumors, check out our iPhone 5 coverage.

As an Amazon Associate I earn from qualifying purchases.