German Carriers Prepare for September iPhone 5 Release Date
Two German carriers refuse to remain silent about the new iPhone, and are teasing customers with hints of Apple's new smartphone.
According to 9To5Mac, German carrier Mobilcom Debitel just announced the new iPhone 5 is due for release sometime next month. The website, which sells phones for a number of carriers made the announcement via a graphic that translates to "in September the new generation of smartphones will go on sale." The text also talks about a new iPhone next to a blurry image of what looks like the iPhone 5 leaks we've seen so far.
The carrier also sent out an email to customers saying "there's new information on the iPhone 5, which is expected in September." The email didn't feature any blurred-out images of the new iPhone, just a brief mention in the newsletter.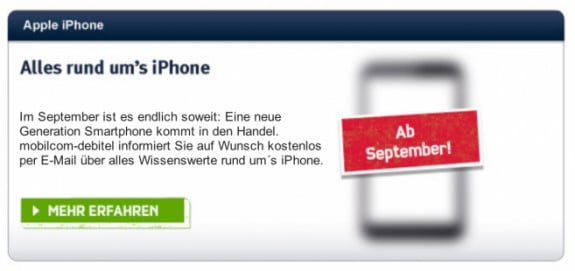 Yesterday, O2 in Germany also dropped hints of the iPhone 5. According to iPhone Informer the carrier sent out fliers to customers that said they can now reserve the iPhone 5. The fliers included an outline of the rumored device, which looks taller than the current iPhone 4S.
Apple will likely announce the iPhone 5 in on September 12 in San Francisco. The company will likely release the phone in the U.S. and other countries on September 21, with more countries getting the phone a week later. The new iPhone will likely have a 4-inch 640×1136 display, 4G LTE, a slightly larger battery, and a smaller dock connector.
We still don't know everything about the iPhone 5, like if it will keep the same camera as the iPhone 4S, or what special iOS 6 features it will have. Thankfully we shouldn't have to wait too long to find out every detail.
Check out GottaBeMobile's iPhone 5 coverage.