iPhone 5 Reviews: Apple's Latest Phone Scores Rave Reviews, Few Reservations
Early iPhone 5 reviews are are very positive, with few major complaints. Apple seeded phones with a handful of journalists so they could get their reviews published ahead of the masses getting their iPhone 5s on Friday.
The iPhone 5 is Apple's most advanced phone yet and the first real upgrade to the platform since the company launched the iPhone 4 all the way back in June 2010.  Is the new iPhone 5 worth buying? The consensus from the early reviewers is a resounding 'yes'. But keep in mind that Apple carefully handpicks the handful of early iPhone 5 reviewers. If you want to read reviews that bash the iPhone 5 and praise all things Samsung, you're going to have to wait for a few days until Android-toting reviewers get their hands on the iPhone 5.
The first batch of iPhone 5 review units went to Engadget, the New York Times, Time, Slashgear, The Loop, CBC, Techcrunch, Cnet and Pocket-Lint.
Here's a digest of the earliest iPhone 5 reviews for your reading pleasure:
iPhone 5 Review Summary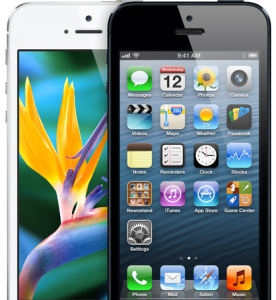 The iPhone 5 is clearly the best iPhone yet. Though it doesn't necessarily match competitive phones feature to feature, the iPhone 5 is impressive. The early iPhone 5 reviews are very flattering, with many reviewers pointing to its excellent build quality and Apple's attention to detail.
USA Today:
The iPhone 5 is a winner that should keep Apple at the front of the smartphone pack. But choosing iPhone 5 vs. a top-of-the line Android alternative isn't a cut-and-dried decision, especially if you're partial to a jumbo display…
Engadget:
 …the company is confident that it's knocked it out of the park again, and we have to agree. But, that new design isn't perfect — not quite a grand slam…Two times faster? Twice the graphics performance? Better battery life? Actually, yes. The iPhone 5 over-delivers on all those promises.
TechCrunch:
 I won't beat around the bush: it's fantastic.
Wall Street Journal:
Apple has taken an already great product and made it better, overall. Consumers who prefer huge screens or certain marginal features have plenty of other choices,
CBC:
Other manufacturers' phones have newer, more innovative technologies in them – wireless charging or near-field communications that allow for data sharing by tapping phones together – but few if any inspire the obsessive devotion that Apple does.
iPhone 5 Design
The iPhone 5 has an aluminum back, replacing the glass back found on the iPhone 4 and iPhone 4S. The iPhone 5 is taller than its predecessors, allowing a larger display and a larger battery. It's also about 20% lighter and 18% thinner than the old models. The iPhone 5 feels familiar, but the few design changes make big differences according to reviewers.
Engadget:
Visually, much has stayed the same, but the biggest change is impossible to see. Pick up the iPhone 5 and you're immediately struck by the reduction in weight.
Slashgear:
The iPhone 5 doesn't feel cheap. In fact, like a good haircut, picking up the new model doesn't feel like a drastic change or departure from what came before. It's familiar enough to be usable, consistent… it's a beautiful piece of engineering and design, and something you really have to hold in your hand to appreciate: neither photos nor words can quite do the accuracy of the construction and precise tolerances justice.
Daring Fireball
iPhone 5 in my hand, this talk of micron-precision, fine watch craftsmanship, and the computerized selection of best-match inlays sounds not the least bit bullshitty or blustery…It simply sounds like an explanation of the level of obsession that it takes to create a mass-produced device that feels this, well, nice.This iPhone 5 review unit is the single nicest object in my possession.
Performance and 4G LTE
The iPhone 5 is the first iPhone to feature 4G LTE, which means it can connect to the newest and fastest wireless networks. This new feature makes it even harder to choose between AT&T, Sprint and Verizon, especially for wireless customers not locked into a contract:
Read More:
iPhone 5: AT&T vs. Verizon vs. Sprint – Which Carrier is Best?
The Loop:
Like the faster processor and graphics, LTE gives you the feeling of never waiting for anything. Apps open fast and you are ready to work or browse the Web right away.
CNet:
…data access via 4G LTE is stunningly fast. This is no gentle upgrade. In my home on the Upper West Side of Manhattan, I tested both my AT&T iPhone 4S and the AT&T iPhone 5 at the same time. The iPhone 4S averaged a 2.4MBps download speeds over "4G," whereas the iPhone 5 averaged 20.31MBps. In comparison, my home wireless Internet via Time Warner averaged 9.02MBps at the hour I tested (1:30 a.m.).
Pocket Lint:
For basic tasks you aren't going to notice the speed difference as you whizz around the OS, or loading up your favourite website as Safari isn't hardware accelerated as the browsers are on Windows Phone or Android. But start to play games or load demanding apps and you'll soon notice the extra speed is there, and there to enjoy.
 iPhone 5 Display: 
The iPhone 5's 4″ display is significantly larger than what longtime iPhone users are used to and is of better quality. It's the same width as previous iPhones, which means it's still easy to operate with one hand. Those looking for an enormous display should look at the Galaxy SII, Galaxy Note 2 or other super-sized Android phones:
Loop Insight:
Of course, the thing that everyone is talking about with the iPhone 5 is the 4-inch screen. I can tell you that it's gorgeous.
Slashgear:
It's a truly beautiful display, with the best colors I've seen in a mobile device.
Wall Street Journal:
 The screen continues to look great…For those who prefer the gargantuan screens on some other phones, like the 4.8-inch display on Samsung's Galaxy S III, the iPhone 5′s screen likely won't suffice.
Time:
If what you want is a phone with a GREAT BIG SCREEN, the iPhone 5 isn't going to do the trick; it's the equivalent of a new-model-year compact car that's gotten additional leg space.
Daring Fireball:
The new size takes some getting used to. For one thing, the new dimensions look weird at first. My first few days with the 5, it continually struck me each time I took it from my pocket that it looked too tall — like if my son went away to summer camp and came home several inches taller.
Wall Street Journal:
I found the new iPhone screen much easier to hold and manipulate than its larger rivals and preferred it…In my view, Apple's approach makes the phone far more comfortable to use, especially one-handed.
iPhone 5 Battery and Performance: 
The taller design means Apple's able to stuff the iPhone 5 with a larger battery to keep it powered up as long as the iPhone 4S. It's the first iOS device to feature Apple's new A6 processor, which is said to be twice as fast as the A5 found in the iPhone 4S.
WSJ:
Perhaps the single biggest functional improvement in this iPhone—something you can't get by upgrading the software on an older model—is speed.
Time:
I found that I could get through one day — but not two — on a charge. That's the same ballpark as the iPhone 4S's 3G connection.
NY Times:
In practical terms, you encounter fewer days when the battery dies by dinnertime — a frequent occurrence with 4G phones.
CBC:
The iPhone 5 does everything — from computations to 3D rendering to opening apps — faster than the 4S, in some cases at double the speed.
Lightning Dock Connector:

Apple's introducing an all-new charging and docking connector with the iPhone 5. Dubbed Lightning, the new connector is smaller and reversible, which means users don't have to worry about plugging it in the 'right' way. The new connector means the iPhone 5 won't work with old iPod and iPhone docks and accessories that were made with 30-pin connectors unless you spring for a $29 adapter. Extra Lightning to USB cables, which many users will need for extra AC and car adapters, are $19 a pop. One thing that will really irk some users is that the Lightning to 30 pin adapter doesn't support iPod Out, which some high-end cars rely on for in-dash audio controls. As reviewers noted, the new Lightning connection is about size, not speed as its name suggests.
Engadget:
the Lightning connector is infinitely easier to connect…We were able to drive it home without looking the first time, and every time thereafter.
USA Today:
…you can't blame folks for making a fuss, given the hassle and added expense some will face.
Techcrunch:
A lot of people are upset that they're going to need adapters for their old accessories. But that's the price of progress.
Bottom Line:
Not surprisingly, the reviewers don't have any major knocks against the iPhone 5. It's right up there in the race for best smartphone, but reviews may change tone starting Friday as more reviewers and consumers get their hands on the device. All you have to do is look back at Antennagate, which marred the iPhone 4 launch.
https://youtu.be/xNsGNlDb6xY
The real test for the iPhone 5 when a million or so users get their iPhone 5s in the mail. Will it live up to what Apple promises in the above video? Maybe. But more likely, people are going to find things to complain about. You can read more about the iPhone 5 here.

As an Amazon Associate I earn from qualifying purchases.