iPhone 5: True Cost is Thousands, Most Expensive iPhone Yet
The iPhone 5 is Apple's most advanced phone and the most expensive. Sure, the $199 to $399 retail prices may look familiar, but there are a lot of costs to consider before taking the plunge and upgrading to Apple's latest iPhone. Those looking to buy the iPhone 5 as their first smartphone should especially keep an eye out for potential hidden costs.
iPhone 5 buyers will need to budget anywhere from $2,118 to $5,409 over the next two years to buy and maintain their devices. And that's before they pay for apps, games, cases and accessories.
The iPhone 5 Itself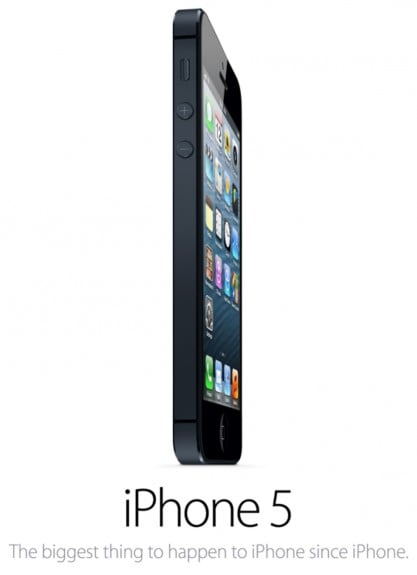 As always, Apple isn't shy about charging more than its competitors for its goods. The iPhone 5 starts at $199 and ranges up to $399 for those eligible for a full carrier subsidy. Some AT&T customers will be able to buy the iPhone 5 with partial subsidies, moving the price points to $449 to $649. Verizon customers who aren't eligible a subsidy will have to pay from $649 to $849 for the new iPhone 5. U.S. carriers simply don't appear to be as generous with early subsidies as they used to be. This is the reason why some will be paying much more for the iPhone 5 at launch than its predecessors.
Of course everyone can buy the iPhone 5 for the base $199 to $399 rates if they're willing to wait until they hit their eligibility dates.
4G LTE Wireless Plans:
Verizon and AT&T now emphasize data consumption on their new plans. While some AT&T and Verizon customers are fortunate to have grandfathered unlimited data plans, most will have to pay for data buckets and risk hefty overage fees. Sprint is the lone carrier in the United States to offer unlimited data, but its 4G LTE network doesn't cover most of the country yet. Depending on which carrier you go with and how much of its services you need, an iPhone 5 service contract costs between $1,920 and $5,520 over two years before taxes, miscellaneous fees and overage costs.
Verizon: The cheapest Verizon iPhone plan costs $80 per month and comes with unlimited voice minutes and messaging, but only includes 300MB of data. The most expensive plan costs $190 per month and comes 20GB data. The total cost, excluding taxes and fees, is $1,920 to $4,560 over the two-year contract.
AT&T: The cheapest AT&T iPhone plan costs $59.99 per month and comes with 450 voice minutes and 300MB of data. No messages are included as customers on this plan are billed per message. AT&T's premium plan comes with unlimited talk and messaging, along with 20GB of data for $230 per month. AT&T's plans cost between $1,439 and $5,520 over two years.
Sprint: The cheapest Sprint iPhone 5 plan costs $79.99 per month and comes with 450 voice minutes and unlimited texts and data. The most expensive Sprint iPhone 5 plan is $109.99 per month and comes with unlimited calling, messaging and data. Sprints plans are more affordable than the competition, ranging from $1919 to $2639 over the two-year agreement.
Verizon and AT&T charge $15 per GB in overage fees. That may not sound like all that much, but consider the fact that 4G LTE is several times faster than 3G and will enable iPhone 5 users to reliably stream movies and download enormous files with the included mobile hotspot feature. Some HD iTunes movies are over 3GB each, which means you could be stuck with paying $45 to download a single movie to your laptop while traveling.
iPhone 5 Cases:
The iPhone 5 should be a little tougher than the iPhone 4S since it doesn't have a glass back, but we still recommend buying a case for it. Decent cases start at $20 or so, but some of our favorite cases like the LifeProof case are in the $80 range. To put that in perspective, that's more than what many Android phones sell for after rebates. What's more, many iPhone users end up building small collections of cases as they come in seemingly unlimited variations. It's very tempting to pick up an iPhone case to fit the season or a temporary need.
iPhone Apps, Movies and Music: 
Apple makes a ton of money by selling apps, movies, music and other digital content through its iTunes and App stores. The $.99 purchases really do add up over time and Apple makes it almost too easy to buy on $20 movies to shut up the kids.   While some iPhone users never pay for apps and content, there are others that spend hundreds of dollars per year. Of course current iPhone users are used to these offerings, but those new to the iPhone should budget at least a little extra for apps and digital content.
New Dock Connector
Apple's new Lightening iPhone adapter will make some iPhone docks and accessories obsolete. While some users will opt for Apple's $29 30-pin to Lightening adapter dongle or $39 adapter cord, this isn't a practical solution for some accessories. Besides, who really wants to carry around one of these adapters or pay for multiple adapters?

As an Amazon Associate I earn from qualifying purchases.