iPhone 5 vs. Galaxy Note 4 Rumor Breakdown
iPhone 5 users that bought the device when it first arrived are set to come off contract. And while some owners are content, others are looking at upgrading. While many iPhone 5 owners have their eyes fixated on the iPhone 6, the rumored Samsung Galaxy Note 4 is another device that upgraders should be looking at as we head into the fall. Here, we take a look at the Galaxy Note 4 vs iPhone 5.
In the fall of 2012, Apple announced the iPhone 5, a massive overhaul from the iPhone 4s that it had released the year before. Unsurprisingly, millions of consumers around the world bought the iPhone 5 within days of its release. And who could blame them? The iPhone 5 was the first iPhone with a larger 4-inch Retina Display, the first iPhone with a Lightning dock port, the first iPhone with an industrial metal design, and the first iPhone with 4G LTE data speeds. Oh, and it also featured a solid camera and processor to boot.
The iPhone 5 was, and still is, a solid smartphone though it's one that many users are planning to ditch when they come off contract later this year.
Many iPhone 5 owners (myself included) signed new two year contracts when they bought the iPhone 5. And in just a few short weeks, many iPhone 5 owners are going to be coming off contract. The smart ones are going to at least look at their options. And there are more than a few options at their disposal.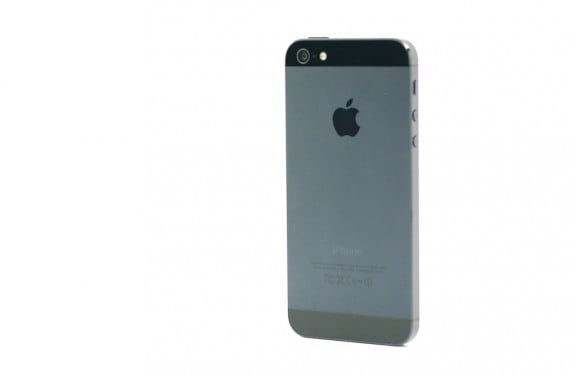 Thanks to Apple's incoming iOS 8 update, iPhone 5 users certainly have the option to keep the device. iOS 7 is performing beautifully on Apple's aging former flagship and there is a good chance that iOS 8 will do the same. There is also a good chance that the iPhone 5 will get the iOS 9 update next year though that remains unconfirmed.
iPhone 5 owners will also now be free to ditch the iPhone 5 without paying an ETF. Unsurprisingly, many of the iPhone 5 users we've talked to have their eyes on the iPhone 6. And for good reason. It will keep them in the Apple ecosystem and rumors suggest that it will have an assortment of big time features including a larger display.
The iPhone 6 isn't the only device that iPhone 5 owners should have their eyes on. Users should also investigate the upcoming Samsung Galaxy Note 4, a device that appears to be a high-end successor to the Samsung Galaxy Note 3.
Samsung Galaxy Note 4 rumors have been rampant for weeks and they have firmed up to the point that we feel comfortable making a comparison to the iPhone 5 ahead of its launch. While we don't have all of the answers, this guide will help iPhone 5 upgraders prepare for the Galaxy Note 4's arrival. Here now is a look at the iPhone 5 vs Galaxy Note 4.
Design
The iPhone 5 is almost two years old but its thin industrial design that's comprised of glass and aluminum is still one of the best smartphone designs around. It's better than the Samsung Galaxy Note 3's faux plastic leather and it's on par with the HTC One M8's design from 2014. Translation: The Galaxy Note 4 design is going to have to be extremely good to trump it.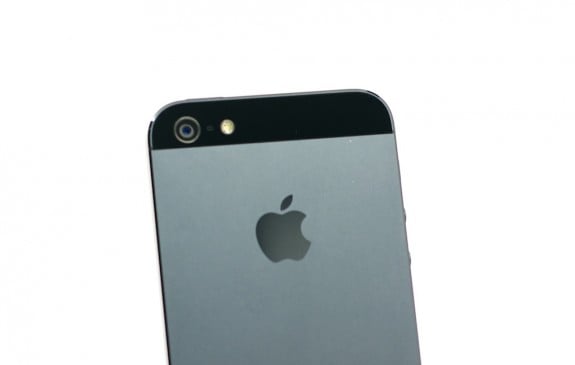 Even in the face of a Galaxy Note 4 rumor avalanche, Samsung has managed to keep its Galaxy Note 4 design shrouded in mystery. The device itself still hasn't leaked so it's difficult to say just how it will match up with the iPhone 5's. Rumors out of Korea suggest that it could come with a metal frame those without evidence, those rumors are flimsy.
We have seen some smaller tidbits leak though. Galaxy Note 4 design rumors suggest that we'll see a fingerprint sensor, an IP67 certification (dust and water resistance) and the same four colors that debuted on the Galaxy S5 (blue, white, black and gold). The Galaxy Note 4's overall design, however, remains out of reach.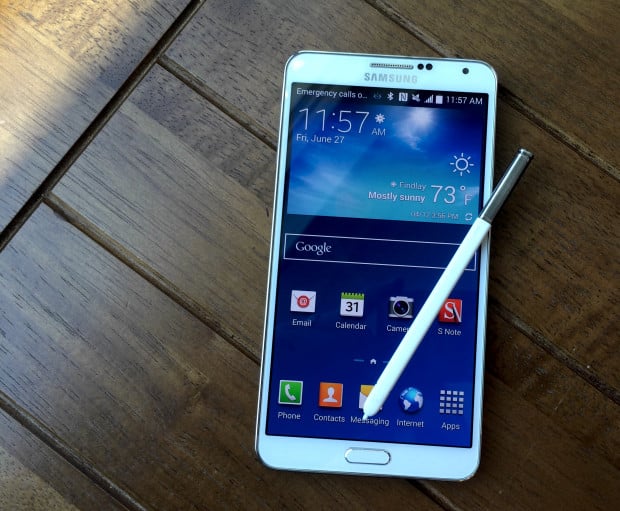 Unfortunately, we may not see the Galaxy Note 4 design emerge until just before Samsung's announcement or perhaps, at the announcement itself. Samsung's Galaxy Note 3 design didn't emerge until it was shown off on stage for the first time.
Here's what to make of all of this:
The Galaxy Note 4 probably won't have the same design as the Galaxy Note 3, Samsung always makes tweaks, but don't count on metal just yet. Some of those tweaks, IP67 for example, could be enticing to iPhone 5 users.
The iPhone 5 doesn't have a fingerprint sensor, the Galaxy Note 4 will almost certainly have beefed up security.
Samsung's Galaxy Note 4 could feature a removable back and microSD card slot, hallmarks of Samsung's devices and two features that aren't found on the iPhone 5.
We may not see the full blown Galaxy Note 4 design leak until September.
Display
The iPhone 5 features a fantastic high-resolution Retina Display that offers 16:9 aspect ratio and 4-inches of real estate for gaming, watching content, and doing work. It's still solid.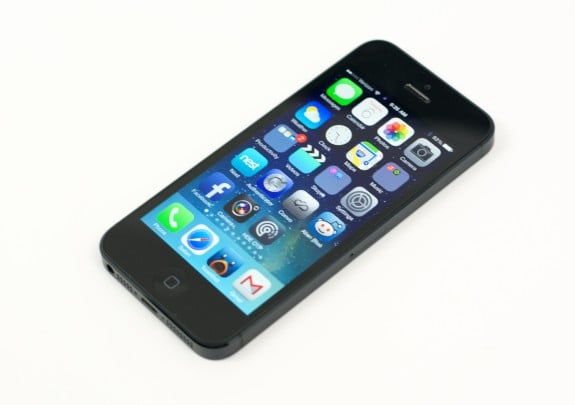 Samsung's Galaxy Note series is known for its massive display. The Galaxy Note 3, for instance, features a massive 5.7-inch 1080p display that's perfect for gaming, watching shows and getting stuff done on the fly with the device's bundled S Pen. The size difference between the iPhone 5 and the Samsung Galaxy Note 3 is obviously very noticeable. We expect the same from the Galaxy Note 4 and the iPhone 5.
The Samsung Galaxy Note 4 is rumored to be coming with a large QHD (Quad HD) display. As we've pointed out, QHD resolution will offer higher resolution gaming, something that's key on a device of this size, and it will also sharpen the look of movies, television shows and other content. As we noted in our review of the LG G3, QHD is more than just a marketing gimmick.
As for the size, it's expected to be 5.7-inches, same as the Galaxy Note 3, and much larger than the 4-inch Retina Display on the iPhone 5.
Here's what iPhone 5 users need to know:
Given the mountain of evidence, it's pretty clear that the Galaxy Note 4 will have a better screen resolution than the iPhone 5. This will help it keep pace not just with the iPhone 5 but with the iPhone 6 and top of the line Android smartphones.
It's hard to see a shift in screen size at this point. Everything we've seen points to 5.7-inches. Expect this to be one of the big differences between the two devices.
Yes, the Galaxy Note 4 will be a large phone, larger than the iPhone 5. This is both a gift and a curse. Gift because it's great for movies, games and the S Pen, curse because the phone will likely be very large.
Specs
While the display and design will likely be in focus on the Galaxy Note 4, Samsung's new Galaxy Note release will come equipped with a number of other specifications to help bolster its spec sheet. Here, we put the latest rumors together. Keep in mind, this is a partial spec sheet but it should give you an idea about what to expect from the device when it arrives.
Samsung Galaxy Note 4
Android 4.4 KitKat/Android L
5.7-inch WQHD display
Fingerprint sensor/Retina scanner for added security
Unknown battery size
S Pen
iPhone 5
Apple A6 Processor
iOS 7.1 (will get iOS 8)
4-inch Retina display
16GB / 32GB/ 64GB storage options
1.2MP front-facing camera
8MP rear-facing camera
1,440 mAh battery
802.11 a,b,g,n,n WiFi
Key things to take away from this:
It's clear, from where we're standing, that the Galaxy Note 4 is going to come with the usual spec upgrades fitting of a device from 2014. Rumors have continually pointed to new processors and it looks like Samsung could split it into Snapdragon and Exynos chips once again. Look for it to outperform the iPhone 5 and its A6 chip in benchmarks.
Camera rumors continue to hint at the inclusion of OIS, Optical Image Stabilization, so it's possible that this will be a key feature on the Galaxy Note 4. The iPhone 5 camera is good but a sensor from 2012 likely won't be able to top one from 2014.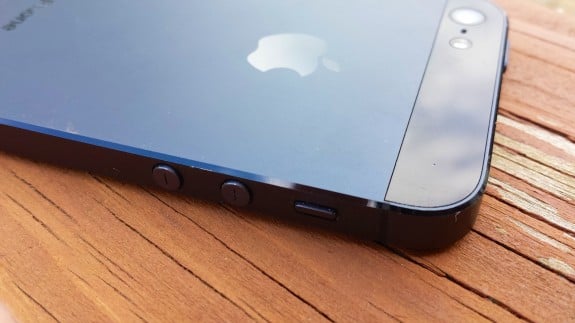 The Galaxy Note typically has a larger battery than the iPhone. The Galaxy Note 3 has some of the best battery life in the business. Given the likelihood of the QHD display, we're expecting a massive battery for the Galaxy Note 4. We would not be surprised if this was a focal point.
The UV sensor on the Galaxy Note 4 could be a nice addition. The iPhone 5 does not have one.
Software
The iPhone 5 currently runs iOS 7.1.2, Apple's latest update. This fall, the iPhone 5 will be getting iOS 8, the software that debuted at WWDC 2014 and the software that will almost certainly make its debut on board the iPhone 6 later this year.
iOS 8, currently available to developers in beta form, doesn't look a whole lot different than iOS 7 but it will come with a number of notable changes including improved Notifications and improvements to photos. There are literally over 100 improvements inside iOS 8. We outline one of iOS 8's key features in the video below.
The Samsung Galaxy Note 4's software is going to look and work differently than the software on the iPhone 5. Samsung always outfits its new devices with new TouchWiz software features and in the case of the Galaxy Note 4, we could also see it make some additions for its S Pen.
Here are a few of the rumored changes though these are old. We haven't seen any recent Galaxy Note 4 software leaks though we imagine a few will leak out as we get closer to its launch event.
Smart Fingerprint –  It wasn't fully detailed but it's assumed that it has something to do with being able to customize a fingerprint reader for certain actions.
Multi Network for Booster –  Could be similar to the Download Booster feature on the Galaxy S5 that combines Wi-Fi and cellular data for faster download speeds.
Swipe to Launch Motion Launcher –  Could be similar to Motion Launch on the HTC One M8.
Aqua Capture – Possibly similar to the Aqua Mode found on the Samsung Galaxy S4 Active. Aqua Mode allowed Galaxy S4 Active users to take photos underwater.
To get a sense of the Galaxy Note's software, take a peek at it in action next to the Galaxy S5 in the video below.
Carriers
The iPhone 5 calls a number of carriers home including AT&T, Sprint, T-Mobile, Verizon and a number of other smaller, pre-paid and regional carriers. The Galaxy Note 4 is likely going to be far more limited.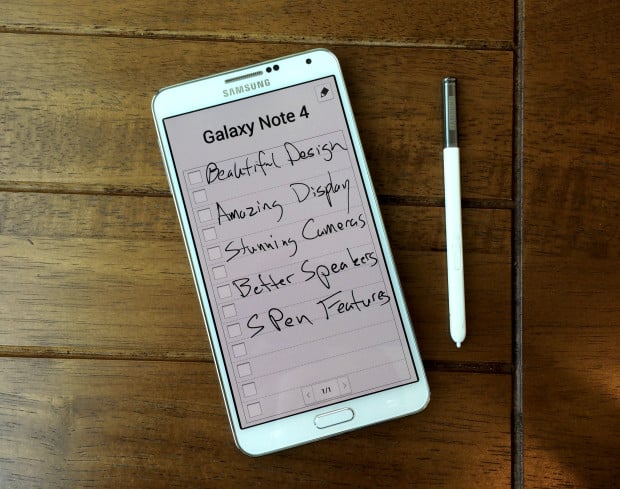 The Samsung Galaxy Note 4 is rumored for AT&T, Sprint, T-Mobile, U.S. Cellular, and Verizon. Same as the Samsung Galaxy Note 3. The Galaxy Note series is typically more limited than Samsung's Galaxy S and the iPhone so those thinking about upgrading to the Galaxy Note 4 are likely going to have to switch to a major carrier.
Galaxy Note 4 Release Date
Over the last few weeks it has become clear that the Samsung Galaxy Note 4 will launch in September. Every single Galaxy Note 4 launch rumor puts the announcement inside of September and more specifically, near IFA 2014 in Berlin, Germany. September 3rd is thought to be the Galaxy Note 4's launch date and Samsung is expected to confirm that date soon.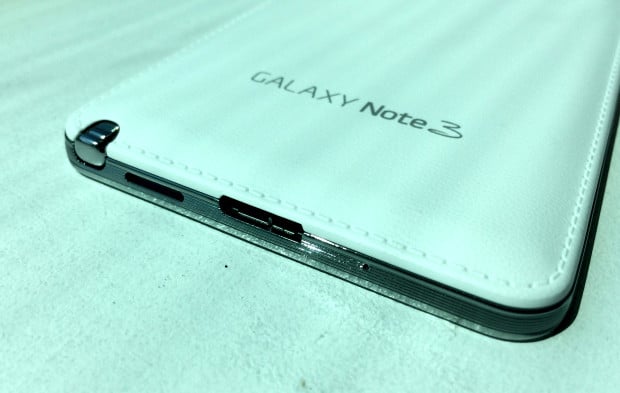 As for the Galaxy Note 4 release date, it could come in just a few short weeks as Samsung works to defeat the iPhone 6. A recent report suggests that we could see a quick turnaround from announcement date to release date. Production will reportedly start soon and the device is thought to be coming out much sooner than the Galaxy Note 3 did last year.
Quick Advice
At this point, iPhone 5 users can simply sit back and wait for both the Galaxy Note 4 and the iPhone 6 to arrive. Both will likely come with some charming characteristics and we expect both to be enticing options for those coming off contract.

This article may contain affiliate links. Click here for more details.