iPhone 5s vs Galaxy S5: What Buyers Need to Know
At the Mobile World Congress in Barcelona Samsung has taken the wraps off of its new flagship smartphone, the Galaxy S5, along with its new Gear watches. Unless Apple changes its product cycle between now and this fall (not likely) those shopping for smartphones within the next six or seven months will be looking at the two market leaders and choosing between the iPhone 5s or the Galaxy S5. Samusng's new devices are scheduled to ship April 11 with prices still not mentioned officially yet. Everything Samsung does is compared to Apple and vice versa and both have other phone models available, but we're talking flagship phones at the moment.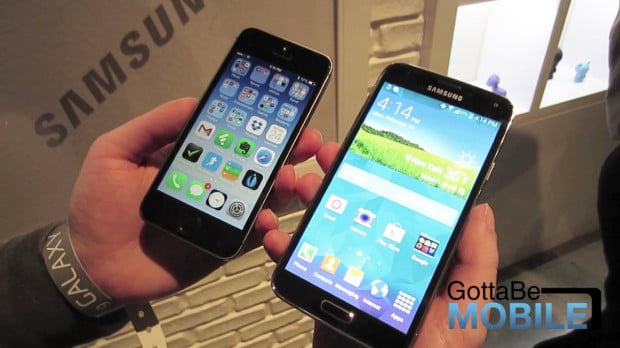 So let's take a look at the differences we know about today from a buyer's perspective. Remember only a few bloggers and media types have had a chance to put the Galaxy S5 in their hands so far. Check out GBM's early hands on comparison of the Galaxy S5 and the iPhone 5s from Mobile World Congress.
If you follow rumors and leaks the way we do you'll notice that many of the next iPhone rumors/leaks somehow managed to show up as features in the new Galaxy S5. (Don't for a minute think it was an accident that we have heard about those features for Apple already.)
These include a sensor that serves as a heart rate monitor and mobile payments. Both are big tent poles for Samsung's new release. One of Samsung's big themes for the S5 is health and fitness. The Galaxy S5 mobile payments feature is activated by a fingerprint sensor that already comes included on the iPhone 5s. We've heard much about both of these topics in Apple rumors but we'll have to wait for anything official.
So, for the spring and summer it looks like Samsung will have the lead in marketing fitness features and mobile payments. But obviously there's a lot to be discovered in the details about how all of that works while we read endless rumors and leaks about Apple working on similar things.
Let's run down some of the key differences between the iPhone 5s and the Galaxy S5 for those who may be shopping for a new smartphone between April 11 and this fall.
Processor
Apple's iPhone 5s is running the A7 64bit chipset with the M7 motion coprocessor alongside to read sensor data. The Galaxy S5 will be running a quad-core Snapdragon 800 processor pegged at 2.5GHz. And there's word there will be an 8 core processor version later in the year. So, the S5 will not have a 64bit processor going head to head with Apple's A7. But then again, have we really seen anything that takes true advantage of the 64 bit A7 so far? Until benchmarks and real world users get their hands on the new Galaxy S5 you could grade what we know today about about processor comparisons as incomplete.
Screen size and form factor
For its flagship phones Samsung long ago cast its lot with the larger sized form factors. The Galaxy S5 will hit with a 5.1 inch display and the iPhone 5s will still be featuring its 4 inch screen.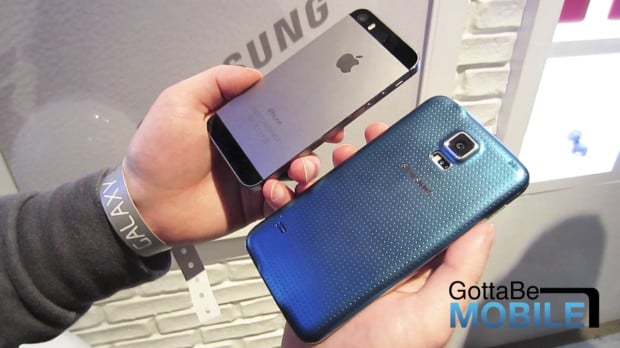 Those who are decidedly in the iPhone camp will have to wait for rumored larger screen iPhones this fall, if they do appear. Grading the differences in this area depends so much on personal preference of screen size, but suffice it to say if you're looking for a larger screen Samsung is the reigning leader in that category presently.
Screen resolution
The two screens in the competing flagship phones have different technology. Apple runs with an IPS LCD screen at 326 pixels per inch (pip) and the Galaxy S5 will feature Super AMOLED at 432 ppi. Again, personal preference is a key here. Both devices offer great looking screens.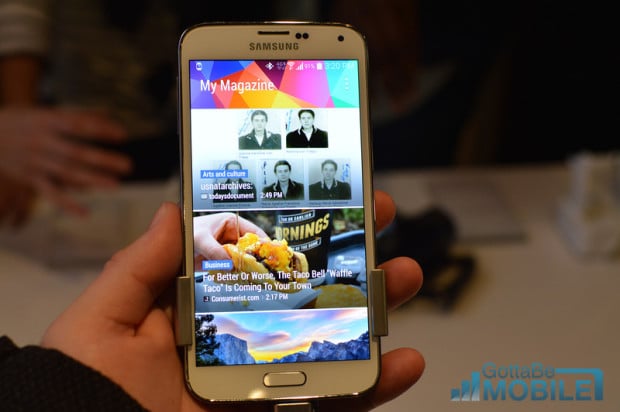 Camera
Samsung has upped the pixel count for its camera to 16 megapixels and is touting HDR photo and video along with Ultra High Def video at 30 fps. Samsung is also touting phase detection and selective focus to give your photos a more professional look. Apple's iPhone 5s features an 8 megapixel camera with True Tone dual LED flash, burst mode at 10fps, auto image stabilization, and 720p HD video at 120fps slow-mo.
The Galaxy S5 front facing camera is 2 megapixels. The iPhone 5s front facing camera is 1.2 megapixels. Samsung is also touting a very fast autofocus at 0.3 seconds. In terms of picking a camera winner, once again until we actually see photos and video taken with the S5 it would be tough to judge.
Sensors
Sensors is the game in smartphones these days. These sensors do everything from fingerprint scanning to monitoring physical activity and health statistics. Apple's M7 coprocessor for the iPhone 5s was designed to gather data from a number of sensors without taxing the main A7 processor and feed that sensor data to Apps as they needed them. Sensors are big in the health and fitness field and Samsung is touting fitness as a big theme of the Galaxy S5 with a sensor that monitors heart rates via holding your finger over the rear camera.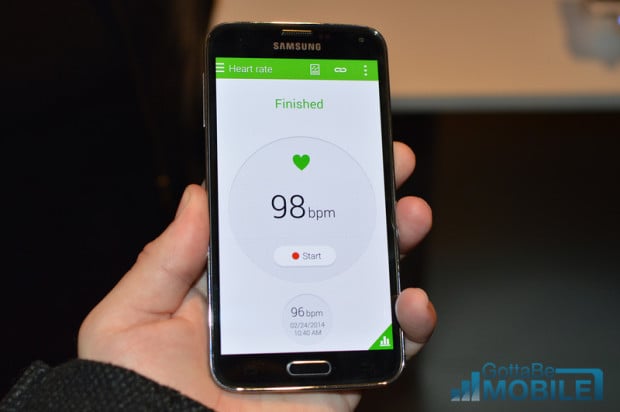 Apple is rumored to be developing a similar technology for its new phone, and if fact you can do some of this health and fitness monitoring on the current iPhone 5s and the Galaxy S4. But if you have to have the latest and the greatest to check out how many times your heart beats when you get excited about a new smartphone, Samsung will be your early ticket to that game.
Read: Why Wait? Galaxy S5 Features Available Now on Top Smartphones
Ruggedness
Smartphones are fragile things and many users love to sport them during outdoor activities. The Galaxy S5 is pegged as being water and dust resistant. (Note water resistant and not waterproof.) Samsung says it meets IP67 standards for those categories. Apple's iPhone 5s makes no such claims about water resistance or dust resistance. Samsung has the edge here.
For those that don't know, an IP rating with two digits tells you two things. The first digit (in this case a 6) tells about the level of protection from dust or solid materials. In this case a 6 mean dust should not harm the device. The second digit is about protection from fluids. The 7 rating here means that it is protected against fluids if the device is immersed for short periods of time. This is typically tested with a device immersed for up to 30 minutes.
Fingerprint reader
Samsung will be tagged for following Apple's lead by adding a finger print reader, which Apple introduced in the iPhone 5s as Touch ID. But according to today's announcement, Samsung's fingerprint sensor will have more potential capability out of the box. In addition to using it for logging into your phone, users will be able to use their fingerprint for payments via PayPal at online locations that accept PayPal. But you won't be able to do so on the Google Play Store.
Apple's fingerprint sensor currently only allows you to validate purchases with iTunes. Apple's Touch ID requires a press. Samsung's requires a vertical swipe over the home button. The success of Samsung's efforts here will obviously depend on how easily and well the fingerprint reader works and how secure it is. We have not heard technical details about that technology yet. We're already seeing early reports that using it is a bit finicky. On paper it looks like the Galaxy S5 might have the edge here but we need more details.

Storage
The Samsung Galaxy S5 will come with 16GB or 32GB of storage with a slot for a removable SD card storage, possibly as large as 128GB. The Apple iPhone 5s comes in 16, 32, or 64GB models with no removable storage. Samsung has the edge for those who want removable storage, although keep in mind that Google has made some changes with KitKat that affect SD card storage.
Networking
Both phones are 4G LTE capable. The Galaxy S5 will feature 802.11 A/C WiFi with MiMo. The iPhone 5s is 802.11 N. The difference? A/C communicates on the 5GHz band exclusively. 801.11 N communicates via both 2.4GHz or 5GHz bands. 5GHz allows faster throughput over a wider spectrum but doesn't communicate as well through walls and other obstacles as the 2.4Ghz spectrum. 802.11 N uses four spatial streams of data and 802.11 A/C uses 8. Depending on your router and desire for the latest and greatest, the Galaxy S5 will match up better with the newest technology on the market. Ironically, including Apple's latest Airport Extreme router.
There's another claim made by Samsung in its presentation regarding data speeds. According to the presentation the Galaxy S5 using WiFi + LTE is capable of downloading a 1GB file in 30 seconds. Eyebrows at GBM raised when we heard that claim. So, mark that down in the very skeptical wait and see column.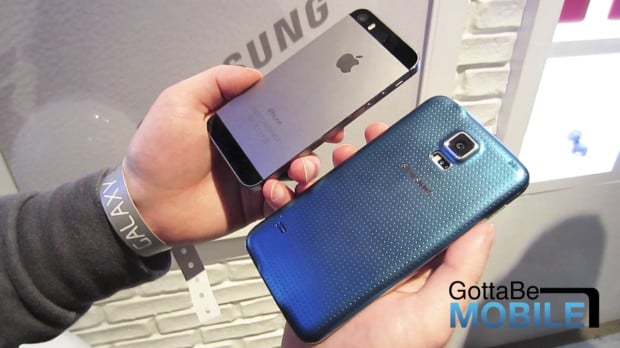 Battery Life
Samsung has put a very large 2,800MaH battery in the Galaxy S5, claiming 10 hours of web browning and 12 hours of video playback. There is a new ultra power saving feature called black and white mode that switches into action when your battery life is winding down. This halts a number of features and turns your screen black and white to save power. Samsung claims that if you put your phone in standby with 10% of your juice left, the phone will last up to 24 hours in this mode.
Apple's current iPhone 5s meanwhile boasts up to 10 hours of use on LTE and 10 hours of video playback. Note poor battery life is one of the many bugs that current iPhone 5s users hope gets quashed with the release of iOS 7.1. As far as a grade in this category is concerned there is no way to judge the new Galaxy S5 until it is released. Call this one a draw currently.
Summing it up
So, those are some key differences between the current iPhone 5s and the new Samsung Galaxy S5. Again, the new S5 will be available on or around April 11 and unless things change drastically we won't see a new iPhone until the fall of 2014. The devil is always in the details and many of the new features of the Galaxy S5 have yet to be road tested by real users. For those who love the outdoors and have a fitness bent, the Samsung Galaxy S5 looks like it might be a very capable addition to your outdoor kit.
Certainly if you're interested in a larger display you won't find an iPhone in that category for six or seven months, if then. If removable storage is a must, then don't look to Apple for any help there. If you're interested in a integrated and combined wearable/smartphone combo, Samsung is probably the place to shop during the next six months until we see what Apple may roll out. Those looking for faster WiFi will probably be more satisfied with the Galaxy S5, assuming they have the router technology to offer those speeds. Regarding cameras, battery life and performance we'll have to wait and see how things shake out once the new Samsung Galaxy S5 is in users hands.

This article may contain affiliate links. Click here for more details.