iPhone 5s vs. Nexus 5 (Rumored)
Last month, Apple released the iPhone 5s, its iPhone 5 successor and a device that joined the new iPhone 5c and iPhone 4s in Apple's iPhone lineup. In just a few days, Google is likely going to announce its brand new Nexus-branded smartphone, the Nexus 5, a device that is going to compete for attention. Ahead of its launch, we take a look at how we expect the iPhone 5s to match up with the Nexus 5.
After months and months of rumor and speculation, Apple took the stage at its campus in Cupertino, California and announced two brand new iPhones in the mid-range plastic iPhone 5c and the premium, high-end iPhone 5s. The iPhone 5s in particular replaced the iPhone 5 as the company's flagship smartphone model and a device that will carry the company flag into battle in 2014.
Apple's iPhone 5s will have to fight off an assortment of competitors this holiday season from the Galaxy Note 3 to the Lumia 1020 to the Galaxy S4 and HTC One, heroes from earlier in the year. There is also another yearly, highly anticipated device that has yet to be announced, one that should definitely compete with the iPhone 5s. That phone? Google's new Nexus.
After months and months of rumor and speculation, Google is set to take center stage, either in a physical location or online, and announce at least one brand new Nexus smartphone in the LG-made Nexus 5. The Nexus 5 will replace the discontinued Nexus 4 as the company's flagship Nexus smartphone and it, like the iPhone 5s, will be competing for attention well into 2014.
Last year, many consumers found themselves comparing the iPhone 5 to the Nexus 4 and this year, it will be more of the same, only it will be two different devices attracting their attention. With the Nexus 5 launch nearly here, it's time to take a close look at how Google's new flagship should match up with the iPhone 5s, Apple's leading smartphone.
Release Date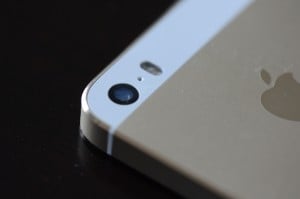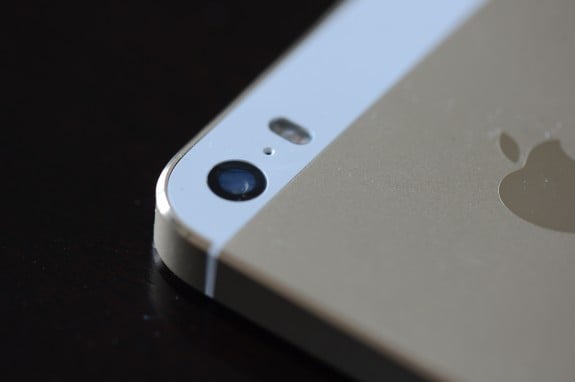 The iPhone 5s was released last month though almost immediately it encountered supply issues, supply issues that had been rumored ahead of its release, issues that Apple didn't announce at its launch event. For weeks now, the iPhone 5s has been in short supply, with Apple Stores and carriers still experiencing stock shortages across all colors.
In particular, the gold iPhone 5s is hard to find and it will likely remain that way for a few more weeks at least. Gotta Be Mobile has also learned that Verizon stores within 500 miles of San Francisco are experiencing severe stock shortages for all variants of the device. Point is, despite it being available, the iPhone 5s is still hard to find and likely will remain that way as we head into November.
Last year's Nexus 4 launch was hampered by the same type of issue, only, it was way more extreme. When it arrived in November, the Nexus 5 sold out not once, but twice, before getting pushed back all the way into February for some buyers. It wasn't a launch that Google wants consumers to remember.
The Nexus 5 launch date still isn't known, but we expect it to arrive within the next few days, with a release likely coming by the middle of November, ahead of Black Friday. Google likes to release its devices no later than two weeks after a launch event and with it rumored for October, we should see a release date soon.
Given the high profile of the Nexus 5, it's possible that we could see supply issues drag it down, but consumers should hope that Google learned its lesson with the Nexus 4 launch and ordered a ton of phones to keep supply in line with demand.
Design
The iPhone 5s uses the same overall design as the iPhone 5. That means that it comes with a premium industrial design made of glass and metal. Specifically, the iPhone 5s measures in at 7.6mm thin, extremely thin for a flagship smartphone, and weighs in at a mere 112 grams. This makes it an extremely compact device and one that easily fits in pockets and hands.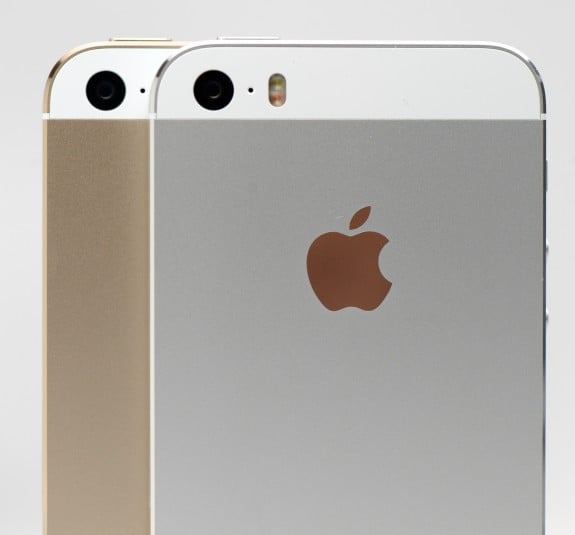 Apple's design means that there is no expandable storage or removable back. There is, however, a fingerprint reader embedded in the home button. Touch ID allows users to open their phone up using their fingerprint, something that enhances security for its users. In addition, the iPhone 5s comes in three colors, gold, silver and gray.
To no one's surprise, the Nexus 5 should use a completely different design. Thanks to a copious amount of leaks, the LG Nexus 5 design will differ from both the Nexus 4 and the iPhone 5s in that it will likely use a black matte material that appears to resemble the Nexus 7's smooth back. Specific dimensions are unknown, but given that Google slimmed down the Nexus 7 design, we expect an extremely slim and lightweight device.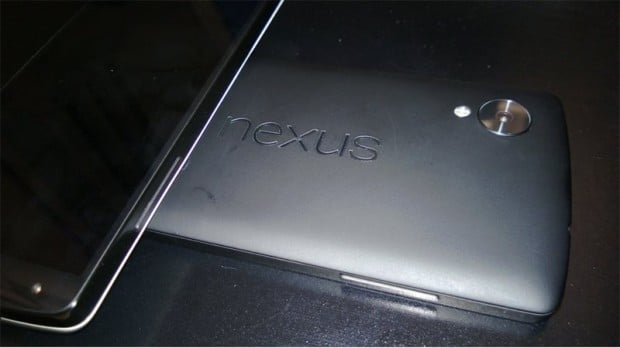 Like the iPhone 5s, the Nexus 5 won't have a microSD card slot and from the looks of things, it's unlikely to have a removable back as well which means that users will be stock with the stock battery.
Display
Apple kept the 4-inch Retina Display found on the iPhone 5 and put it on board the iPhone 5s. What this means is that it boasts a display that offers 1136 x 640 resolution at 326 pixels-per-inch. While the display is aging, it's not showing its age, as the display still ranks up there with the best on the market, offering fantastic looking videos, photos, web, and more.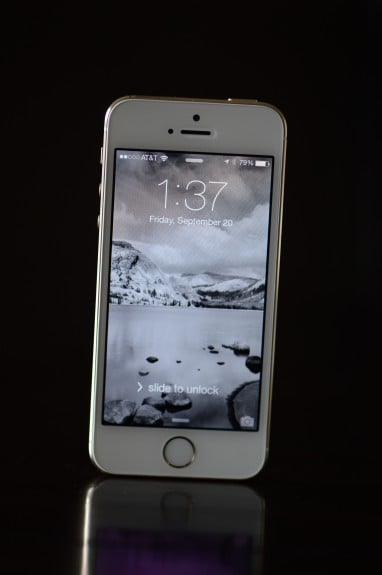 Those who are looking for a larger display are likely going to find one with the Nexus 5. Leaks point to a near 5-inch display that rocks 1920 x 1080 resolution with 441 pixels-per-inch. In other words, it's going to be on par with many of the smartphone displays that we saw arrive in 2013, displays like the Galaxy S4's and the HTC One's.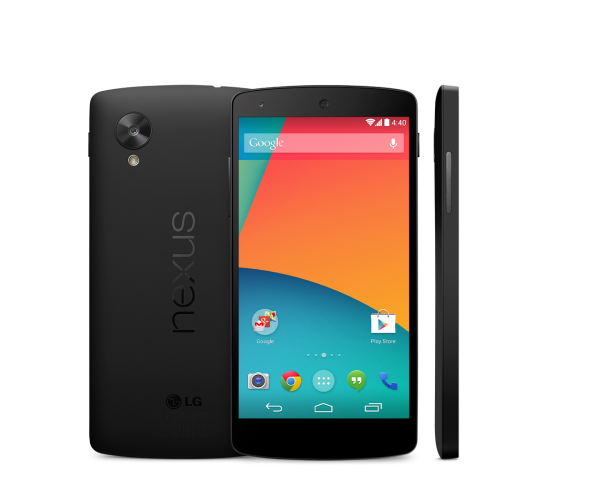 Like the iPhone 5s display, it should produce high quality photos and video and the extra size will work out well for those that simply need more space for things like gaming and browsing the web.
Specs
Ever year, Apple's new iPhone ups the ante in terms of specifications. With the iPhone 5s, we saw the company make changes to the camera and processor, adding in an upgraded 8MP sensor and a new A7 chip that offers 64-bit support.
On paper, the camera upgrade won't look like much. However, the additions of true tone flash, slow motion, larger pixels and a larger aperture, faster focus and burst shooting mode, and auto image stabilization offer users some significant advantages over Apple's previous cameras. It also helps that it can shoot high quality photos and video in low-light environments. As for the processor, it offers performance upgrades over Apple's previous chips and speed on the iPhone 5s isn't going to be an issue.
Once again, Apple left out a 128GB storage variant, meaning, buyers are going to have to settle with three variations including 16GB, 32GB and 64GB, Apple's standard fare.
The Nexus 5 should come equipped with a Snapdragon 800 quad-core processor that will offer significant performance but won't feature 64-bit support. It is likely going to be coming with an 8MP camera that will offer Optical Image Stabilization and should find itself among the best cameras on the market despite the low mega-pixel count.
Leaks point to a 16GB and 32GB model with a 2,300 mAh battery. The iPhone 5s uses a 1570 mAh battery. And yet, both of these devices should be on par with each other when it comes to their battery life.
Software
The iPhone 5s runs Apple's brand new iOS 7 update out of the box. The software, which can be seen in the video below, offers a brand new look to go along with new features including AirDrop, a new Camera app, overhauled Notifications, Control Center and more.
It represents Apple's biggest update in years. It won't be the last update that the iPhone 5s gets either. Apple typically keeps its devices updated with software updates throughout the year. It also keeps them updated for three years before retirement. In the case of the iPhone 5s, it should get iOS 8, iOS 9 and iOS 10 before setting off into the sunset. This is fantastic for those that do wish to sign a contract.
Google's Nexus 5 is likely going to run Android 4.4 KitKat, its brand new update that it announced back in September and which should be making its debut alongside the Nexus 5. Android 4.4 KitKat is thought to have a number of new additions though a full list of specifications remains out of reach at the moment. The update doesn't appear to be a massive upgrade from Android 4.3 Jelly Bean, but rather, an incremental one. The software on the Nexus 5 will be a pure vanilla Google experience, something that is unique to the Nexus line of phones.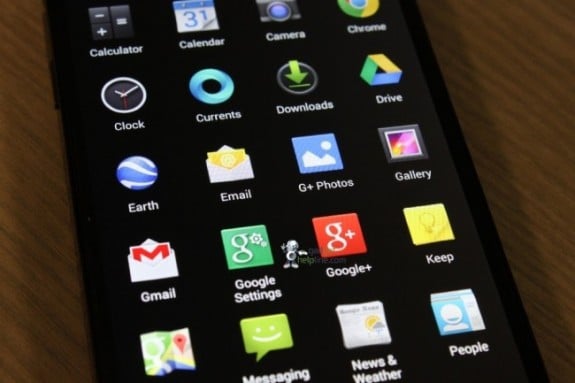 Because this is a Nexus smartphone, the device will get its updates straight from Google, just like the iPhone gets its updates straight from Apple. It should get updated for a number of years as well though Google is a little harder to predict than Apple.
The big thing for consumers to understand is that both operating systems have big time features and it's going to be up to consumers to use both, ahead of time, to determine which one suits their style.
Carriers
The iPhone 5s is not only going to be available on the 4G LTE networks of the five largest carriers in the United States (AT&T, Sprint, T-Mobile, U.S. Cellular and Verizon), but it will be available on a host of smaller, regional carriers as well with Boost Mobile, C Spire Wireless, and more set to offer Apple's brand new iPhone.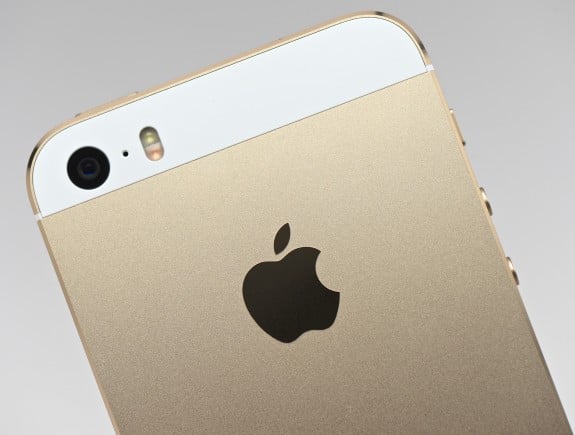 Last year's Nexus 4 was limited in terms of carriers and it's looking like the LG version of the Nexus 5 will be limited as well with an FCC filing pointing to AT&T, Sprint and T-Mobile as likely carriers. The device is going to be running on their LTE networks rather than HSPA+ or 3G, a drastic change from the speeds found on the Nexus 4.
From the look of things, a Verizon Nexus 5 is out though, it's possible that it could arrive late or that Google somehow managed to keep things under wraps. We're leaning toward a three-pronged approach like the Nexus 7, a device that is available on AT&T, T-Mobile and Verizon but not Sprint.
Price
One of the reasons why the Nexus 4 was able to attract a ton of users was because of its price. Simply put, the Nexus 4 price, which started at $299, was unbeatable. Sure, there are other cheap, unlocked smartphones on the market but none of them were as powerful as the Nexus 4 was. It's looking like more of the same from Google with the Nexus 5, unsurprising given the success of the Nexus 4.
The thing is, it looks like Google will be increasing the price ever so slightly. Last week, we saw the Nexus 5 leak onto Google's website ahead of schedule, advertising a $350 16GB Nexus 5. It also looks like the device will come in 32GB form, rather than 8GB. That should mean a price of $400 for the 32GB version of the Nexus 5.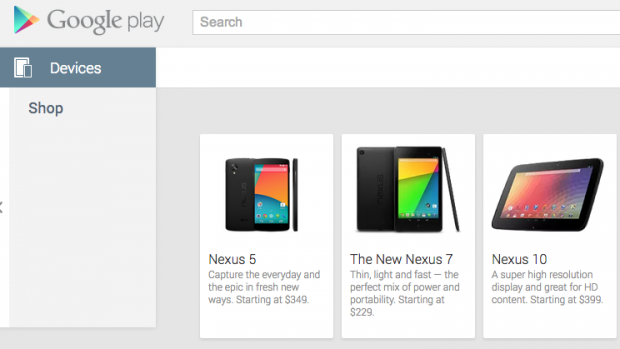 Yes, the price is a little more expensive but given the probable specs, 1080p display, sleek design, quad-core processor, LTE, solid 8MP camera, it's still a very, very enticing deal. Especially for those weighing the unlocked version of the iPhone 5s.
The iPhone 5s comes in three sizes, 16GB for $200, 32GB for $300 and a 64GB for $400. Those prices are for on-contract versions of the phone. Those looking to snag it off-contract, will find a $650 starting price tag. That means that the device should be $300 more expensive than the Nexus 5 16GB, off-contract. Nothing is set in stone of course but the strength of the Nexus is its price so don't expect Google to match Apple's price point. Instead, it will undercut it.

As an Amazon Associate I earn from qualifying purchases.