iPhone 5s vs. Samsung Galaxy S5: Early Look at What to Expect
Apple's iPhone 5s is currently one of the top choices on the market, battling the likes of the Samsung Galaxy S4, Galaxy Note 3 and more. Come 2014, the iPhone 5s will encounter a brand new challenge from Samsung, a device that is currently being called Samsung Galaxy S5, and a device that has seen its rumor mill start churning as we head into 2014.
Last September, Apple announced its iPhone 5, the first iPhone with a larger display, the first with the company's new Lightning dock standard and the first with 4G LTE data speeds. Unsurprisingly, the device made a big splash with consumers and challenged the Samsung Galaxy S3 during the holidays and beyond. 2013 and 2014 appear as though they will play out the same way.
In March, after weeks and weeks of rumor and speculation, fueled in part by the success of the iPhone 5, Samsung announced the Galaxy S4 to replace the Galaxy S3 and take on the iPhone 5. Up until September, the devices vied for attention amongst a market flooded with big name devices with unique software and powerful hardware.
In September, after weeks and weeks of rumor and speculation, fueled in part by the Galaxy S4 and the successes of other devices, Apple announced the iPhone 5s, a device that replaced the iPhone 5 with a number of new features. Since September, the iPhone 5s has been a sought after smartphone and we expect it to be one of the top devices for much of 2014 as well.
That said, consumers are starting to keep an eye on the future and rumors suggest that the iPhone 5s will be challenged by a next-generation Galaxy S device of its own, a device that is currently being called Samsung Galaxy S5. The device is rumored to be only weeks away and it's supposedly going to be coming with a number of high-end features.
Here, ahead of its arrival, we take an early look at what we expect from the battle between the iPhone 5s and the Samsung Galaxy S5.
Release Date
The iPhone 5s was released back in September in the United States and elsewhere and its supply is reportedly close to being at full force, something that is important for the holiday shopping season. We expect the iPhone 5s to not only be widely available for the rest of 2013 but we expect stock to hold into 2014 as well which means that buyers should have no problem picking up the device when the Samsung Galaxy S5 arrives.
Speaking of that, prospective iPhone 5s and Samsung Galaxy S5 buyers are wondering when the devices will be on shelves together. In years past, we've see the iPhone arrive in the fall, followed by a Samsung Galaxy S launch in the first half of the year. The Galaxy S3 was announced in May and released in May. The Galaxy S4 was shown off on stage in New York City in March and released in April. This is what we expect to happen again.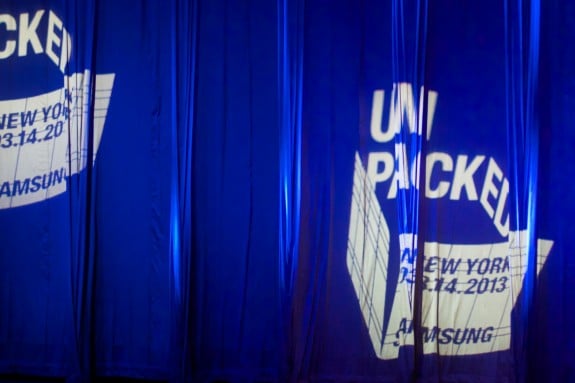 Early rumors pointed to a Samsung Galaxy S5 launch in January with a release in February and those rumors have been backed up, at least partially, by a new report out of Korea. New information points to the Galaxy S5 mass production beginning in January, ahead of a release in February or March. If true, we could see the device announced much earlier in the year with a release well before the one year anniversary of the Samsung Galaxy S4.
Nothing is confirmed yet but this would not be surprising. Samsung pushed its Galaxy S4 launch closer to the start of the year this year and with sales reportedly dragging and an iPhone 6 rumored for summer or fall with a larger display, Samsung may want to unleash its device sooner rather than later to try and capture the market early.
At this point, consumers should expect a Galaxy S5, of some kind, earlier than usual though no later than the middle of the year and Apple's WWDC 2014 conference. Samsung will want to get its phone out well before that.
Design
The iPhone 5s uses the same design as the iPhone 5. That means that it comes with an industrial build, comprised of glass and metal, and features one of the lightest, and thinnest, form factors around. The iPhone 5s, thanks to its size, weighs only 112 grams. It also checks in at 7.6mm thin, making it an extremely pocketable smartphone and one that is easy to grip with one hand.
Of course, the design means that Apple has not included features like a microSD card slot for expanded storage or a removable back for use with an extended battery. Users are stuck with the on board storage and the cloud and the battery that comes stock with Apple's handset.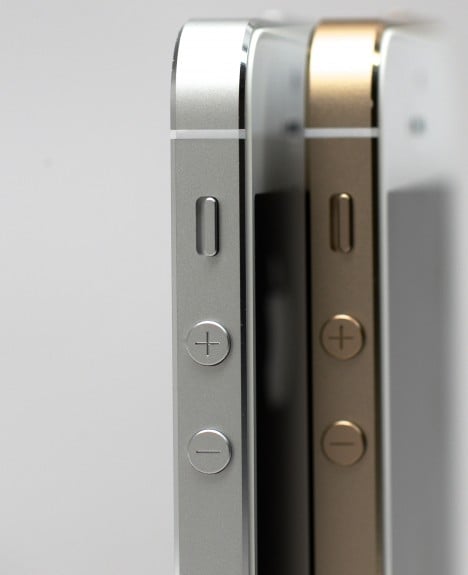 Rumor has it, the Samsung Galaxy S5 could come in two different forms. A cheap, plastic version that could be the source of the Galaxy Note 3 design rumors, and perhaps Samsung's answer to the iPhone 5c. The other is said to include a metal casing, something that Samsung enthusiasts have been campaigning for for years. Unfortunately, the Galaxy S5 design remains far from concrete and with Samsung likely testing prototypes, its plans could certainly change.
Here's what we expect. We expect the Galaxy S5's overall design to be larger than the iPhone 5s. It will likely weigh more thanks to the size of its footprint but be close to the iPhone 5s in terms of thickness, something that will make it easier to grip and pocket.
https://www.youtube.com/watch?feature=player_embedded&v=g4reayg4Suc
As for the build quality, it's extremely hard to predict at this point but we would be shocked if Samsung didn't up its game next year in response to lagging Galaxy S4 sales, a big screen iPhone 6, and pleas from its consumers. However, we would also be shocked if Samsung left the other side of its fan base hanging, the fan base that loves the microSD card slot and the removable back.
If there aren't two devices, we would expect a metal design with at least one of those features on board. If there are two designs, expect the plastic model, at least, to have those.
Display
When it comes to the display, Apple changed nothing on the iPhone 5s. The device still uses the same 4-inch Retina Display found on the iPhone 5. With 1136-by-640-pixel resolution at 326 ppi, the iPhone 5s display is still an extremely good smartphone display and is going to work out well for most people. We do, however, expect it to be much different than the Galaxy S5 display.
Rumors suggest that the Galaxy S5 display will be 5-inches, same as the Galaxy S4, and something that isn't too surprising given that Samsung can't go much bigger with the 5.7-inch Galaxy Note. While the size hasn't been narrowed down, we expect the Galaxy S5 display to be much larger than the 4-inch screen found on Apple's handset. Consumers should expect it too as Samsung has not shown a willingness to drop down in size on its flagship models.
Samsung itself has suggested that it will have displays with 2560 x 1440 resolution with 500+ pixel-per-inch counts ready for next year, it's just a question of whether the technology will arrive on the Galaxy S5 or debut on a phone that comes later in the year. Given that the Galaxy S is the company's flagship, we wouldn't be surprised if we saw a huge bump in quality on the Galaxy S. The iPhone 6 is rumored to be coming with a revamped display and we think that could be the catalyst for Samsung to offer at least some upgrades to the Galaxy S display.
Given that the iPhone 5s doesn't feature 1080p, something that is already on the Galaxy S4, we expect the Galaxy S5 display to be better than the Retina Display, it's just a question of how much better it will be.
Specs
Apple didn't change the screen resolution, screen size or the design of the iPhone 5s which means that the focus was on the features underneath the device's industrial hood. Apple's new iPhone not only features a brand new upgraded 8MP iSight camera that offers even better photography than the camera on the iPhone 5, but it also comes with a brand new A7 processor that features 64-bit support. The A7 processor is particularly interesting because iOS 7 was built with it in mind, something that lends to a crisp, smooth experience across all facets of the operating system.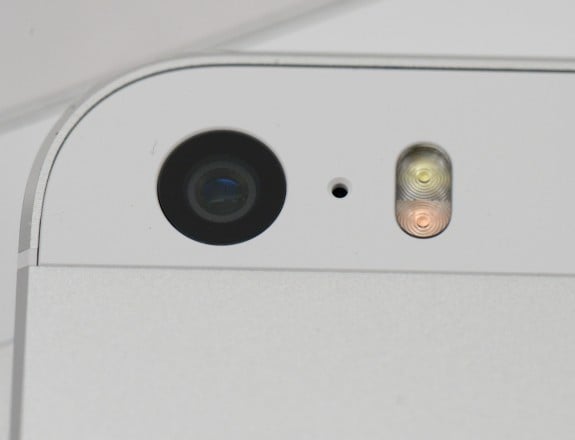 We also saw Apple add new colors to the fold, bringing gold, silver and gray options to iPhone 5s buyers. This is the first time that three color options have been available to iPhone buyers. The iPhone 5s also features the same great battery life that the iPhone has always had thanks to the A7 processor and the M7 coprocessor that help to optimize in the background.
We expect the Galaxy S5 to be comparable to the iPhone 5s in terms of specifications. A 64-bit processor is all but confirmed to be on board the Galaxy S5, something that should increase performance over the Galaxy S4 and put it into the iPhone 5s' league. It should also have a ton of RAM, 3GB to 4GB, to help it along.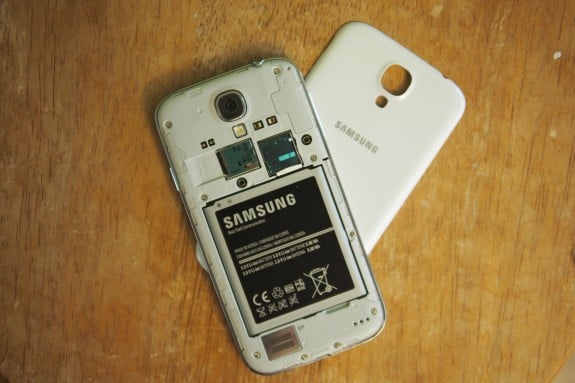 A new camera is all but certain thanks to rumors that insist on a 16MP sensor with Auto Focus and ISOCELL technology that should help it deliver better photos than the Galaxy S4 and keep it close to the iPhone 5s in terms of quality. There are rumors that suggest a massive 4,000 mAh battery but that is far from confirmed. What we do expect is great battery life from the Galaxy S5, battery life that, like the other features, matches up well with the iPhone 5s.
Samsung typically has two colors available at launch though with Apple offering the colorful iPhone 5c and the iPhone 5s in three colors as opposed to two, we expect it to try and get even at launch by announcing more than just the standard two.
Software
The iPhone 5s is currently running Apple's brand new iOS 7 operating system, an operating system that it will be running well into 2014. Apple typically waits until WWDC to announce brand new iOS software which means that iOS 8 likely won't be announced until the summer. If the iPhone 6 does debut this summer, it would mean an iOS 8 update for the iPhone 5s in the mid-year rather than the fall. That, however, is unconfirmed.
In the meantime, the iPhone 5s will get iOS 7.1, an update that will deliver bug fixes and has the potential to deliver new features. However, it's not going to change the makeup of iOS 7 as a whole. iOS 7.1 will keep the look, iOS 8 will likely keep the look and add new features while improving on others. Point is, those looking at the iPhone 5s and Galaxy S5 next year will likely encounter software similar to the iOS 7 update seen in the video below.
Obviously, the Galaxy S5 software will be much different. Not only will it likely be based on Google's Android 4.4 KitKat software, but it will likely come with a number of improvements and additions to Samsung's TouchWiz software.
Typically, Samsung will add software features that came with its previous device, in this case, the Galaxy Note 3. That means that we expect at least some of the Galaxy Note 3's software improvements to be on board. One feature in particular that we expect to see is the upgraded Multi-Window View multitasking function which was improved with the Galaxy Note 3.
The Galaxy S5 should also have some new features of its own. We expect it to be a mix of enhancements to current TouchWiz features and the addition of new ones that are smart and easy to use. For instance, we've already heard about a possible retina scan feature that could be Samsung's version of Apple's TouchID fingerprint feature. TouchID is more about convenience than security and we wouldn't be surprised if Samsung follows Apple's lead here.
At this point, given the lack of rumors, we are beginning to doubt whether Samsung will change the look of its TouchWiz UI. At this point, we expect to see something similar to what we see on the Galaxy Note 3 and Galaxy S4, with some possible tweaks, but nothing substantial. That means it should look close to the software featured in the video above.
Carriers
One of the strengths of the Samsung Galaxy S series has been its widespread carrier support in the United States. While the iPhone lingered on select carriers, the Galaxy S has always been available on the four major carriers in the United States. We expect the Samsung Galaxy S5 to continue this trend and launch on AT&T, Sprint, U.S. Cellular, T-Mobile and Verizon Wireless. It should also find a home on an assortment of MVNOs and regional carriers like C Spire Wireless.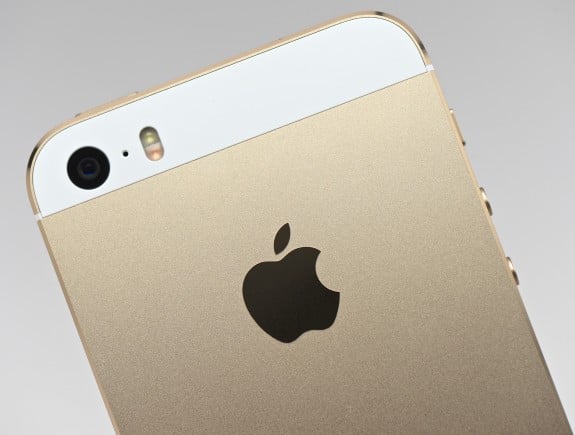 Thing is, Apple finally upped the ante in the carrier department. The iPhone 5s is available on not only AT&T, Sprint and Verizon but it also is officially available on T-Mobile and U.S. Cellular. That gives iPhone 5s buyers a bunch of options. It's also available on a number of smaller carriers as well, matching the Galaxy S4 and likely, the Galaxy S5 as well.
We fully expect the iPhone 5s and Samsung Galaxy S5 to battle it out across carriers with no real advantages. Choice is always a good thing for smartphone shoppers and there will be a lot of choice here.
Price
The iPhone 5s emerged from the shadows with a familiar price tag. Apple has kept its iPhone static for a number of years so it wasn't surprising to see the device emerge starting at the usual $199.99 price tag. It has not shown a willingness to decrease it and with the arrival of the $99 iPhone 5c, we don't think it's going anywhere anytime soon.
That said, we also expect at least one Galaxy S5 model to check in at $199.99, most likely the premium version of the device, if there are indeed two models. Samsung and its carriers have also shown that they are comfortable at $199.99 on-contract and that's where we expect the company's next-generation Galaxy S to land.
If there is a cheaper, plastic Galaxy S5, it could check in at $99 on-contract to try and take away from the iPhone 5c. However, look for iPhone 5s competitor, the premium model, to compete at a similar price point and nothing lower.

This article may contain affiliate links. Click here for more details.