iPhone 6: 5 Great Android Alternatives
Today Apple announced the all-new iPhone 6 and iPhone 6 Plus. Two smartphones that offer a dramatic change from previous Apple smartphones. Coming with a brand new design for the first time in two years, as well as big screens that are 4.7-inches, and 5.5-inches, respectively.
All the iPhone 6 rumors and speculation can finally be put to rest, as they're now official and will be available in the United States and across the globe starting September 19th. However, if the iPhone 6 wasn't all that you were expecting, or would rather get an Android smartphone during all this iPhone hype, we have you covered.
Read: iPhone 6 Release Date Confirmed
Every year Apple announces a new smartphone with new features, a better camera, better battery life and more, but this year they've finally added a bigger screen. This is the first large iPhone that can take on the Galaxy S5, and growing number of bigger screens available from Android. That being said, below we'll rundown five great Android alternatives to the new iPhone 6.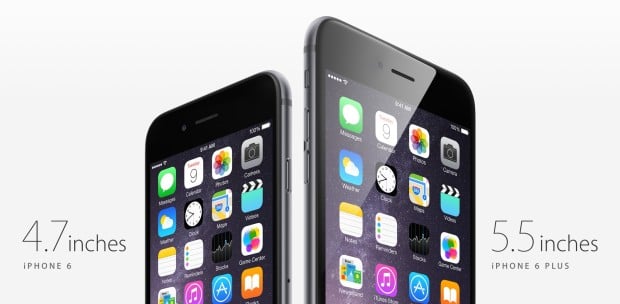 Yes, it's true, the iPhone 6 finally has a bigger screen. There's a 4.7-inch model, and a massive 5.5-inch iPhablet. These are the biggest iPhone's ever released, and should gain popularity instantly for having a bigger screen and more space for users to enjoy movies, games, apps and more.
However, Android smartphones have been enjoying screens bigger than those, and of higher resolution for a long, long time. In fact, Apple bashed Samsung for releasing the Samsung Galaxy Note, a device that's gone on to sell millions. The Galaxy Note 3 last year sold over 5 million units in less than a month, and they're expecting that number to be even higher with the new Galaxy Note 4 that debuted last week. With all this said, here's our five (of many) excellent iPhone alternatives that run Android.
Galaxy S5
The Samsung Galaxy S5 has been available since April, and has tons to offer. The screen is a perfect middle ground between the two new iDevices released today, coming in at 5.1-inches offering a similar 1920 x 1080p Full HD resolution. It also is a Samsung AMOLED display, so colors are crisp and vibrant, and the saturation is excellent.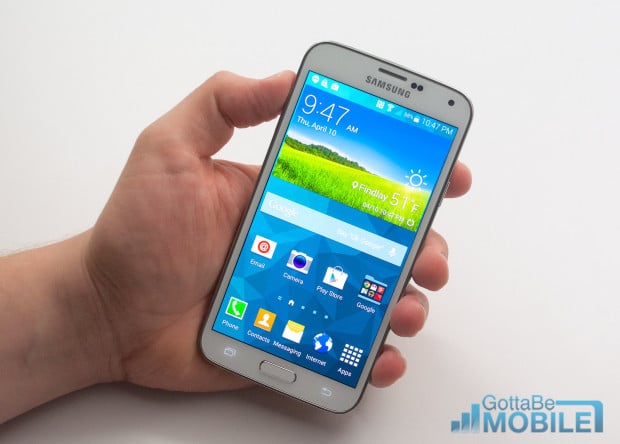 The Galaxy S5 runs the latest Android 4.4 KitKat, has an excellent 16 megapixel camera with optical image stabilization, like the new iPhone 6, and also happens to be IP67 dust and water-resistant. That's something the iPhone certainly can't manage. The new iPhone 6 (4.7-inch) is $199 for the 16GB model, $299 for the 64GB model, and even more for a brand new 128GB option.
However, the Galaxy S5 comes with 16GB of storage and allows users to add a micro-SD slot. This means for the same low $199 price (on contact) you can get the Galaxy S5, then add a 64 or 128GB micro-SD card for much cheaper than Apple's option.
Read: Galaxy S5 Review
We won't try to convince you on which is better, and instead just outline a few excellent options it has to offer, as do the others below.
LG G3
The all-new LG G3 is arguably the best Android smartphone of 2014, and should give the new iPhone 6 Plus some serious competition. It has the same 5.5-inch screen size, only the device is smaller due to extremely thin bezels around the entire device. It also has a higher 2560 x 1440 Quad-HD resolution. This is compared to the 1920 x 1080p resolution of the iPhone 6 Plus. The iPhone 6 is only 1334 x 750.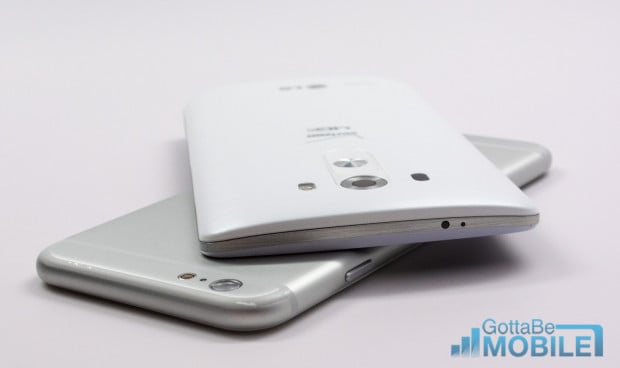 LG has a neat approach with a faux aluminum design made of lightweight plastic that makes it durable and easy to hold, and buttons on the back. It features a large 3,000 mAh battery and an excellent 13 megapixel camera with optical image stabilization as well. The LG G3 was a surprise in 2014, and will be considered one of the best Android phones for the rest of the year.
Read: LG G3 Review from an iPhone User
The LG G3 also comes with 32GB of internal storage, 3GB of RAM for excellent multi-tasking on that large screen, and also supports a micro-SD slot for storage expansion. Meaning you won't have to pay the huge markup for more storage like the iPhone 6.
Galaxy Note 4
While we're talking about big screens, if the massive 5.5-inch iPhone 6 Plus (iPhablet) isn't big enough for you, the Samsung Galaxy Note range is extremely popular and a new model was just announced last week. The Galaxy Note 4 comes with a 5.7-inch 2560 x 1440 Quad-HD display, again higher resolution than the iPhone 6 Plus, for a better viewing experience, and much more.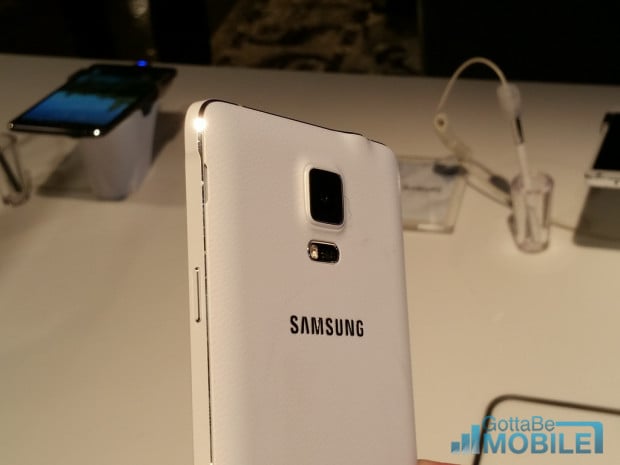 Of course the Galaxy Note 4 has an S-Pen stylus for content creation, not to mention the big screen is perfect for content consumption, just like the new iPhone 6. Samsung's Galaxy Note 4 runs the absolute latest Android 4.4.4 KitKat with its own TouchWiz interface, and has a lot to offer. We can't forget the Galaxy S5 and Note 4 both have a fingerprint scanner (like the iPhone) but also a heart rate monitor on back, and the Note 4 even has a UV sensor.
Read: Galaxy Note 4 Hands-On
The Galaxy Note 4 isn't out yet, but will be available from all major US carriers in early October.
HTC One M8
The new iPhone 6 has a lot of great features going for it. The design has been improved, there's a bigger battery and a better camera, and iOS 8 delivered tons of new features that should have users excited. However, there's another all aluminum smartphone that potential iPhone 5 or iPhone 5S owners may want to look at, and that's the HTC One M8.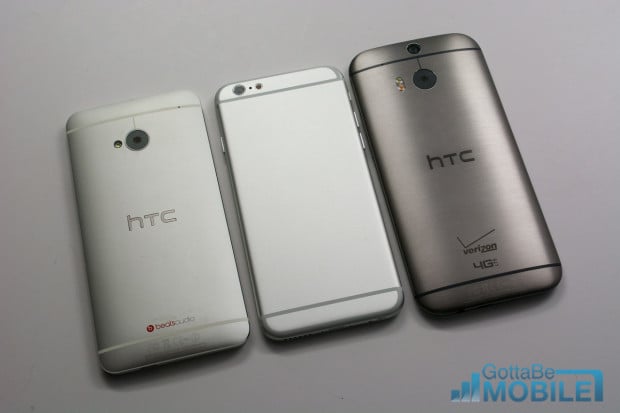 Announced and released in March is the HTC One M8. It features a unibody aluminum design in a few different colors, a powerful 2.5 GHz quad-core processor with 2GB of RAM, and comes in both 16 or 32GB storage configurations. Just like the others on this list above, it also features a micro-SD slot for storage expansion. While it's nice the new iPhone 6 finally comes in a 128GB option, a 128GB micro-SD card on top of a $99 HTC One M8 will certainly be cheaper.
Read: HTC One M8 Review
The HTC One M8 has a 5-inch 1080p HD display, and is overall a very well-made and designed smartphone. Oh, and we can't forget the Duo camera on the rear, 4K video recording, and dual front-facing speakers for some of the best sound of any smartphone on the planet. Every user has different needs or wants, and the iPhone 6 will likely appeal to millions of prospective buyers. However, the HTC One M8 is a great alternative worth looking at.
Nexus 5 (and Nexus 6)
Last but not least is the current Nexus 5, Google's flagship smartphone from late 2013, as well as the upcoming and highly rumored Nexus 6. Both will give the new iPhone 6 a run for its money, and here's why.
The Nexus 5 has a 5-inch 1920 x 1080p HD Display (same resolution as the bigger iPhone 6 Plus) as well as a powerful quad-core processor, 2GB of RAM, 32GB of storage, and a similar 8 megapixel camera with optical image stabilization.
The Nexus 5 has a very simple, sleek, and minimal design, but is made of a soft-touch matte black plastic material. It isn't as premium as the iPhone 6, but is still an excellent smartphone. It's the only one from our list without a micro-SD slot, and you can get the 16GB model for $349, or 32GB of storage for $399, and comes in White, Black or Red.
Read: Nexus 5 Review
The Nexus 6 is rumored to have a large 5.2-inch 2560 x 1440 Quad-HD display, a powerful 2.5 or 2.7 GHz quad-core processor with 3GB of RAM, an improved 12 megapixel camera, and tons of other unique features, possibly including front facing speakers. It will debut with Android L, Google's latest release, likely undercut the iPhone 6 in price, and is rumored to be made by Motorola. The last two Nexus smartphones were both made by LG, with the help of Google.
Final Thoughts
The iPhone dominated the mobile space for a long, long time, but over the past few years Android has continued to increase its domination over it. Most notably thanks to Samsung's Galaxy S and Note range. However, this is the first year that Android will have some competition from Apple in regards to the size of the screen, something that consumers are obviously interested in.
Over the past few years more and more iPhone users have switched to Android due to the bigger screen options available, but Apple is back with a 4.7-inch and 5.5-inch iPhone 6, and iPhone 6 Plus. We only have a few weeks to wait before it is available in stores, and we'll have to see how consumers respond. In the meantime, if you're not interested in the iPhone 6, the five phones above are all excellent choices to buy instead.