A little over a week ago, Apple released its brand new iOS 8.2 update for iPhone, iPad and iPod touch. The update brings Apple's new Apple Watch application but it also brings tons of enhancements and fixes for lingering iOS 8 problems. In the past week, we've spent some quality time with Apple's new software and today we want to share our full iPhone 6 iOS 8.2 review.
When iOS 8.0 for arrived back in September, it did so alongside the iPhone 6 and the iPhone 6 Plus. The iPhone 6 knows nothing else, for better or worse. While there are certainly some nice aspects to Apple's new operating system, iOS 8 has also been marred by problems, particularly on Apple's new larger iPhones.
iPhone 6 problems have been rampant in the months since its release though Apple has done its best to tackle some of the bigger issues. Since its arrival in September, the iPhone 6 has received seven iOS 8 updates starting with iOS 8.0.1. More recently, the iPhone 6 was updated to iOS 8.2, a brand new update that's is much larger than your standard bug fixer.
Last Monday, Apple released the iOS 8.2 update into the wild after a lengthy stint in its beta program. The update's main purpose is to deliver support for Apple's new Apple Watch but the update also brings a ton of enhancements and bug fixes for lingering iOS 8 problems. It's the update that many iPhone 6 users were hoping for.
iOS 8.2 is an incremental update but as many iPhone and iPad users know, incremental iOS updates can have a huge impact on the performance of a device. Often, that impact is positive and other times it's negative. iOS 8.2 appears to offer both to iPhone 6 users. We've gotten a ton of positive feedback but we've also heard about iOS 8.2 problems as well.
With all of that in mind, I've been taking a look at Apple's iOS 8.2 update on a number of devices including the iPhone 6, Apple's 4.7-inch model. Today, I want to offer some feedback to those that might be leery of the update and to those that are already on iOS 8.2. This is my full iOS 8.2 on iPhone 6 review and it will attempt to answer the question that we've received many times over in the past week: Is iOS 8.2 worth installing on the iPhone 6? Let's find out.
iPhone 6 iOS 8.2 Review
From last Monday all the way up until today, I've spent a ton of time with iOS 8.2 on iPhone 6. The iPhone 6 is my daily driver and I'm glued to it for work and fun, especially during travel. Before getting into this detailed review and my detailed impressions, I should note that mileage is going to vary from device to device, person to person.
That is to say, I probably don't have the same apps installed and there's a chance that I use Google Chrome, play more games, and use my home screen more than you do. So, consider this a general guide as you try to decide whether iOS 8.2 is worth installing on your iPhone 6. I'm only one man and I encourage you to gather as much feedback as you can before installing.
Apps
Typically, there is where I tell you that my apps are performing well in the aftermath of the latest iOS upgrade. And there is is where I usually laud developers for the job they've done in the months after the iOS 8 release. Unfortunately, iOS 8.2 hasn't been a typical iOS 8 update.
While most of my applications are running fine, I've run into an unusual amount of problems on my iPhone 6 in particular. Its a bit strange given the job that developers have done up to this point.
A few applications in particular have been giving me a hard time this week. Google Chrome has been crashing non-stop, even more than usual. It has gotten to the point that I'm tempted to switch over to Safari until Google delivers another bug fix update. Chrome occasionally crashed on iOS 8.1.3 and below but nothing like this. The experience over the past week has been horrible.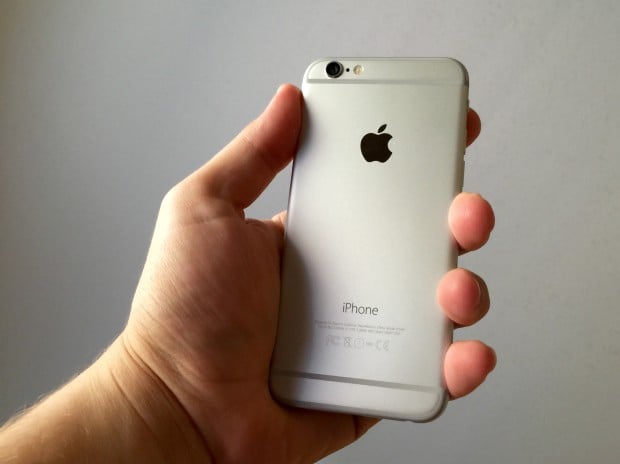 Another problem child: YouTube. I use the YouTube application a lot and before iOS 8.2, it was working beautifully. Now, for whatever reason, the iPhone goes black about 20 seconds into a video and it returns itself to the lock screen. After I unlock it, it goes back to the video and the process repeats. I've tried reinstalling the app and it's still happening. I've also poked around and I can't find any temporary or permanent fixes so if you have any ideas, please get in touch with me on Twitter (@admillios).
Facebook and Twitter have also crashed more often than usual though I don't use them as much as I use Chrome and YouTube so the issues there are far less annoying.
I've seen a few other crashes here and there but nothing consistent enough to mention. Most of my other applications are working fine after moving to iOS 8.2. It's worth noting that my experience doesn't necessarily mean that the same thing is going to happen to you but it's something to keep in mind if you're using apps for work or school in the near future. You don't want iOS 8.2 fouling anything up.
iOS 8.2 Battery Life
I've heard stories about iOS 8.2 battery drain but I haven't noticed anything out of the ordinary. It still holds a solid charge when I'm using it and when it's in standby.
Now this week, above all other weeks, is when I would have noticed something peculiar. I was traveling for a few days and I was highly dependent on my iPhone 6 during my travels. I literally used it all day for two days straight and came out unscathed. If something was hampering my battery life, I would have noticed it.
It's important to note that I take great care of my iPhone. I keep my apps updated, I monitor battery life like a hawk, I turn it off occasionally, and I follow a number of our other tips to maintain great battery life.
I recommend taking a look at those if you're noticing battery drain. iOS updates aren't supposed to cause problems and often times, it's a rogue app or your bad habits causing the problems.
Wi-Fi, LTE & Bluetooth
AT&T LTE is working great after iOS 8.2. I was dependent upon it during my travels and I was able to pull down excellent speeds. I have also used Bluetooth, both in the car and at home, and I haven't run into any issues with it.
My Wi-Fi issues that popped up after iOS 8.1.3 have dissipated as well. I'm finally able to keep a strong connection on my home router and on various other routers that I use when I'm on the move. I haven't noticed any problems this week with iOS 8.2 on board and that has me optimistic about the future.
Connectivity issues can pop up at any time and if you see them, you'll want to consult our list of fixes for common iOS 8.2 problems on iPhone. Those fixes are a great starting point for those of you dealing with issues after the move.
Bugs & Issues
For the most part, iOS 8.2 has been stable. I have, however, noticed one bug that's been annoying me for several days now and I think it's worth pointing out even if it's not affecting the vast majority of iPhone 6 users.
I use Do Not Disturb, a lot. I mainly use it to mute active Group Message threads that pick up steam during the weekend. If you and your significant other have a ton of mutual friends, you probably know what I'm talking about.
For whatever reason, Do Not Disturb is failing on some of my group threads. That is to say that after putting a couple of threads on DND last night, my iPhone 6 still buzzed. One of the messages woke me up from a deep slumber where I was dreaming about March Madness and the San Diego State Aztecs cutting down nets. I was not pleased.
I've heard about this problem from other iPhone users but I never experienced it myself until this past week. I'm hoping it's just a hiccup and not the start of a lengthy headache. We shall see.
It's also worth mentioning that my iPhone 6 got stuck in landscape mode when I was holding it in portrait. It happened one time so it's not the end of the world but it's still an annoying problem that Apple really needs to squash. I've heard from several iPhone 6 users who say that the problem has returned with a vengeance. Here's to hoping that doesn't happen to me.
Other than that, I haven't noticed anything major. I'm hoping that iOS 8.2 stabilizes in the next week or two as iOS updates tend to do. Only time will tell.
Speed
The iPhone 6 is still very fast and very fluid with the iOS 8.2 update on board. I haven't noticed any lag or slowdown when opening apps and folders. I don't expect this to change.
Is iOS 8.2 Worth Installing?
I'm getting pulled in two directions here. For the most part, iOS 8.2 is a solid update. It brings a ton of enhancements, bug fixes and the new Apple Watch app to the iPhone 6. On the other hand, it has brought some annoying issues to my version of the iPhone 6. Here's what I think.
If you're dealing with iOS 8 problems on iOS 8.1.3 or below, I think it's probably worth a download. It's loaded up with fixes and the problems I'm dealing with are extremely isolated issues.
If you're having a solid experience on iOS 8.1.3, maybe wait a few more days or even a few more weeks until the Apple Watch arrives before installing it. It comes with some likable features but there's no reason to rush into it.