iPhone 6 iOS 8.2 Update: Is It Worth Installing Now?
Its been more than two weeks since the iOS 8.2 release for iPhone, iPad and iPod and many iPhone users are still on the fence about whether to install Apple's new software. After spending a significant amount of time with the iPhone 6 iOS 8.2 update in particular, we want to offer a definitive answer to the question burning in the minds of many users: Is the iPhone 6 iOS 8.2 release worth installing?
During its Spring Forward launch event for the Apple Watch and new MacBook, Apple quietly confirmed the release of its seventh iOS 8 update since the release of iOS 8.0 back in September. Apple released the iOS 8.2 update to the public almost immediately after the event and in the past two weeks, we've been taking a close look at the performance of Apple's new software.
iOS 8.2 isn't a standard incremental iOS release. While most in between updates come with a few bug fixes and enhancements aimed at improving the software, iOS 8.2 delivered a huge change log full of feature enhancements, an Apple Watch application, and a long list of bug fixes aimed at solving some of iOS 8's lingering problems. And because the iOS 8.2 update is so big, we've been taking a closer look than we normally do.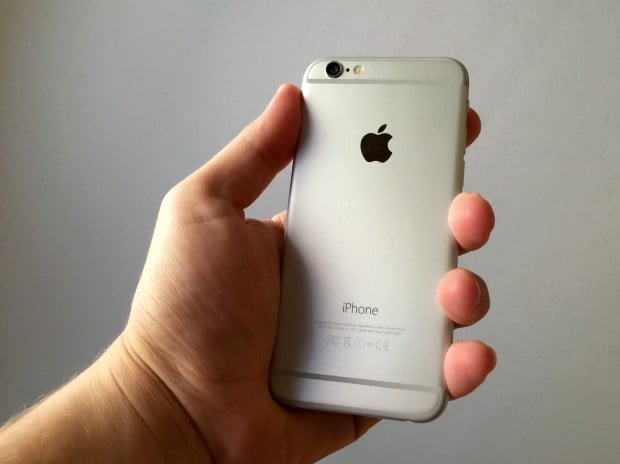 In the two weeks since the iOS 8.2 update's arrival, we've been taking a look at the software across several popular devices including Apple's 4.7-inch iPhone 6. The iPhone 6 is Apple's flagship phone but it's one that's dealt with a number of iOS 8 problems since launch. Those problems have made many users leery of incremental updates like iOS 8.2 and that's precisely why we've been keeping a close eye on the software over the past two weeks.
We continue to get bombarded with questions from family, friends and readers about the iOS 8.2 update and the question that naturally keeps popping up is: "Is the iOS 8.2 update for iPhone 6 worth installing?"
Now that we're more than two weeks removed from the iOS 8.2 release, we want to offer some definitive answers to those of you still sitting on iOS 8.1.3 and below. This iPhone 6 iOS 8.2 review at the two week mark will outline our current findings and hopefully help you come to a decision about whether to install now or wait for Apple's next update which will presumably be iOS 8.3.
iPhone 6 iOS 8.2 Review: Two Weeks Later
Before diving into the iPhone 6 iOS 8.2 update at the two week mark, I should mention that mileage is going to vary from device to device. That is to say that I am just one person using one iPhone 6 variant. My habits are probably different than yours so you should treat this as a general guide to the quest for answers about iOS 8.2.
I encourage you to peruse feedback from other sources including your fellow iPhone 6 users. Many people have taken the plunge already and they've taken to Apple's discussion forums and social media to relay their thoughts about Apple's current update.
Apps
In my iPhone 6 iOS 8.2 review a week after the update's release, I noted that my applications had been giving me a hard time. Google Chrome and YouTube, in particular, were both problematic in the week after the update's release, unusually so.
Since then, Google's updated both the YouTube application and Google Chrome and as of right now, I'm not seeing the same issues that I was seeing a week ago. Chrome has been stable and the issues that I was seeing with YouTube have vanished. This is precisely why I encourage you to install the latest bug fixes on your iPhone 6.
All of my other core applications which include Slack, Asana, Google Hangouts, Twitter, Instagram, Dark Sky, ESPN, Xbox Smartglass, Spotify, SoundCloud, and Google Maps are all in excellent shape two weeks after the iOS 8.2 release. App performance can change at the drop of a hat but due to this sudden influx of bug fixes, I'm optimistic about the future.
If you already jumped to iOS 8.2 and you're experiencing issues with an app, install the latest bug fixes. If that doesn't work, try reinstalling the application. And if that still doesn't work, I encourage you to reach out to the developer. It might seem like your complaints are falling on deaf ears but you'd be surprised how receptive many developers are.
Battery Life
In the past two or so weeks, I've heard from several iPhone 6 users who are experiencing abnormal battery drain. These complaints always surface after major iOS updates and as I've mentioned before, most of the time they're caused by rogue apps or bad user habits, not the iOS updates themselves.
After more than two weeks with the iOS 8.2 update for the iPhone 6 I can say, with confidence, that I'm not experiencing any of these issues. The iPhone 6 still holds a solid charge when in use and it also holds an outstanding charge when it's sitting in standby. I use my iPhone 6 all day every day and I'm still able to get a full day of use out of it.
I can't offer you a definitive fix for your iOS 8.2 battery life issues but I can point you to some resources that might help. I've put together a list of possible fixes for iOS 8.2 battery life issues that could help. These fixes aren't guaranteed to work but there's a chance that something in there will turn on a light bulb in your head or perhaps, solve your issues once and for all.
Connectivity
LTE, Wi-Fi and Bluetooth are all working fine at the two week mark as well. I relied on AT&T's LTE network at a music festival last week and it didn't let me down. I'm also able to connect to all of my Bluetooth devices and my regular Wi-Fi networks are all performing after making the move to iOS 8.2.
If you are concerned about connectivity or if you're running into problems with LTE, Wi-Fi, or Bluetooth, I suggest taking a look at our list of fixes for common iOS 8.2 problems.
Bugs & Issues
A week ago, I noted that I was experiencing a couple of frustrating issues. For whatever reason, Do Not Disturb was not working with some of my more active group threads. I also ran into the landscape issues that have been a problem for me, my colleagues and many other iPhone 6 users since launch. In the week since though, I haven't had any trouble.
My iPhone 6 hasn't gotten stuck in landscape and Do Not Disturb is now working properly across my group threads. If you have a ton of group friends and hyperactive friends like I do, then you can probably understand the joy that I've been experiencing in the past week. Do Not Disturb is essential to the Messages app.
I've been using the iOS 8.2 update a ton in the past two weeks and I haven't stumbled upon any other weird issues in my travels. This doesn't mean that iOS 8.2 is bug free it just means that I haven't run into any noticeable problems on my iPhone 6.
iOS bugs can pop up at any time but the fact that neither I, nor any of my colleagues, have run into significant issues in the two weeks since launch is definitely a good sign.
Speed
Not much to report back here. The iPhone 6 is still extremely fast with iOS 8.2 on board and I don't expect to see any change going forward. Every single iOS 8 release has treated my iPhone 6 well.
Is the iPhone 6 iOS 8.2 Update Worth Installing Now?
So that leads me to the million dollar question: Is the iPhone 6 iOS 8.2 update worth installing right now? I'll try and make the answer a little easier on your eyeballs.
You should install iOS 8.2 on the iPhone 6 if:
You are dealing with unsolvable problems on iOS 8.1.3 and below. iOS 8.2 comes with a ton of bug fixes and enhancements including a number of changes to the Health application.
You have prepared and you don't care about jailbreaking. We still don't know if developers are going to release an iOS 8.2 jailbreak.
You're getting the Apple Watch. The Apple Watch app might be annoying but it does deliver support for the Apple Watch and vital information about Apple's next hardware release. You might as well get adjusted to iOS 8.2 now.
You're on iOS 8.0.2 or below. Apple Pay is wonderful and iOS 8.2 is stable.
You shouldn't install iOS 8.2 if:
You don't care about the Apple Watch and you're having a perfect experience on iOS 8.1.3.
You want to jailbreak.
For most of you, I think iOS 8.2 is worth installing. There are tons of fixes for iOS 8 problems, security updates, and enhancements for key apps like Mail and Health. After spending two plus weeks with the update, I haven't run into any significant problems and performance has stabilized to the point that I am going to recommend it to most of my friends and family.
Keep in mind, Apple has another major iOS release on the way in the form of iOS 8.3. And while you might be tempted to skip iOS 8.2 in favor of iOS 8.3, just remember that iOS 8.3 will probably bring some problems of its own. iOS updates always do.