iPhone 6, iPhone 6 Plus in Stock at Verizon & AT&T
You can finally find the iPhone 6 and iPhone 6 Plus in stock at most carrier stores in store and online as well as at Apple Stores and Target as we reported yesterday.
Apple Stores and online shopping options include immediate shipping from some carriers as Apple catches up with iPhone 6 and iPhone 6 Plus stock in time for the holidays. If you plan to buy an iPhone 6 or iPhone 6 Plus as a gift, or are finally ready to upgrade it looks like the initial rush is finally over and you can walk in to most stores to buy a new iPhone.
The iPhone 6 and iPhone 6 Plus release date arrived in September and for the last two months shoppers found it hard to find an iPhone 6 or iPhone 6 Plus in stock at most stores, including local carrier stores and Apple Stores. This major boost in stock on hand arrives after Black Friday iPhone 6 and iPhone 6 Plus deals delivered $50 or more off the iPhone 6 and iPhone 6 Plus, but with limited stock on hand at many stores.
One of the reasons you may want to go to a carrier store to buy the iPhone 6 to iPhone 6 Plus is a wider array of buying options. Apple offers the AT&T Next program, but doesn't support the Sprint iPhone for Life lease or Verizon Edge plans.
You should compare the Verizon Edge to a two-year contract and the AT&T Next to a two-year contract before signing up for one of these. You can also find out if the Sprint iPhone for life plan is worth the price.
If you want to order an iPhone 6 Plus online you can expect the new iPhone 6 Plus to ship in 3-5 days, unless you want the 128GB option or a T-Mobile iPhone 6 Plus which will ship in 7-10 days. If you go to a carrier like Verizon the iPhone 6 Plus ships immediately for some colors and storage sizes.
Read: iPhone 6 Plus Review
When it comes to going in to a local store, many Apple Stores offer the iPhone 6 Plus in stock in multiple carrier, color and storage configurations. This does vary by location, but you can check for a local iPhone 6 Plus in stock and reserve one for in store pickup in a matter of minutes.
Reports indicate that the stock of the iPhone 6 Plus is consistent at Verizon stores, though shoppers will most often find the 16GB iPhone 6 Plus in stock and color selection may still be limited. The 16 GB iPhone 6 Plus is in stock at some AT&T stores, and shoppers can check the stock online by entering a zip code.
The iPhone 6 is also in stock at most Apple Stores that we checked using the Apple Store stock checker. Shipping is still limited to 3-5 days for most iPhone 6 models through the Apple Store, but that is better than last month. The Verizon iPhone 6 ships in one day and the AT&T iPhone 6 looks like it will ship immediately.
Some AT&T stores offer the iPhone 6 in stock, but the number with an iPhone 6 in stock is still scattered. You can find a Verizon iPhone 6 in stock at locations on a fairly consistent basis, but it is not a guarantee and mainly the 16GB option is available. While attempting to buy a Sprint iPhone 6 recently on the Sprint iPhone leasing plan, Gotta Be Mobile ran into trouble finding anything other than a 16GB iPhone 6 at scattered stores.
Read: iPhone 6 Review
If you want a specific color and storage combination you should still order online. If you place an order online, you can still go in to a local carrier or Apple Store for help setting up the iPhone. If you go to a store and they don't have the model you want in stock, they can also place an order for you, which will deliver to your home.
Check out the iPhone 6 Plus cases below and our Gotta Be Mobile holiday gift guide for accessories you may want to add to complete your new iPhone experience.
7 Awesome iPhone 6 Plus Cases
Spigen iPhone 6 Plus Cases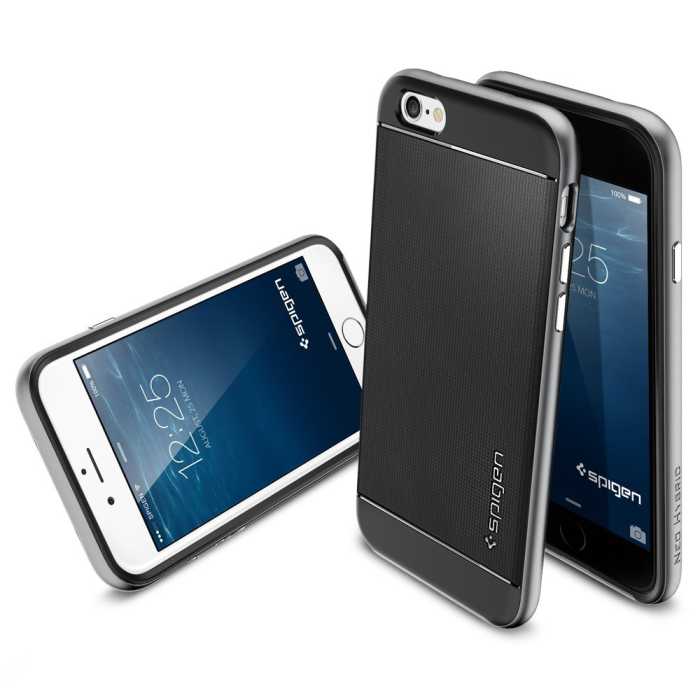 If you need an affordable iPhone 6 Plus case, Spigen is one of the best options you will find. Spigen offers a wide variety of iPhone 6 Plus cases from super thin to protective options and even a few iPhone 6 Plus wallet cases.
The company also offers an iPhone 6 Plus case with a kickstand, which is an excellent way to easily use that big screen for movies, videos and FaceTime.
Check out all of the Spigen iPhone 6 Plus Cases on Amazon starting at $7.99.