iPhone 6 Off-Contract Prices: Up to $949
Apple's new iPhone 6 series starts at just $199, but those buying the iPhone 6 and iPhone 6 Plus off-contract will have to pony up a lot more. As usual, Apple is advertising carrier-subsidized prices as it rolls out its new iPhones. But only those eligible for new two-year contracts will be able to actually buy their phones at those prices. Everyone else needs to pad their iPhone budgets by $450.
Most wireless carriers in the United States offer full phone subsidies every two years, with others offering partial subsidies after just 12 months. To further complicate matters, carriers like T-Mobile and AT&T  are shifting the cost of new devices to customers in exchange for more affordable monthly plans. That means there are going to be more people buying the iPhone 6 off contract in the United States than with previous iPhone launches. Some consumers will be surprised at just how expensive an off-contract iPhone 6 or iPhone 6 Plus will be.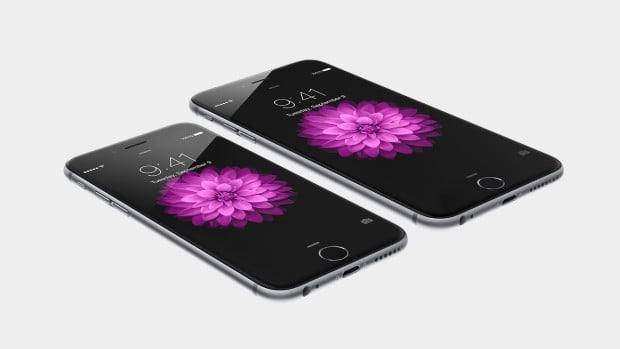 As Apple and all of its partners will hammer into your head, the iPhone 6 starts at $199. That's for the base 16GB model with the 4.7″ display. Add on the $450 that the carriers normally pay and the full price is $649. The 64GB model will cost $749 and the 128GB model will cost $849 without a subsidy.  The iPhone 6 Plus has an enormous 5.5″ display and carriers a $100 premium. That means the iPhone 6 16GB model will cost $749, the 64GB will be $849 and the 128GB version will cost $949.
iPhone 6 Off-Contract Price
•iPhone 6 16GB: $649
•iPhone 6 64GB: $749
•iPhone 6 128GB: $849
iPhone 6 Plus Off-Contract Price
•iPhone 6 16GB: $749
•iPhone 6 64GB: $849
•iPhone 6 128GB: $949
For the first time there will be an iPhone that actually costs more than one of Apple's MacBooks. The basic version of the 11″ MacBook Air retails for just $899.
There are plenty of reasons to buy phones off-contract. Frequent upgraders and those who don't want to be married to a carrier's contract are two prime examples.
Just because the off-contract iPhone 6 Plus will cost up to $949 doesn't mean you will have to plunk down that much cash all at once.  AT&T Next, is one example of a program that allows customers to buy a new iPhone 6 with $0 down and without a two-year contract. The cost of the iPhone 6 is broken up into 20 or 24 monthly installments customers are allowed to upgrade after 12 or 18 months rather than the traditional 24 months. Should they decide to upgrade prior to paying off their phones completely, they're not on the hook for the remaining payments. While the customer is on contract for the device, they are not tied to the wireless service for the traditional two years.
We've already seen some iPhone 6 deals, including a free iPhone 6 offer from Verizon. With 10 days to go before the iPhone 6 goes on sale, we're sure we'll see many more deals and schemes to reduce the upfront cost of the iPhone 6.
https://youtu.be/FglqN1jd1tM
The iPhone 6 and iPhone 6 Plus are the first all-new iPhones since 2012. The devices are more powerful than their predecessors, have improved cameras and larger displays. They also have improved wireless capabilities to boost speeds and allow customers on CDMA carriers, such as Verizon Wireless, to simultaneously make phone calls and use their 4G LTE data connections.  You can view the iPhone 6 and iPhone 6s introduction video above.
The iPhone 6 and iPhone 6 Plus are the first devices to launch designed specifically for iOS 8.
You can read more of our iPhone 6 and iPhone 6 Plus articles below:

This article may contain affiliate links. Click here for more details.