iOS 8 Release, Features & Details
iOS 8 is the latest version of the software that runs Apple's iPhone, iPod touch and iPad lines. iOS 8 brings a number of enhancements to Apple's mobile ecosystem, including support for the larger displays found on the iPhone 6 and iPhone 6 Plus. iOS 8 will be available to download and install on devices beginning September 17th.
Apple is calling iOS 8 the biggest update ever. That may be the case in terms of features, but it appears very similar to iOS 7 at first glance. The transition to iOS 7 from iOS 6 was jarring for many users since it was the first version of iOS that had a flat design. To truly see the improvements in iOS 8, users will have to move past the home screen and dive into Apple's new iOS 8 features and apps.
The iOS 8 release date is September 17th, and some users are running into issues installing the free iOS 8 update, but these problems will likely subside in a few hours.
The free iOS 8 update is available on the iPhone 5s, iPhone 5, iPhone 5c, iPhone 4s, iPad Air, iPad mini, iPad mini Retina, iPad 4, iPad 3, iPad 2 and iPod touch 5th generation.
iOS 8 Family Sharing
One killer feature for families with multiple iPhone, iPod and iPad users is iOS 8's new Family Sharing feature. The system allows up to six people to link together to form a digital family. Family Sharing allows each family member to download apps, music, movies, TV episodes and books that any other family member purchased.
Until iOS 8, families that wanted to share apps and media had to share an Apple ID and password. Sharing a password and Apple ID creates security, privacy and other issues. This could also help prevent children from making unauthorized purchases since parents can set up their kids accounts with separate payment information.
iOS 8 Keyboard
The iOS keyboard has lagged behind the competition for years. Thankfully, the iOS 8 keyboard is a major upgrade and finally ditches the Autocorrect feature that's embarrassed countless iPhone users. Instead, iOS 8's keyboard features something Apple calls QuickType, which is demonstrated in the above video. QuickType offers typing suggestions for the words you're typing and the predicts what the next word you want to type is, even before you think of it. The suggestions are based off of individuals' writing styles and will adapt over time.
Those who aren't satisfied with the new iOS 8 keyboard can install third-party keyboards for the first time.  This means keyboards Swype and SwitftKey can replace the standard iOS 8 keyboard. These two keyboards are just two of the many popular keyboards Android users have installed for years.
iOS 8 Release
iOS 8's official release date is September 17th, two days before the iPhone 6 and iPhone 6 Plus hit store shelves. Don't put the iOS 8 release date on your calendars quite yet though. Many iPhone users face a lot of problems upgrading iOS, ranging from slow downloads to system errors. We recommend waiting a few days if you can, especially if you can't risk going for a stretch of time without an iPhone that works properly.
The iPhone 6 and iPhone 6 Plus are the first devices designed to ship with iOS 8. The iPhone 5s, iPhone 5c, iPad Air, iPad mini and iPad mini will begin shipping with iOS 8 pre-installed rather than iOS 7.
iOS 8 Announcement
Apple announced iOS 8 at its Worldwide Developers Conference in San Francisco on June 2, 2014. Apple executives went into great detail on each of the new features, which you can watch in its entirety above.
iOS 8 vs. iOS 7 Features
What's New in iOS 8
iOS 8 vs iOS 7 Walkthrough - Home Screen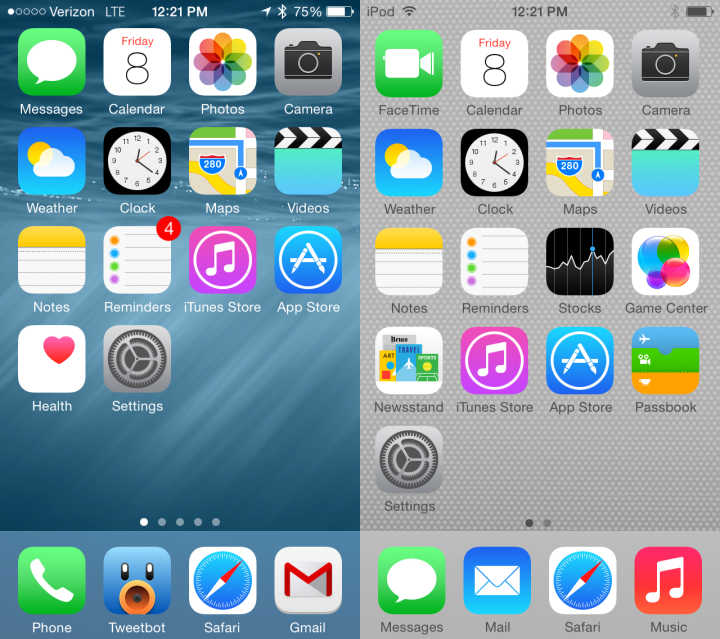 We start our iOS 8 vs iOS 7 walkthrough with the iPhone home screen, which is where you'll start your iOS 8 experience after an update this fall.
These screens are incredibly important as you see them anytime you turn on the iPhone or need to choose an app to launch. There is no way around using them, so Apple needs to make sure they work just right.
As you can see in the iOS 8 vs iOS 7 comparison above, there is no change between the home screen in the new iPhone software. Apple changed the status bar and some other small visual changes in iOS 7, but there are no updates for iOS 8.
We could see Apple change the home screen slightly for iOS 8 for the iPhone 6. The new iPhone will feature a larger 4.7-inch display with a higher resolution. This is something Apple may use to add more icons to the screen. Or they could stick with the current layout, it's tough to tell.

As an Amazon Associate I earn from qualifying purchases.