iPhone 6 Release Date: What Buyers Can Expect Now
The iPhone 6 release date is confirmed for a number of different countries and the iPhone 6 pre-order starts for some buyers tonight. In the days after the iPhone 6 and iPhone 6 Plus announcement, we've seen new details trickle out and here, we take a look at what we know now about Apple's upcoming iPhone 6 and iPhone 6 Plus release.
Earlier this week, Apple finally took the stage to announce this year's new iPhone release. The company's brand new smartphone is dubbed iPhone 6 and it will be coming in two different versions: The 4.7-inch iPhone 6 and the larger 5.5-inch iPhone 6 Plus. The two will take over the flagship role from last year's iPhone 5s and push the iPhone 5c down to Apple's free on-contract slot.
Apple's new iPhones both come with sleek and slim metal designs, A8 processor, upgraded cameras including Optical Image Stabilization on the iPhone 6 Plus, tons of storage options, Retina HD displays, a number of different price points, major U.S. carrier options, and Apple's new iOS 8 operating system. They immediately become two of the top smartphones on the market and two devices that buyers are considering as we head into the fall.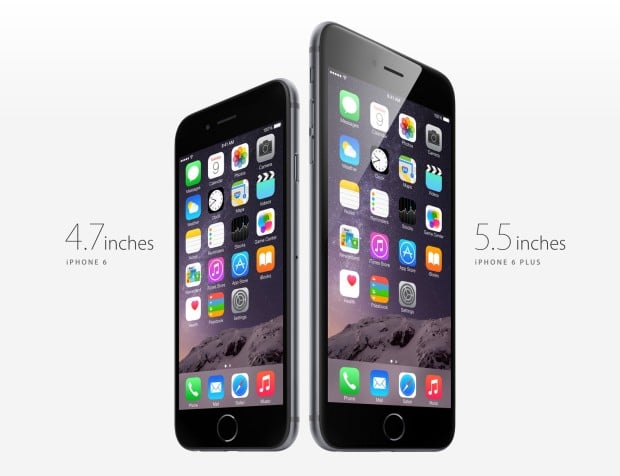 At this week's launch event, Apple confirmed many of the other pertinent iPhone details including the iPhone 6 release date and the iPhone 6 pre-order date. As expected, the gap between the iPhone 6 announcement and the iPhone 6 pre-order date is extremely tight and doesn't leave much wiggle room for those thinking about an upgrade. Pre-orders start tonight at midnight through Apple and carrier partners.
Next week, the iPhone 6 release date will arrive for consumers in the United States, Australia, Canada, France, Germany, Hong Kong, Japan, Puerto Rico, Singapore and the UK. That just scratches the surface when it comes to iPhone 6 release details and there are so many other things that iPhone 6 buyers can expect from the upcoming release.
Here, we take an updated look at what to expect from the iPhone 6 release date.
Lots of iPhone 6 Pre-Orders
Tonight, at the stroke of midnight, Apple and its carrier partners in select regions will kick off iPhone 6 and iPhone 6 Plus pre-orders. Rumors in the build up to the iPhone 6 launch date suggested that the iPhone 6 Plus would be hard to find. Rumors still suggest that iPhone 6 stock, for both models, could be extremely tight in the first couple of weeks.
We're expecting both the iPhone 6 and the iPhone 6 Plus to sell out within hours of their arrival on the Apple Store and at carrier locations around the globe. Shipping times should increase into the weeks, as iPhone shipping times usually do, and we're expecting the iPhone 6 Plus to sell out first, before the smaller iPhone 6.
Those that want the iPhone 6 on its release date of September 19th would be wise to pre-order tonight or tomorrow through select retailers in the United States and through local retailers.
Release Date Lines
Given that we're expecting an iPhone 6 pre-order sell out, we're expecting there to be lines on the iPhone 6 release date. In fact, we know there are going to be lines forming because people are already standing in line outside some Apple locations. The iPhone release is always a spectacle and Apple loves the attention it brings to its retail stores.
We're fully expecting to see a strong presence outside of Apple retail locations on September 19th as consumers look to snag an iPhone 6 on its first day of availability.
iPhone 6 Release Date Delay
While the iPhone 6 release date probably won't be delayed in the United States, we've already seen one iPhone 6 delay impact one of the company's key battlegrounds.
According to The New York Times, the iPhone 6 release date has been delayed in China, one of Apple's important iPhone markets. The delay apparently stems from a lack of approval from China's Ministry for Industry and Information Technology. It appears that the delay has caught Chinese carriers and retailers off-guard, some of whom have been offering pre-orders since last week.
It's not clear when Apple will push out the iPhone 6 and iPhone 6 Plus in China and it appears that it all depends on regulatory approval from one of China's governmental bodies.
Fortunately, this only applies to China and it looks like the iPhone 6 release will still arrive as planned in the other nation's expected to offer it on September 19th.
Smaller U.S. Carriers
In the past couple of days, we've seen positive new iPhone 6 release date information emerge for consumers in the United States. C Spire Wireless will be carrying the iPhone 6 on September 19th alongside the big boys. Same goes for U.S. Cellular, the nation's fifth largest carrier and a carrier that missed the initial iPhone 5s release date last year.
Alaska Communications, Appalachian Wireless, Bluegrass Cellular, Cellcom, Nex-Tech Wireless, Silver State Communications, Strata , and Syringa Wireless will all sell the iPhone 6 starting September 26th, the iPhone 6 and iPhone 6 Plus' secondary release date in the United States. It looks like Syringa Wireless will be taking pre-orders for the iPhone 6 starting tomorrow.
Several other regional carriers will also be offering the iPhone 6 in the U.S. but it's not clear when they'll be releasing it. Those carriers include Carolina West Wireless, Chariton, Consumer Cellular, GCI, Illinois Valley Cellular, nTelos, Thumb Cellular, and Union Wireless. We expect to hear more about these releases in the weeks ahead as Apple's supply lines ramp up.
More Release Dates in September
Apple's quietly announced more global iPhone 6 release dates for September as well. It looks like Austria, Belgium, Denmark, Finland, Ireland, Italy, Luxembourg, Netherlands, New Zealand, Norway, Portugal, Russia, Sweden, Switzerland, Spain, Taiwan, and Turkey will all get the iPhone 6 and iPhone 6 Plus starting September 26th as well.
We could see more countries pop up on that list as we move deeper into the month but for now, expect Apple's secondary release date in late September to accommodate tons of prospective iPhone 6 buyers in the United States and elsewhere.
iPhone 6 Release Date (India)
We also know now that Apple is planning at least one iPhone 6 release date in October. The iPhone 6 release date in India will land on October 17th. This date could also become the release date for some of the remaining countries left in Apple's wheelhouse though we may not find out for sure until Apple's taken care of its initial release countries.
At this point, we're expecting a much faster iPhone deployment as Apple looks to compete against top Android smartphones this fall during the holiday shopping season.
Tons of Retail Options
In the United States, there are going to be a ton of iPhone 6 retail options available in addition to the carrier stores and Apple Stores that litter the landscape. Best Buy, Target, Sam's Club, RadioShack, and Walmart will all sell the iPhone 6 and iPhone 6 Plus when it comes out. We also expect non-corporate but carrier affiliated stores to sell the iPhone 6 on its September 19th release date. Call ahead to confirm.
We expect a number of retailers outside of the United States to offer both iPhone 6 models and those curious about alternatives will want to call ahead and ask before the upcoming iPhone 6 release date.
iPhone 6 Accessories Available
There will be a ton of iPhone 6 accessories available at launch. RadioShack tells us that it will have iPhone 6 accessories and cases available on release day with select products available from top manufacturers Incipio, Otterbox and Zagg. This should not be limited to the United States.
We expect a ton of iPhone 6 accessories to go on sale around the world and those thinking about pre-ordering should have a number of options to choose from after picking up the iPhone 6 on release day. You'll want to call ahead to find out what's on tap or check online during the next week or so to see what's available.