iPhone 6 Rumors Shown Off In New Detailed Photos
The latest iPhone 6 rumors have been brought to life thanks to a knockoff iPhone that was purchased in China ahead of Apple's iPhone 6 release date. And thanks to these new iPhone 6 photos, we now have another detailed glimpse at what Apple's new iPhone release could look like with iOS running on a 4.7-inch display.
As we push deeper and deeper into the year, we're starting to hear a lot more about Apple's plans for the fall. The company is expected to have a busy quarter with rumors pointing to a new iPad Air 2, iPad mini 3, iWatch, and iPhone 6 on top of the OS X Yosemite and iOS 8 updates that have already been confirmed for later this year.
iPhone 6 rumors in particular have been rampant in recent weeks with leaks and details emerging on an almost daily basis. iPhone 6 specs, the iPhone 6 release date and the iPhone 6 announcement have all been rumored in the lead in to the fall as iPhone 5 users and others prepare to upgrade from one device to another.
In particular, we've heard quite a bit about the iPhone 6 design. The iPhone 6 itself still hasn't leaked but we've seen photos, video, and rumors start to align ahead of Apple's announcement. The iPhone 6 design is expected to arrive with more metal, curved edges, a larger display with design that's compact enough for one-handed use, a display that's made from sapphire material, and some alterations to the design that will hopefully improve the overall look and feel of Apple's next iPhone.
These iPhone 6 design rumors have been shown off ahead of time thanks to iPhone 6 concepts and iPhone 6 models. The latest leaks though come in the form of iPhone 6 clones that are designed to look and feel like real life versions of the iPhone 6. We recently shared one good looking, Android-powered iPhone 6 and today we're sharing another.
A user on Reddit managed to get a hold of one of these iPhone 6 clones from the Chinese city Shenzen, a city that's notorious for its cheap smartphone knockoffs and the presence of Apple iPhone manufacturer, Foxxconn. The clone takes iPhone 6 rumors into account, even going as far as to use the iPhone 6 name on the packaging.
The iPhone 6 model comes with a working 4.7-inch display, a Lightning port, and a heavily skinned version of Android 4.4.2 KitKat that is meant to look like iOS. Of course, trip to the App Store won't take users to Apple's App Store. Instead, the device is supported by Google's Play Store, the company's marketplace for apps and content.
The device's stock applications also don't take users to Apple's applications but instead, offer the Android equivalents of each feature. So while this device looks a whole lot like how the real iPhone 6 could look, it's not an iOS device at all.
It's not clear what else is on board the device though another iPhone 6 clone we saw emerge a few weeks ago is powered by a 2.4GHz quad-core MediaTek processor. The iPhone 6 is rumored to have a 64-bit A8 chip on board with an M8 co-processor. Apple's new chip is said to be focused on overall performance with an emphasis on battery life. Benchmarks are still in the shadows and likely will be up until Apple introduces the iPhone 6 on stage later this year.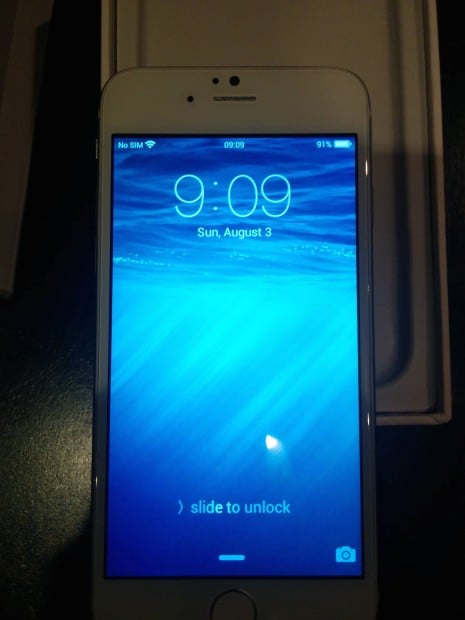 Apple's iOS 8 powered iPhone 6 is heavily rumored for the fall and iPhone 6 release date rumors are currently centered on an announcement, and quite possibly, a release inside the month of September. Recent rumors put the device's launch date in the middle of September with a release date in and around September 19th, a Friday. The iPhone 5s was released on a Friday in late September as well.
It's still not clear if Apple plans to announced its rumored 4.7-inch and 5.5-inch iPhone 6's at the same time. Rumors continue to suggest that Apple could push the 5.5-inch iPhone 6 deeper into the year or perhaps into 2015. Well respected KGI Securities analyst Ming-Chi Kuo, the man who accurately predicted many of the iPhone 5s' features ahead of time, claims that the 5.5-inch iPhone 6 could potentially arrive in 2015.
The device is expected to arrive alongside the iOS 8 update, an update that is currently in beta form. iOS 8 release date rumors put its release in and around mid-September with September 17th emerging as a possible release day.

As an Amazon Associate I earn from qualifying purchases.