The iPhone 6 Specs: Everything We Know
With the iPhone 6 launch date all but confirmed for September 9th, consumers are starting to prepare for the inevitable iPhone 6 release date later this year. Ahead of Apple's launch, we want to take a look at everything we know about the iPhone 6 specs including details about the display, processor, camera, software, and more.
For almost a year now, we've heard about the new iPhone 6 release that Apple has in store for 2014. Rumors have centered on the name iPhone 6, a probable name for a device that will come after both the iPhone 5s and the iPhone 5.
iPhone 6 rumors have stretched far and wide and they've left no stone unturned. We've heard about the iPhone 6 release date that will supposedly happen in close proximity to the Samsung Galaxy Note 4 release in September. Apple, like Samsung, typically does a good job of masking specific release details but rumors point to an arrival in the usual iPhone release window.
We've also heard about the iPhone 6 specs, specs that supposedly include a high-powered display, speedy processor, new camera, and software that should help separate it from the iPhone 5s and top Android rivals like the Galaxy Note 4 and the LG G3.
With just days to go before the iPhone 6 launch, and a flurry of other smartphone launches, we want to take a look at everything we know about the iPhone 6 specs and features. These are the key details that prospective buyers will want to keep in mind as we head into the month of September and the iPhone 6 launch date that's set for September 9th at DeAnza College in Cupertino.
iPhone 6 Display
iPhone 6 rumors have repeatedly targeted two new display sizes for the iPhone. iPhone 6 rumors have focused on a 4.7-inch model that may not be much larger than the current 4-inch iPhone 5s and a much larger iPhone 6 that sports a 5.5-inch screen. The 5.5-inch model would put the iPhone into "phablet" territory for the first time where it would challenge the likes of the LG G3, Galaxy Note 4 and others.
To get a feel for the potential size difference, have a look at the photo below. Here, you can see the alleged 4.7-inch iPhone 6 model on display next to the 5-inch Galaxy S5 and the 5.5-inch iPhone 6 model.
For those that want to go a little more into the potential display size differences, take a look at the video below. This video will walk you through what we could see from the iPhone 6's display sizes.
iPhone 6 display rumors also point to a high-resolution display that's at least on par with the Retina quality resolution that's found attached to the iPhone 5s, iPhone 5 and others. The device is also expected to include the same widescreen 16:9 aspect ratio that Apple introduced alongside the iPhone 5 all the way back in 2012.
What's more is that iPhone 6 rumors continue to point to the arrival of a sapphire-based display that could offer increased protection against damage and more specifically, scratches. While it may not be indestructible, the use of sapphire material could help to cut down the number of iPhone screen replacements per year.
A8 Processor
iPhone 6 specs are rumored to include a brand new 64-bit A8 processor that will replace the current A7 chip found inside the iPhone 5s, iPad Air and iPad mini with Retina Display.
According to Cowen & Co. analyst Timothy Arcuri, the larger iPhone 6 and its larger 5.5-inch display could possibly receive a faster processor than the smaller 4.7-inch iPhone 6 model. This could mean that not only would buyers benefit from a larger screen, but they would also get faster performance as well. Large screen smartphones are aimed at those that love to play games and consume a ton of content so it's possible that we'll see some differences between the two.

This would not be unprecedented. The Apple A7 processor in the iPhone 5s is clocked at 1.3 GHz but the iPad Air's 64-bit A7 processor is clocked at a slightly faster 1.4GHz.
Apple's new A8 processor is said to focus on battery life improvements and performance enhancements. It's also said to include 1GB of DDR3 RAM, something that would help with multitasking and other tasks that require significant horsepower.
Storage
iPhone 6 storage rumors have been all over the place as of late with one leak suggesting that the company could finally introduce a 128GB iPhone 6 alongside 16GB and 64GB models. It's still not clear why the leak left out the 32GB iPhone 6.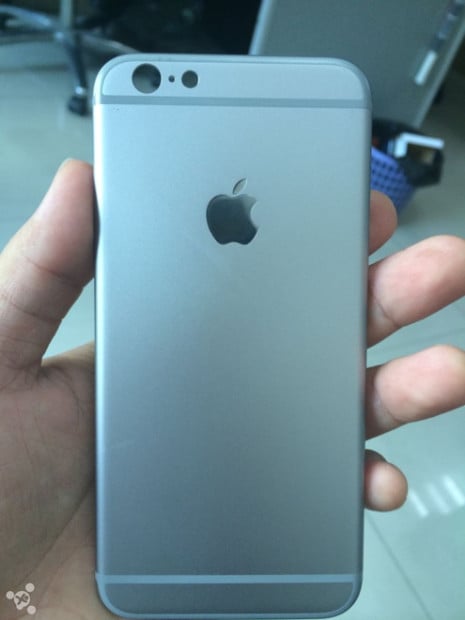 Another more recent leak points to the arrival of a 16GB base model of the iPhone 6 though that remains unconfirmed at this point. For years, Apple has offered the iPhone with 16GB, 32GB and 64GB of storage and it appears that the device will come with multiple storage options once again.
Keep in mind, we've heard rumors about a 128GB iPhone 6 for years now and there are some good reasons why this year might be no different than the last.
iPhone 6 Camera
iPhone 6 camera rumors are still a bit blurry though the do center around bigger pixels and perhaps, image stabilization technology to help cut down the shakiness in videos and photos. iPhone 6 rumors point to a better camera in 2014, but it isn't clear what Apple plans to do. Rumors currently focus on several upgrade options including:
8MP sensor with bigger pixels
13MP sensor from Sony
Optical Image Stabilization or Electronic Image Stabilization
Apple swaps out its iPhone camera every year so there is a very good chance that the iPhone 6's rear camera will offer some improvements over the rear camera found inside the iPhone 5s.
Touch ID + Other Sensors
Apple's iPhone 6 is widely expected to have a Touch ID fingerprint sensor, a feature that arrived on the iPhone 5s. VentureBeat claims that Apple will introduce improvements that will speed up read times and improve accuracy. We've seen enough Touch ID rumors emerge over the past few months to sink a battleship which means that improvements or not, the iPhone 6 should come equipped with a fingerprint reader on board.
iPhone 6 Battery
iPhone 6 specs could also include larger batteries that could pair with the A8 processor to offset the drain that will likely arrive with the larger displays. 4.7-inch iPhone 6 rumors point to a larger 1,800 mAh battery which would be a massive increase from the 1,560 mAh battery that's found tucked away inside the iPhone 5s' design.
A much more recent leak hints at a massive battery for the larger version of the iPhone 6. New photos appear to show a prototype 2,915 mAh battery for the larger 5.5-inch iPhone 6, a leak that matches up with an earlier rumor out of China. These appear to be prototypes which means that there is a chance Apple will opt for something else in the larger model.
NFC
Phone 6 specs are said to include NFC (Near-Field Communication), something that would transform the iPhone into a mobile wallet. NFC has been a staple of Android smartphones for years though it has never appeared inside the iPhone. It's still not clear how Apple might incorporate the technology though insiders suggest that it could work similar to Google Wallet.
Noted Apple blogger John Gruber has thrown more fuel on the fire and says that there is a very good chance that the iPhone 6 will come with NFC support on board. He claims that the feature will only be available inside of the new "iPhones" and that it will allow users to whip out their iPhone to pay for goods and services at brick and mortar stores.
iOS 8
The iPhone 6 is expected to run a version of Apple's upcoming iOS 8 software. It's not clear if it will be in possession of unique features though with NFC and Touch ID both rumored to be on board, there's a good chance that it will have some special features that don't come to older iPhone models.
iPhone 6 Carriers
A recent leak shows AT&T is prepping for an iPhone 6 release date in the near future, with multiple iPhone 6 cases listed in inventory. Sprint, along with AT&T, T-Mobile, and Verizon were first to the iPhone 5s and iPhone 5c last year.
Plans indicate that fellow U.S. carrier Verizon is almost ready to turn on VoLTE, a new technology that can deliver better phone calls and the ability to talk and use data at the same time. VoLTE support is rumored in iOS 8 for the iPhone 6 and possibly the iPhone 5s though it remains unconfirmed despite the presence of Apple's iOS 8 beta update.

This article may contain affiliate links. Click here for more details.