iPhone 6 vs. iPhone 5s: What Buyers Can Expect
The iPhone 5s is still a fantastic smartphone especially now that it comes with a relatively cheap price tag. With an iPhone 6 release all but confirmed, new iPhone buyers and upgraders are starting to weigh their options. Here, we want to take a look at what prospective iPhone 5s buyers should expect from the iPhone 6 when it arrives later this year.
Last September, Apple took the stage at an event in San Francisco and debuted the final iOS 7 release alongside the iPhone 5s and iPhone 5c, the company's brand new iPhones that accompanied iOS 7 to shelves. The iPhone 5s, the flagship, came equipped with a number of significant upgrades over the iPhone 5 including Touch ID, a new camera, improved software, an A7 64-bit processor, and a new gold color.
Apple's iPhone 5s is getting older, it's almost a year old, but that doesn't mean that it's no longer a solid option for consumers. No, the iPhone 5s is still one of the best smartphones that money can buy thanks to its hardware, its updated software, and a price tag that's dipped down to just $99 on-contract through Walmart. We've talked to more than a few people that are considering it as their next smartphone.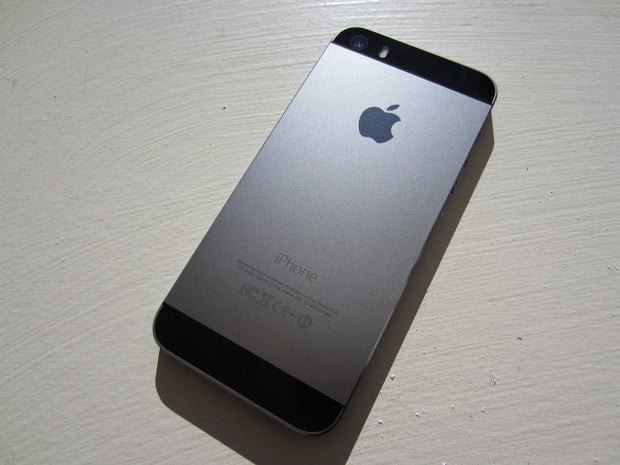 Many of those people are also curious about the iPhone 5s' successor, a device that's currently called iPhone 6. Apple still hasn't confirmed anything but rumors have firmed up in the past two weeks and a launch in September needs only to be confirmed by Apple's media invites. Needless to say, anticipation for the iPhone 6 is at all time high.
Over the past few weeks, we've seen iPhone 6 rumors become more and more concrete. We've made some early comparisons to several devices including the iPhone 5s. Here, we want to explore those rumors and offer up some predictions of our own. Here's how we expect the iPhone 6 to match up with Apple's iPhone 5s in key areas when it arrives later on this year.
Release Date + Price Drop
Apple still hasn't confirmed the iPhone 6 but it's become increasingly clear that the company has something up its sleeve for September. Apple's iPhone 6 launch is expected to take place on September 9th at an undisclosed location. Our best guess is that it will take place in Northern California and that Apple will provide a live stream of the event but that remains unconfirmed.
The date itself isn't confirmed either but Recode's John Paczkowski is a solid source and it's looking like Apple will confirm that date at some point between now and early September. We would not be surprised if Apple tried to take some steam out of Samsung's Galaxy Note 4 launch on September 3rd with some news of its own.

An Apple iPhone 6 release date remains out of reach and there's a good chance that it will stay in the shadows until Apple takes the stage on September 9th. That said, we're expecting an iPhone 6 release date that takes place in the same window that Apple always uses for its new iPhone release.
Apple is known for releasing its iPhones in and around two weeks after launch. It's also known for releasing new iPhones on Friday. September 19th fits the criteria perfectly and unsurprisingly, the date is rumored to actually be the first of what could be two iPhone 6 release dates.
iPhone 6 release date rumors have continued to point to two separate release dates for Apple's iPhone 6. VentureBeat claims that the 4.7-inch iPhone 6 release date will happen in September and that the 5.5-inch iPhone 6 release date could arrive weeks later or perhaps, even a month later. This lines up with early iPhone 6 rumors including details from respected analyst Ming-Chi Kuo.
In summary, here's Apple's potential iPhone 6 release timeline:
iPhone 6 announcement on September 9th.
iPhone 6 release date on September 19th. (Or September 26th, another Friday in late September.)
iOS 8 release somewhere between September 9th and September 26th.
So what does this mean for the iPhone 5s?
Well, expect the iPhone 5s price to drop across the board as soon as the iPhone 6 arrives. We've already seen Walmart drop the iPhone 5s price ahead of the iPhone 6's arrival but we expect widespread cuts once September rolls around. This is going to be key because we expect the iPhone 6, with all of its bells and whistles, to be priced in around $200 for the 4.7-inch model and around $300 for the larger model.
That's as good of a reason as any to hold off on buying the iPhone 5s right now.
New & Improved Design
iPhone 6 rumors have continually pointed to a redesign. We've seen rumors, leaks, and speculation from analysts align around some very specific iPhone 6 design details. Nothing is set in stone but when there's a ton of smoke, there's usually a ton of fire, so prospective buyers should expect a new look from the iPhone 6.
The iPhone 6 design will likely include more metal than the iPhone 5s, ditching the glass top and bottom parts on the back of the phone for a full metal back cover. Apple's new design is also rumored to be thin, perhaps as thin as 7mm, and feature a taller and wider footprint to accommodate a larger display. The display itself is rumored to be made out of sapphire material to protect the front of the design from harm.
Apple's new iPhone Apple's is rumored to have a Touch ID fingerprint sensor, a feature that is on the iPhone 5s. VentureBeat claims that Apple will introduce improvements that will speed up read times and improve accuracy. We expect both. Apple likely won't ditch the technology after a year and when it comes to Touch ID, there's certainly still a ton of room for improvement.
Unfortunately, the iPhone 6 itself has yet to leak out. There's a good chance that Apple will clamp down on full blown leaks until its announcement. Fortunately, we've been able to go hands on with Spigen's upcoming iPhone 6 case and the video below will give you a pretty good idea about what to expect from the iPhone 6 design. The mockup is based on rumors but there is a chance that Spigen is armed with inside info.
For a comparison between the iPhone 5s design and the alleged iPhone 6, have a look at the video below.
Bigger Display
At this point, we're also expecting the iPhone 6 display to be larger than the iPhone 5s'.
Rumors point to a brand new higher-resolution Retina Display that measures both 4.7-inches and 5.5-inches. Apple's iPhone 6 will reportedly deliver a 4.7-inch screen with a 1704 x 960 resolution that delivers a 416 ppi experience. This, if true, would make for better looking content and a better looking iOS 8 experience.
The increase in display size will likely mean an increase in the overall size of the iPhone though it may not be as significant as you'd think. Leaks continue to point to a wider, taller iPhone though the 4.7-inch model may not be that much bigger than the iPhone 5s. As the photo below demonstrates, the 4.7-inch iPhone 6 should also still be easy to use with one hand.
The 5.5-inch model could be much larger than the 4.7-inch iPhone 6 and thus, larger than the iPhone 5s. We've only seen that device leak out a few times though in each photo, it's been noticeably larger. The photo below shows a 4.7-inch iPhone next to a larger 5.5-inch model.
Nothing is confirmed but again, there is just too much smoke here to dismiss a fire. The iPhone 6 will almost certainly be in possession of a larger display and perhaps, a Retina Display with better resolution.
Supercharged Specs
Here's a breakdown of the latest iPhone 6 spec rumors:
iOS 8
4.7-inch/5.5-inch Sapphire displays
16GB / 32GB/ 64GB / 128GB storage options
3.2MP front-facing camera
802.11ac WiFi
Touch ID Fingerprint Sensor
The A8 processor has been rumored several times and it appears to be a lock for the new iPhone. Rumors suggest that the 5.5-inch model could be faster than the 4.7-inch iPhone 6. We're expecting the usual upgrade to the camera with image stabilization looking like a real possibility now that OIS has become more mainstream.
We're still not sold on the 128GB iPhone or NFC, the rumors are more flimsy than the camera and processor upgrades, so prospective users will want to temper expectations. NFC, or Near-Field Communication, would allow iPhone 6 users to use their phone like a mobile wallet. It's a feature that was incorporated into Android smartphones years ago but still hasn't made it onto the iPhone.
Software
Both of these devices will run iOS 8 come September. We haven't heard about any significant software differences between the two but we can point out one thing that prospective iPhone 6 and iPhone 5s buyers will want to be aware of.
Apple tends to update iPhones for three years before kicking them to the curb. iOS 8 represents the iPhone 5s' first major update which means that it should get iOS 9 and iOS 10 down the road. The iPhone 6 on the other hand will come stock with iOS 8 which means that it should have three years or more left in the tank.
It's not too significant, both iPhones are going to last a long time, but it's something that those signing a contract will want to be aware of before putting a signature on the dotted line.
Same Carriers
We haven't seen any iPhone 6 carrier rumors emerge though we expect the same from this year's model. That means the usual suspects AT&T, Sprint, T-Mobile, and Verizon along with U.S. Cellular and an assortment of pre-paid and smaller regional U.S. carriers. We would also not be surprised if U.S. Cellular released the iPhone 6 alongside the big boys this year.

As an Amazon Associate I earn from qualifying purchases.