iPhone 6 vs. Nexus 4: Early Look at What to Expect
Those still holding onto the aging Nexus 4, one of the popular Android devices from 2012, may find themselves in the market for a new smartphone later on this year. And while there will be plenty of tempting Android smartphones, the rumored Samsung Galaxy S5 and HTC One+ (HTC M8) to name a few, there will be more than a few Nexus 4 owners tempted by Apple's 2014 iPhone currently dubbed iPhone 6. While nothing is set in stone, here, we take a look at what current Nexus 4 owners should expect from the iPhone 6 sometime later this year.
All the way back in October of 2012, Google announced the Nexus 4, a device that replaced the Samsung Galaxy Nexus. The Nexus 4 ushered in a new era of Nexus smartphones, introducing not only Android 4.2 Jelly Bean but the now standard cheap, unlocked price tag. Combined with the Nexus 4's specifications, the device was one of the hottest devices at the end of the year and into 2013.
In September of 2013, without much warning, Google discontinued the Nexus 4 wiping it away from the Google Play Store. And while some Nexus 4 owners likely bought into Google's brand new Nexus 5, others went in other directions. One of the routes that Nexus 4 owners took was holding onto the Nexus 4 indefinitely and we know of more than a few people who are holding out for 2014's crop of smartphones.
Much of the focus is going to be on the big name Android smartphones of the year but there will certainly be Nexus 4 users who are tempted to buy the iPhone and more specifically, 2014's iPhone, a device that we expect will be called the iPhone 6.
While the iPhone 6 launch is likely months away, we want to help set expectations for Nexus 4 owners who might be thinking about switching gears in 2014. Here, we take a very early look at what we expect from Apple's iPhone 6 and how we expect it to compare with Google's aging Nexus smartphone, the Nexus 4.
Release Date
Last September, Google took the Nexus 4 off the Google Play Store. That doesn't mean that the device up and vanished completely though. No, the Nexus 4 is still available through T-Mobile and through various retailers including Amazon. And it will likely remain available throughout the year. In other words, it's likely going to be an option once the new iPhone arrives. An old, fossil of an option but an option nonetheless.
Those who still own the Nexus 4 will likely be waiting for several months as the iPhone 6 launch date is not rumored to be around the corner. Instead, early rumors point to a launch as soon as May. Even if that's true, and there is a good chance that it isn't, it still means a five month wait for something new.
Apple typically herds its iPhone launches into one of two windows. A release in the summer, right after WWDC in June, or, as it has done the past few years, a release in the fall right around the start of school and ahead of the holiday shopping season. This is how it has been for a great number of years now and it's what iPhone buyers expect.
iPhone 6 launch date rumors span across 2014 in its entirety. Rumors have suggested a launch in May, in summer or in the fall. A recent report out of Japan suggests that Apple could be looking to release a new iPhone series in May followed by an iPhone 6 launch in September. Needless to say, rumors are far from settled.
It's hard to think that an iPhone 6, a true successor to the iPhone 5s will launch prior to the summer or beyond the fall so Nexus 4 owners interested in 2014's iPhone would be wise to circle summer and fall, in pencil, on their calendars. It's hard to imagine Apple has a new iPhone right around the corner.
Design
Google's Nexus 4 features a design that offers a plastic front panel to go along with a back panel that's made of glass. The design is far more elegant than the all-plastic Galaxy Nexus design though the design is susceptible to cracks and damage if not put inside of a bumper case. The LG-made Nexus 4 is not the thinnest or lightest smartphone in existence but it checks in with a tolerable 9.1mm frame that weighs 139 grams.
At this point, we aren't sure what the iPhone 6 will look like but that doesn't mean that we can't make some educated guesses about its design and how it will compare to the Nexus 4.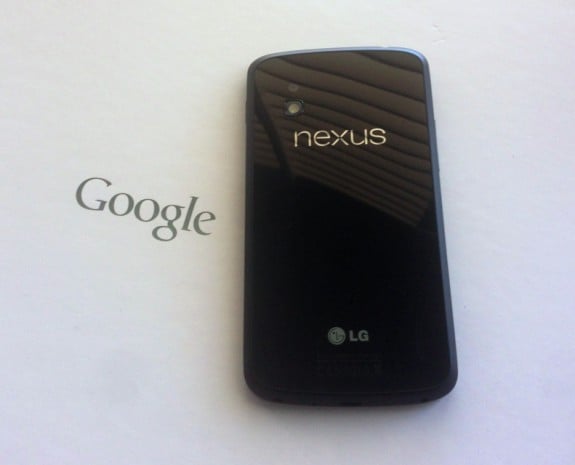 For one, we can't see Apple backtracking with its iPhone 6 design. That means that we expect a design that features premium build materials, a design that is slim and a design that is lightweight.
If the iPhone 6 has a larger screen, as rumors suggest, we expect Apple will thin out the bezels like it did on the iPad Air. This would help to accommodate the extra screen real estate. We've see other companies do this. A prime example, the 4.7-inch Moto X which can be seen next to the 4-inch iPhone 5s below.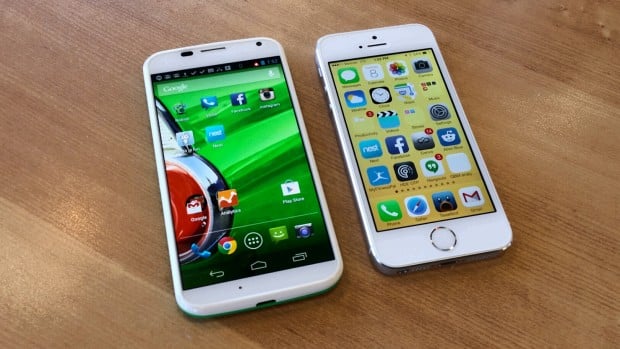 Point is, even with a large display, we expect that the iPhone 6 to be as compact, or more compact, than Google's Nexus 4.
Display
In 2012, the Nexus 4 display was among the best displays on the market. No longer. Its 4.7-inch 720p display with 318 pixels-per-inch now looks pedestrian compared to the displays that we saw emerge in 2013. How it will compare to the iPhone 6 display, exactly, isn't clear. But we do have some idea thanks to a hefty dose of rumors that have emerged over the last few weeks.
Reports suggest that the iPhone 6 will come with a display larger than the 4-inch display found on the iPhone 5s. Rumors have centered around a display between 4.5-inches and 5-inches in size, though a specific size hasn't been revealed. There are also rumors that suggest that Apple will be coming out with an iPhone display size larger than 5-inches as well.
NPD DisplaySearch, which accurately predicted the iPad 3′s Retina Display, claims that Apple is working on two different display sizes including a 4.7-inch 1280 × 720 display and a 5.7-inch 1920 × 1080 display. A new iPhone 6 rumor points to a large 5-inch iPhone launch in May followed by another iPhone in September.
Respected KGI Securities analyst Ming Chi Kuo believes Apple is planning an iPhone 6 with a 4.5-inch to 5-inch display in 2014. Kuo accurately predicted many of the iPhone 5s features ahead of the launch. NPD and Kuo are not alone and that's what makes the rumors of a larger iPhone extremely credible.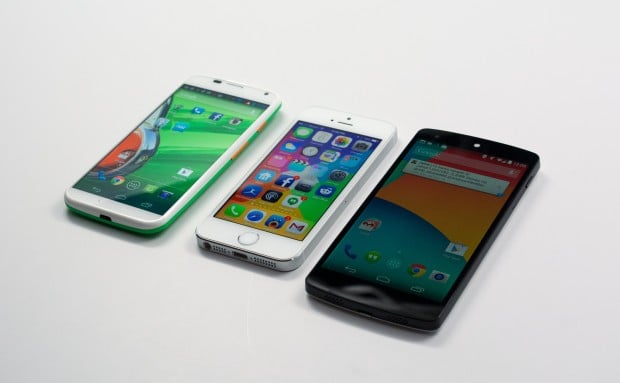 So at this point, given the frequency of the rumors and given who they are coming from, it's safe to expect a larger iPhone 6 display. With rumors centered around 4.8-inches, we're expecting an iPhone 6 display size in the vicinity of the Nexus 4's. And if that's the case, we should see display quality that bests the quality on the Nexus 4.
Specs
Like other Nexus smartphones, the Nexus 4 adopted the popular technology from 2012. It runs a Snapdragon S4 Pro quad-core processor that is backed by 2GB of RAM. It uses an 8MP camera that can shoot solid photos and video. And it utilizes a 2,100 mAh battery that can pull down some solid battery life.
These specifications were impressive back in 2012 but mobile technology moves fast and the smartphones of 2013 put these specs to shame. We expect the same from 2014's crop of smartphones, including the iPhone 6.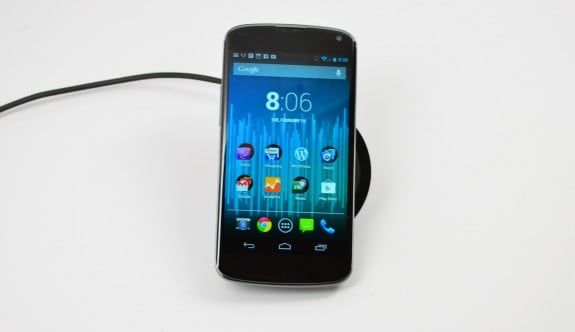 iPhone 6 rumors are scarce though there is no reason to believe that Apple will go backward or stay stagnant. It never does. It constantly works to improve its iPhone, year-after-year and thus we expect the iPhone 6 to improve over the iPhone 5s.
With that in mind, we expect a better 64-bit processor, something that should help to boost performance. Exactly how it will compare to the Snapdragon S4 Pro is unclear but given that the current A7 has been shown to be on par with the current Snapdragon 800, we expect better performance.  We expect a camera that's better than the 8MP iSight camera on the iPhone 5s. The iPhone 5s camera is already better than the Nexus 4 camera. And we expect great battery life.
One other thing that prospective buyers need to note. The Nexus 4 also comes in 8GB or 16GB form. The iPhone 6 should come in 16GB, 32GB and 64GB forms, at least.
Software
Google's Nexus 4 runs Android 4.4 KitKat, Google's newest version of Android. Those who aren't familiar with Android 4.4 KitKat can get a glimpse of the update in the video below.
Android 4.4 represents the second major update to the Nexus 4, following in the footsteps of Android 4.3 Jelly Bean. Google tends to keep its devices updated for 18 months before killing software support which means that the Nexus 4 still has a little life left. If Google continues its upgrade pattern, we could see it get an update this summer before sailing off into the sunset. Point is, current owners and those looking into the Nexus 4 likely don't have much time left.
We expect the iPhone 6 to be running iOS 8. Apple always introduces new hardware with new iOS software so it's hard to think that the company will switch things up in 2014. Whatever it is on board will not only look different than whatever is on the Nexus 4 at the time but it will offer different features as well. That's a no-brainer.
What's important for current or prospective Nexus 4 users to note is that the iPhone 6 will likely receive the same three years of support that other iPhones do. In other words, while the Nexus 4 will likely die this year, the iPhone 6 will have a long life ahead of it, perhaps longer than this year's Nexus smartphone.
Carriers
When the Nexus 4 arrived, it arrived unlocked for GSM carriers AT&T and T-Mobile. It did so without access to 4G LTE data speeds, something that has been commonplace for Android smartphones for a number of years. Despite rumors, the Nexus 4 remains without 4G LTE, something that isn't bound to change in the future.
Apple's iPhone 6 will almost certainly feature 4G LTE, it's standard on Apple products these days, and it will likely arrive for a host of carriers including AT&T, Sprint, T-Mobile, U.S. Cellular, and Verizon. All five of these carriers hosted the iPhone 5s and iPhone 5c. Apple has also shown a tendency to release its iPhone on smaller carriers and thus, consumers should expect the iPhone 6 to land on pre-paid and regional carriers in the United States.
Price
When the Nexus 4 arrived, it was one of the cheapest unlocked smartphones on the market, commanding $299 for an 8GB model. A larger 16GB model went for $350 on the Google Play Store. Towards the end, Google knocked $100 off the price tag of the Nexus 4, dropping the 8GB to $199 and the 16GB to $250. Those priced lasted only for a few days before the device itself vanished.
It's no longer available on the Google Play Store but the Nexus 4 remains available through a few avenues. Through T-Mobile, the Nexus 4 costs $408 without a contract. Through Amazon, the 16GB is $350. Point is, the device is still extremely cheap for those who are still in the hunt for something new. And we fully expect it to be cheaper than the iPhone 6.
Apple has kept its iPhone price static for a number of years now, sticking with a $199.99 on-contract price tag. It has also stuck with a static $650 unlocked price tag. One analyst believes that that could change with next year's iPhone, thanks to new technology on board.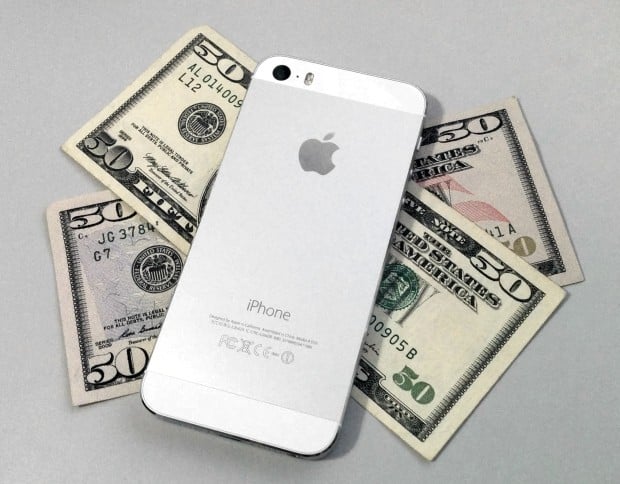 Chris Caso, analyst with Susquehanna Financial Group told Investors Business Daily he sees "the potential for the iPhone 6 price point to move higher, to avoid the (profit) margin erosion that occurred when iPhone 5 launched," adding, "we think Apple could get away with a $50 to $100 premium for a larger screen size iPhone 6."
While it's difficult to pinpoint the iPhone 6 price point this early on, consumers should expect the iPhone 6 to be more expensive than the Nexus 4. The iPhone 6 likely won't get any cheaper than $199.99 and it's hard to imagine that it will be cheaper than a phone from 2014.

This article may contain affiliate links. Click here for more details.