iPhone 6 vs. Nexus 5: What We Know So Far
Google's Sundar Pichai claims that a Nexus 6 won't be arriving in the first half of the year which means that the Nexus 5, Google's current Nexus smartphone, is going to be on shelves for the foreseeable future. That means that consumers are going to be weighing it against smartphones from 2014 including Apple's 2014 iPhone which is currently called the iPhone 6.
Pichai, Google's Android head, told reporters at Mobile World Congress that the next Nexus smartphone will not arrive in the first half of the year. This should have come as a surprise to no one given that the past three Nexus smartphones all arrived at the tail end of the year, during the holiday shopping season.
The most recent Nexus smartphone is, of course, the Nexus 5. After months of rumors, Google announced the LG-made Nexus alongside the Android 4.4 KitKat update on Halloween and released both just a few days later. The Nexus 5 replaced the wildly popular Nexus 4, a device that was discontinued in September.
So, the Nexus 5 is extremely new and thus, it was hard to see it going anywhere anytime soon. Pichai's comments simply served as a confirmation of those feelings.
What this likely means is that the Nexus 5 is going to sit on the Google Play Store and in various other retailers for most of 2014. And given its status as one of the best Android smartphones on the market, it means that it's going to be a device that consumers will weigh against the top phones of 2014.
One of those devices is the new Samsung Galaxy S5. Another is the rumored iPhone 6, a device that isn't official, but is heavily rumored to be coming to shelves later on this year.
We can't profess to know everything about the iPhone 6 and how it compares to the Nexus 5. What we can say is that we certainly have a start, thanks to credible iPhone 6 rumors that have emerged in recent weeks. While this comparison won't answer every single question, it will serve as a good start point for those that are curious about the iPhone 6 and how it could look next to Google's Nexus 5.
Here, we take a look at how the iPhone 6 currently matches up with the Nexus 5.
iPhone 6 Release Date
When we get asked about the iPhone 6, the first question is typically something about the iPhone 6 release date. This doesn't come as any surprise to us because consumers want to know when they'll be able to get their hands on a device. In this case, current Nexus 5 users and prospective Nexus 5 buyers are wondering when they might get to compare it to this year's iPhone model.
Current Nexus 5 owners and those thinking about buying a Nexus 5 will have to wait several months, at least, before the next iPhone arrives. Nothing is set in stone but iPhone 6 rumors center around two specific launch windows, launch windows that should be familiar to anyone that knows anything about Apple and the iPhone.
iPhone 6 release date rumors still haven't agreed on a specific date but they do point to these two well known launch windows. Apple, in the past, has launched its iPhones in the summer or the fall. In what will probably come as a shock to no one, iPhone 6 release date rumors currently point to an arrival in the summer or in the fall.
In fact, all credible release date rumors point to an iPhone 6 release this summer or this fall. At the moment, the majority of rumors hint at an arrival in the fall. The iPhone 5s, iPhone 5 and iPhone 4s all were launched and released in the fall just ahead of the holiday shopping season making an arrival there likely.
Most recently, an Apple partner seemed to tip the iPhone 6 release for autumn rather than summer, throwing even more weight behind these iPhone 6 rumors.
The Wall Street Journal claims Apple is preparing two iPhone 6 models with larger screens and that the smaller one is "further along in development, and is being prepared for mass production," while the larger iPhone 6 is in, "preliminary development." This could explain why we're hearing about two release windows in the build up to the iPhone 6's arrival.
As we've pointed out, most of these release date rumors come from sources on the supply chain. Companies in the iPhone supply chain are likely on a need-to-know basis which means they've probably been given target dates for their own pieces to the iPhone puzzle but not the iPhone 6 itself.
Design
Google's Nexus devices are well-known for their plastic designs that not only change but improve year-after-year. The Nexus 5's design is comprised of a larger piece of matte plastic that comes in black, white or red. While it's plastic, we've argued that the material gives the Nexus a premium feel. It's no iPhone 5s but it's much nicer than most of the other plastic Android phones on the market.
The Nexus 5 does not come with a microSD card slot for expanded storage nor does it come with a removable back for use with an extended battery. As far as specific dimensions go, it's 8.59mm thin and weighs just 130 grams. That, combined with its design, make the 5-inch Nexus 5 extremely easy to pocket and wield with one hand.
iPhone design rumors typically don't emerge until much closer to the actual launch. And with an iPhone 6 launch rumored to be months away, it's no surprise that iPhone 6 design rumors are extremely scarce. Some possible details have emerged and here is what we know about the iPhone 6 thus far.
While Google tends to change its Nexus design every year, Apple waits two years before tweaking the look of its iPhone. The iPhone 5s utilizes the same design as the iPhone 5 , a sign that change is likely coming with the iPhone 6. Rumors have pointed to some possible tweaks but the bulk of the design remains in the shadows.
The previously mentioned Wall Street Journal report claims that the iPhone 6 will use the same anodized aluminum material found on the iPhone 5s and iPhone 5. Even if Apple does use similar build materials, reports insist on some other design changes that could impact the overall feel of the next iPhone.
A 9to5Mac report recently revealed that Apple is fast tracking the output from a Sapphire factory that it invested in during its 2013 campaign. This, and other credible rumors, suggest that Apple will use Sapphire on the front of the iPhone 6 in an effort to make the device's display almost impossible to break. The Nexus 5 uses Corning Gorilla Glass, not Sapphire. It's also dependable and protects the Nexus 5 from scratches and damage.
Numerous reports also point to a larger display. This would obviously increase the size of the iPhone though it's not clear how much of a size increase we'd see. We've theorized that we could see is a new design with thinner bezels, similar to what Apple did with the iPad Air, which would allow Apple to keep the increase to a minimum. A recent iPhone 6 concept shows what a larger iPhone could look like next to the iPhone 5s.
At the moment, the Nexus 5 is much larger than the iPhone though with a larger display, we could see an iPhone whose footprint is much closer in size to Google's flagship.
We're not sure how the iPhone 6's dimensions will compare though a report from LEDInside of TrendForce claims that the iPhone 6 will be thinner than the iPhone 5s (7.6mm). The report cites a possible shift from 0.6 mm thick LED backlights to backlights that are just 0.4 mm thick which could make for an extremely thin frame, thinner than the Nexus 5.
Display
Google's Nexus smartphones borrow from the best technology available so it wasn't shocking to see Google outfit the device with a 5-inch display at 1080 x 1920 pixel resolution with 445 pixels per inch. The Nexus 5's display provides gorgeous looking content and its real estate makes for better content consumption and gaming.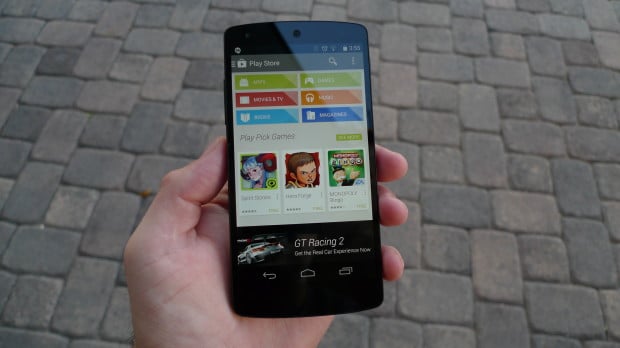 For the moment, the Nexus 5's display is larger, and arguably better than the 4-inch Retina Display found on the iPhone 5s. However, iPhone 6 rumors point to a massive change coming with the next iPhone, change that could finally put the iPhone display on the same level as Android phones, for better or worse.
Across the board, sources are saying that 2014 will be the year that Apple will offer a large screen iPhone.For instance, The Wall Street Journal believes the company will deliver two iPhones, one 4.5-inch model and one 5+-inch model. On top of that, NPD DisplaySearch believes that two iPhone 6 models with higher resolution displays will be coming in 2014.
A recent KDB Daewoo Securities report uncovered by OLED-Display includes two iPhone 6 display sizes. And Ming-Chi Kuo of KGI Securities, who accurately predicted many of the iPhone 5s features ahead of time, thinks Apple is planning an iPhone 6 with a screen between 4.5-inches and 5-inches. Here is how it breaks down at the moment:
4.5-inch display – WSJ
4.7-inch display – 1600 x 900 resolution – NPD
4.7-inch to 4.8-inch display – 1920 x 1080 resolution – KDB
4.5-inch to 5-inch display – Kuo
5+ inch display – WSJ
5.5-inch display – 1920 x 1080 resolution – NPD
5.5-inch display – 2272 x 1280 resolution – KDB
In addition to the larger size, the iPhone 6 may also use a newer screen technology, similar to the technology found on the Kindle Fire HDX 7, to deliver a better looking display.
The video below shows what iOS 7 looks like on larger screens from 4.5-inches all the way up to 5.7-inches and should give current Nexus 5 users and prospective buyers an idea about the potential bump in screen size.
Specs
The iPhone 6 will come with more than just a new display and a new design. We'll likely see Apple perform its yearly hardware maintenance and offer some improvements over the iPhone 5s. In fact, rumors are already pointing to a number of potential iPhone 6 feature upgrades.
The research note from KDB Daewoo Securities reveals a number of possible iPhone 6 specifications. Drawing from that note and from other reports, we have drawn up a list of features currently rumored to be aboard the new iPhone.
iPhone 6
Apple A8 64-bit processor
iOS 7.2 or iOS 8
4.5-4.8-inch and 5 -5.5-inch displays
2GB RAM
16GB / 32GB/ 64GB / 128GB storage options
3.2MP front-facing camera
8-10MP rear-facing camera
1,800 mAh battery
802.11ac WiFi
Touch ID Fingerprint Sensor
Nexus 5
Qualcomm Snapdragon 800 processor
Android 4.4 KitKat
5-inch display
2GB RAM
16GB / 32GB Storage Options
1.3MP front-facing camera
8MP rear-facing camera with OIS
2,300 mAh battery
802.11ac WiFi
No Home Button or Fingerprint Sensor
Software
The Nexus 5 is an Android phone from Google. The iPhone 6 will be an iOS device from Apple. This means that these two devices will be running completely different pieces of software.
For the moment, the Nexus 5 is running Android 4.4 KitKat, Google's most current version of Android, and software that can be seen in action in the video below.
One of the perks of Nexus devices is that that they come with vanilla Android. In other words, it's Android the way that Google intended it to be, without manufacturer interference. Many people prefer vanilla Android over the other versions of Android that company's have to offer.
As for the iPhone 6, it will likely run a new version of iOS. Apple always introduces a new version of software with its new hardware. That something new should be iOS 8, a follow up to iOS 7, and an update that is already in the rumor mill.
According to 9to5Mac, the iOS 8 update will not bring a lot of visual changes. Instead, it will pave the way for health and fitness tracking something that makes sense given that Apple is rumored to be working on an iWatch, a device that will almost certainly appeal to active consumers.
Apple is also reportedly working on an app that is code named Healthbook which may connect with sensors in an iPhone 6 or iWatch to help users track and manage a number of things including steps taken and calories burned. The rest of iOS 8 remains uncertain though we can guarantee that it will look and function different from the Nexus 5's Android.
One more thing that we should point out. Google offers 18 months of support for its Nexus phones. What this means is that the Nexus 5 should continue to get updated until the middle of next year. Apple, on the other hand, updates its phones for three years.  This means that the iPhone 6 could potentially see updates all the way up to iOS 11.
That's something that consumers need to think about as we get closer to the iPhone 6's launch.
Price
One of the strengths of the Nexus 5 is its price. The Nexus 5 is sold, unlocked, through the Google Play Store though those looking to snag it on-contract can do so as well.
Unlocked, the Nexus 5 commands a $350 (16GB) or $400 (32GB) price tag. By comparison, the 16GB iPhone 5s off-contract is $650, much more expensive. Apple's plastic iPhone 5c costs $550 for a 16GB unlocked model.
Those looking to buy it on-contract will find a cheap price tag as well. The Nexus 5 costs, for example, $99 on-contract on Sprint. That's $100 cheaper than the 16GB iPhone 5s.
We're not sure how the iPhone 6 price will compare just yet but one analyst thinks he's figured it out.
Chris Caso of Susquehanna Financial Group thinks the price of the iPhone 6 could jump up as much as $100 from the price of the iPhone 5s. Caso sees "the potential for the iPhone 6 price point to move higher," adding, "we think Apple could get away with a $50 to $100 premium for a larger screen size iPhone 6."
If Caso is correct, it could mean that the iPhone 6, or at least one iPhone 6 model, could arrive with a price tag that's in the vicinity of the Galaxy Note 3, not the Nexus 5.

This article may contain affiliate links. Click here for more details.