iPhone 6 vs. Nexus 5: Early Look at What to Expect
Just a couple of weeks ago, Google announced, and released, its latest Nexus smartphone in the LG-made Nexus 5. Typically, Google only announces one Nexus 5 smartphone, per year, which means that there is a very good chance that the Nexus 5 will be competing against 2014's crop of smartphones including the rumored Apple iPhone 6.
Last year, in September, Apple announced the iPhone 5, its first 4G LTE smartphone and one that brought a larger 4-inch display to the table. Previous iPhone displays had only measured 3.5-inches in size. The device also featured a brand new design, one that removed the glass from the back of the device and replaced it with anodized aluminum.
The iPhone 5 was Apple's one big smartphone launch of the year and it was a device that the company entrusted to carry its battle standard into not only the holiday shopping season but into 2013 as well.
Despite the absurd number of Android-powered smartphones dotting the landscape, Google uses a similar approach to its Nexus smartphone line. Like Apple, it releases one high-end, premium Nexus smartphone per year and it counts on it to challenge the big name smartphones for a year or so. In November of last year, that phone was the Nexus 4, a device that launched to great fanfare and challenged the likes of the iPhone 5.
This year, the process repeated itself. Apple announced the iPhone 5s in September and Google, several weeks later, announced the Nexus 5, its current Nexus smartphone. The Nexus 5 is only a few weeks old which means that it's going to be around for awhile longer. And that means that's likely on a collision course with Apple's 2014 iPhone.
Rumors currently point to an iPhone 6 in 2014. Logic also points to an iPhone 6 in 2014 given that Apple typically moves from its 'S' model back to a number model. The Nexus 5, in our opinion, represents one of the very best Android smartphones on the market. And given Google's history of only releasing one per year, it should be on shelves for most of 2014.
With that in mind, we wanted to take an early look at how we think the Nexus 5 might stack up next to Apple's next iPhone, the iPhone 6.
Release Date
The Nexus 5 is already out on shelves. It's available in the Google Play Store and it's available through the three major U.S. carriers that house it on their network. Given that it was only released a few weeks ago, the Nexus 5 isn't going anywhere, anytime soon. It will be an option for smartphone shoppers for most of 2014 though not all of it.
Historically, Google has waited until the end of the year to debut its new Nexus smartphones and there is no indication that that will change in 2014. So at this point, we would expect the Nexus 5 to get discontinued ahead of the release of a Nexus 6 or whatever Google has up its sleeve for 2014. We would not expect that to take place at any point in the imminent future.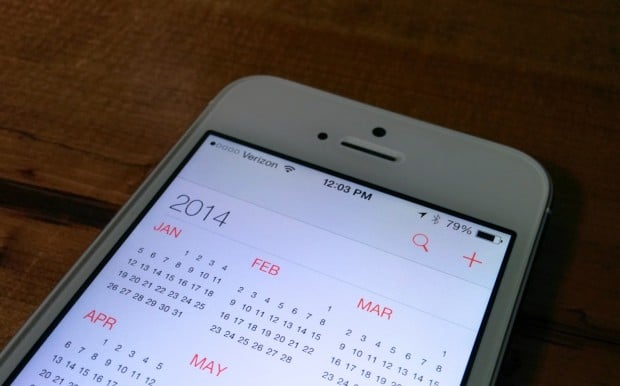 The most reliable sources state that the iPhone 6 will be arriving either in the summer or the fall. That should come as a surprise to no one given that Apple almost always announces, and releases, a new iPhone in the summer or the fall. If it's indeed the summer, we'd likely see it arrive at WWDC 2014 in June. If it's in the fall, at an event with timing similar to the iPhone 5s and iPhone 5 launches.
This means that we expect the Nexus 5 to be challenged by the iPhone 5s and iPhone 5c for the foreseeable future. And it means that those who are weighing the Nexus 5 against a possible iPhone 6 buy are going to be starring at the Nexus 5 for quite some time. We do expect these devices to be on shelves, together, at some point in 2014 but we're not expecting to see the next iPhone until June, at the earliest.
Design
Google decided to follow in the footsteps of the iPhone 4 and iPhone 4s with the Nexus 4 design. Instead of a plastic back like the Galaxy Nexus, Google and LG installed a glass back to go along with the plastic. While it offered good looks, it didn't offer good durability. iPhone 4 and iPhone 4s owners around the world can attest to the same.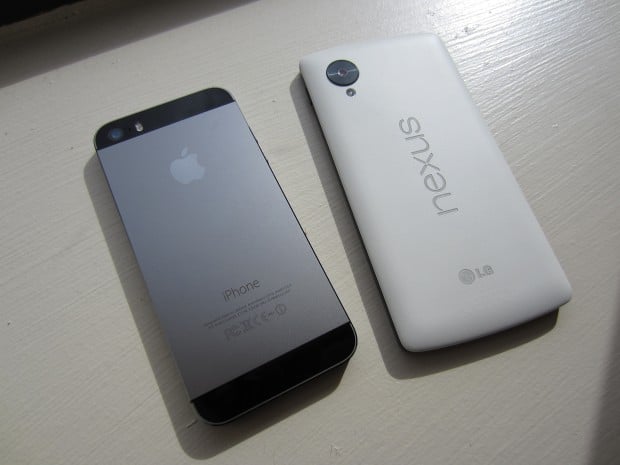 So it wasn't too surprising to see the Nexus 5 arrive with a redesign. Not only does the Nexus smartphone design change year-after-year, but the glass back just wasn't cutting it. Instead, the Nexus 5 comes with a plastic design similar to the Nexus 7 in that it features a black matte back that is as sleek as it is durable. It may be plastic but it doesn't feel as cheap as a Galaxy S4 design. Nor does it feel as premium as the design found on the iPhone 5s.
The Nexus 5 design is slim and lightweight with a form factor that measures 8.59mm thin and weighs about 130 grams. This is par for the course when it comes to flagship smartphone models. The device does not have a removable back nor does it have a microSD card slot, features that are often found on plastic Android devices.
iPhone 6 design rumors are non-existent. It's admittedly far too early for them. However, that doesn't mean that we don't have some idea about how the iPhone 6 design will pan out.
Instead of a redesign every year like Google, Apple offers a redesign once every two years. For example, the iPhone 5s kept the same design as the iPhone 5. This means that a redesigned iPhone 6 is likely. What it entails, we can't be sure but we know that Apple won't backtrack, meaning, there's no going back to plastic. We expect it to use premium build materials and feature a slim and lightweight design like the previous two models.
Apple designs never feature a microSD card slot nor do they feature removable backs. Zero chance they move to these with the iPhone 6. We also expect the iPhone 6 to employ a larger display which means that the overall footprint should be closer in size to the Nexus 5.
In summary, we think the iPhone 6 will use better build materials, feature comparable dimensions, and come with the same limitations (microSD, removable back).
Display
The Nexus 5 has one of the best displays in the business. Like many of 2013's top smartphones, it features a display with 1920 x 1080 resolution, that means 1080p quality, and 445 pixels-per-inch. The 5-inch display offers gorgeous looking content, superb viewing angles and the size is perfect for watching a movie or playing a game on the go.
There's a reason why the Galaxy S4 display moved to 5-inches and why HTC is rumored to be making a flagship with a 5-inch display. The screen size seems to be the sweet spot for consumers.
For many years, Apple enthusiasts and those looking at buying an iPhone have been calling for a large screen option. And while there have been rumors of a large screen iPhone before, they have never been as prevalent.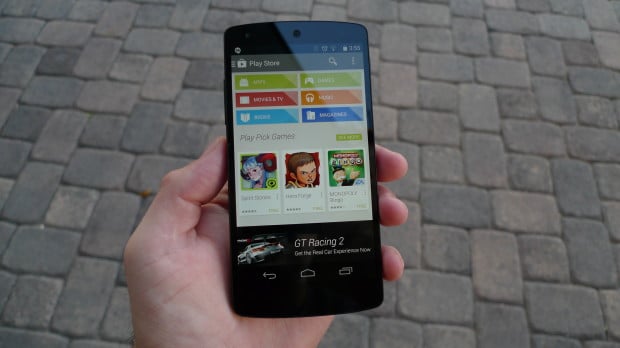 Rumors, including whispers from The Wall Street Journal, have claimed that the iPhone 6 will finally introduce the big screen that shoppers have been looking for for years. Rumors have centered around a 4.5-inch to 5-inch display with a recent report from Taiwan Industrial and Commercial Times claiming that the iPhone 6 could come with a 4.8-inch display. That report isn't the only one that has proclaimed that 2014 will be the year that Apple bumps the screen size.
NPD DisplaySearch, which accurately predicted the iPad 3′s Retina Display, claims that Apple is working on two different display sizes including a 4.7-inch 1280 × 720 display and a 5.7-inch 1920 × 1080 display. Well respected KGI Securities analyst Ming Chi Kuo believes Apple is planning an iPhone 6 with a 4.5-inch to 5-inch display in 2014. It was Kuo who accurately predicted many of the iPhone 5s features ahead of the launch.
While nothing is set in stone, it's hard to argue with those sources at this point, sources that have aligned around a larger iPhone 6 display. It's clear that there is a market for a large screen iPhone, the Galaxy Note series has sold extremely well, and we can't bet against Apple finally bowing to demand in 2014. There are simply just too many signs.
We expect a display that is similar in size to the Nexus 5's 5-inch display and a display that is similar in quality. The Retina Display has been among the best for years now and there is simply no way that Apple fails to keep pace with the technology that is out.
Specs
Google always outfits its Nexus smartphones with the year's best hardware and so it wasn't shocking to see the Nexus 5 arrive with an 8MP camera with Optical Image Stabilization, a Qualcomm Snapdragon 800 quad-core processor, 2GB of RAM, and a 2,300 mAh battery that supplies solid battery life.
These are powerful enough to handle intense multitasking, play the best looking games, and handle average tasks like checking email and surfing the web, with ease. Average consumers will find that the Nexus 5 delivers more than enough horsepower to suit their basic needs. The hardware is appealing, all around.
Like the Nexus 5, the iPhone 6 will be powerful. Apple upgrades its iPhones every year with new technology with a focus on the processor and camera. Apple also works to ensure fantastic battery life, even when the device is being used on a carrier's 4G LTE network. So, we expect the iPhone 6 to feature upgrades over the iPhone 5s.
It should have a camera that's better than the 8MP iSight camera on the iPhone 5s. Patents point to possible Lytro-like features but patents are unreliable. Nonetheless, expect a bump in quality that will easily compare to the Nexus 5 camera. As is, the iPhone 5s is comparable to the Nexus 5 camera.
We should also see a processor bump. The iPhone 5s uses a 64-bit A7 chip, the Nexus 5 does not have 64-bit support, and we could see an even better processor emerge on the iPhone 6. And we expect the device, despite all of these possible high-end upgrades, including a larger screen, to deliver battery life that is, at least, comparable to the Nexus 5, if not better.
One would expect a phone from 2014 to be more powerful than a phone in 2013 so expect the iPhone 6 to deliver better all-around performance.
Software
The Nexus 5 was the first device to Android 4.4 KitKat, Google's brand new piece of mobile software that we detail in the in depth hands-on video below.
Unlike non-Nexus smartphones, the Nexus 5 runs a vanilla version of Android 4.4 KitKat. That means, LG's fingerprints aren't on the device. That means that it's a pure Google experience rather than one dependent on a user interface from the manufacturer. For instance, Samsung's Galaxy S4 runs Android but it's the TouchWiz UI that is front and center.
Being a Nexus device also means that the Nexus 5 will get future updates faster than other devices. While other devices must wait for carrier approval, the Nexus 5 will get its updates straight from Google itself. This ensures fast bug fix updates. When the iPhone 6 arrives, we expect the Nexus 5 to be running a new version of Android.
Google usually announces a new version of Android at the mid-year, possibly to take away steam from an iOS announcement, and with Nexus 7 3 rumors swirling, we're betting on another summer Android announcement, maybe a new version of Android KitKat.
Whatever the case, the iPhone 6 will be running a piece of software vastly different than the Nexus 5's software. iOS 8 is likely going to be the operating system on board and it will not only look different than the Nexus 5's software, it will come with a host of different features. For instance, the camera applications will offer different features and a different look. That will be the case with many applications.
The iPhone 6 will also get updates directly from Apple. However, while the Nexus 5 will get 18 months of support, the iPhone 6 will more than likely get three years of support. Apple tends to support its devices for three years before kicking them to the curb. That means that there is the potential for the iPhone 6 to outlive the Nexus 5 by more than a year.
Carriers
The Nexus 5, like all Nexus smartphones, arrived for a select few carriers. AT&T, Sprint and T-Mobile are the only places that offer the Nexus 5. Verizon, unfortunately, will never get the Nexus 5. And maybe that's for the best.
The iPhone 6 will more than likely have a wide range of carriers to choose from. AT&T, Sprint, T-Mobile, U.S. Cellular and Verizon all offer the iPhone 5s so its likely to land at those carriers and we have also seen Apple branch out to encompass a number of small, regional carriers in the United States.
We expect nothing less than a wide range iPhone 6 launch in 2014.
Price
Google's Nexus 5 is one of the cheapest unlocked devices around. It commands $350 for the 16GB model and $400 for the 32GB version. By comparison, an unlocked iPhone 16GB costs $650. That's a massive price difference.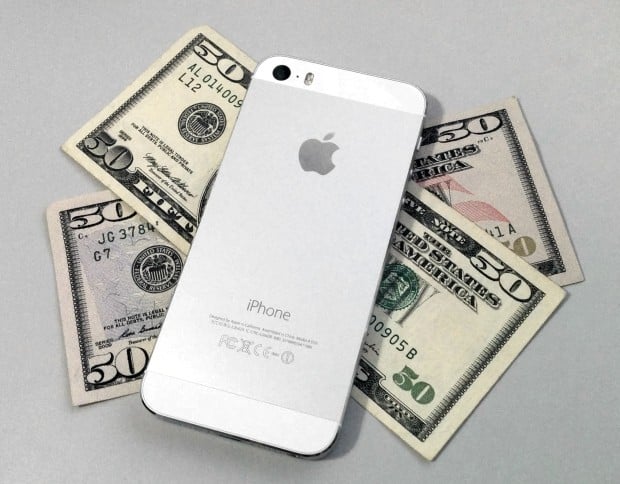 We've seen an analyst predict an iPhone 6 price jump thanks to the new technology that is said to be on board. Chris Caso, analyst with Susquehanna Financial Group, told Investors Business Daily that "the potential for the iPhone 6 price point to move higher, to avoid the (profit) margin erosion that occurred when iPhone 5 launched," adding, "we think Apple could get away with a $50 to $100 premium for a larger screen size iPhone 6."
Apple has shown that it's not afraid to bump its price points. It did so with this years iPad Mini with Retina Display. Even if the price does change, it's probably not going down which means that the Nexus 5 will still be cheaper than the iPhone is, unlocked. On-contract, it will also be cheaper. Sprint, for instance, currently sells the Nexus 5 for $50 on-contract, a price that likely won't increase as the months go on.

This article may contain affiliate links. Click here for more details.