iPhone 6 vs. Samsung Galaxy Note 4: Rumor Breakdown
It appears that two of the most heavily rumored devices of the year, the Apple iPhone 6 and the Samsung Galaxy Note 4, are on a collision course this fall. And while we still don't have all of the details regarding these two flagships, we want to breakdown what we know so far about the new iPhone release, the iPhone 6, and Samsung's new Galaxy Note, the Galaxy Note 4.
Apple and Samsung continue to wage battle in the smartphone market. And while Samsung has been using brute force tactics in an attempt to topple Apple's smartphone empire, Apple has shown that it's unwilling to flood the market with its products. Instead, the company has stuck to its guns, allowing Samsung to release several versions of its flagship smartphones while it stays the course with its iPhone 5s, iPhone 5c and iPhone 4s.
Later this year, the company is expected to up the ante. Rumors suggest that Apple will release at least one new iPhone in the form of the iPhone 6, a larger, redesigned smartphone that comes equipped with a number of high end features. Samsung, of course, isn't going to idle. It's also rumored to be bringing another big name smartphone to market.
iPhone 6 rumors have been as rampant as Samsung Galaxy Note 4 rumors. In fact, over the past few weeks, Galaxy Note 4 rumors have dominated the headlines as Samsung moves closer to its second flagship launch of the year.
With the fall fast approaching and the iPhone 6 and Galaxy Note 4 seemingly headed to battle in just a few short weeks, consumers are starting to weigh their options and both the iPhone 6 and Galaxy Note 4 represent massive blips on the radar.
Neither device is confirmed but there are enough credible rumors out to make an early comparison and breakdown the latest regarding these two flagship devices. Here, in an effort to help prepare potential buyers, we take a look at how iPhone 6 rumors are stacking up with the latest Samsung Galaxy Note 4 rumors.
Design
Both the iPhone 6 and the Samsung Galaxy Note 4 are expected to feature new designs. And while the iPhone 6's alleged design has been out in the open for several months now, the Galaxy Note 4 design is still a bit of a mystery.
Leaks, rumors, and Apple's history all point to a redesigned iPhone 6. Apple typically keeps its designs around for two years before coming up with something new so it's no surprise that iPhone 6 rumors universally point to a brand new look.
While nothing is confirmed, iPhone 6 design leaks have centered on some significant changes, changes that should give it an advantage over the iPhone 5s and perhaps, the Galaxy Note 4 as well. Rumors hint at a slimmer design, perhaps as thin as 7mm. The iPhone 5s is one of the thinnest smartphones on the market and it measures just 7.6mm thin.
Other changes are said to include a sapphire display in the front for added protection, Touch ID fingerprint sensor for added security and convenience, and tweaks to the device's button alignment. While the video below may not offer an exact comparison, it will give consumers idea of what to expect from Apple's next iPhone.
Those that want a little more realism can take a look at the video below. This iPhone 6 concept is based on the latest iPhone 6 design rumors and it offers more detail than the alleged iPhone 6 mockup seen in the previous video.
Unlike Apple, Samsung typically swaps out its designs every year as opposed to every two years. And unlike Apple, Samsung typically manages to keep its designs under wraps until just before the launch event or until the launch event itself. Translation: We expect the Galaxy Note 4 to come with a design that's different than the Galaxy Note 3's but at the moment, we don't have much to go on.
Galaxy Note 4 rumors point to two major changes to the design, both of which are found on the Galaxy S5. First, a new sensor for added security. Rumors have pointed to either a fingerprint sensor or Retina scanning technology. Given that the Galaxy S5, and iPhone 5s, feature fingerprint sensors, the Galaxy Note 4 will almost certainly have something on board.
Rumors also point to an IP67 certification which would make it water and dust resistant like the Galaxy S5 design. Both of these features make a lot of sense, especially the fingerprint reader.
The reliable evleaks says that the Samsung Galaxy Note 4 will come in the same four colors as the Galaxy S5. That means gold, white, blue, and black. The iPhone 6 is rumored to have gray, gold and perhaps black though those colors remain unconfirmed at this point.
As for the overall design, that remains in the shadows. Samsung executives have continually hinted at a brand new form factor and rumors suggest that the company could be talking about a three-sided display. Recent reports indicate that this Galaxy Note 4 model could be real but that it won't be the mass produced version of the Galaxy Note 4. The mass produced version is expected to be your standard, flat, Galaxy Note.
Display
This is where things get interesting. For years, the iPhone has been at 4-inches or below while Android smartphones have ballooned up to 4.7-inches and above. Apple's current iPhone, the iPhone 5s, sports a 4-inch display while the Samsung Galaxy Note 3 offers users a much larger 5.7-inch screen. The Galaxy Note 3's display isn't typical but it dwarfs the much smaller iPhone. The relationship between the Galaxy Note 4 and iPhone 6 could be much different.
The iPhone 6 design is rumored to be punctuated by a brand new higher-resolution Retina Display that will reportedly measure 4.7-inches and 5.5-inches. The 4.7-inch model has leaked out extensively in the past few months while the 5.5-inch model has been much more reserved.
From what we've seen, the 5.5-inch iPhone could be a lot larger than the iPhone 5s. However, the smaller 4.7-inch model may not be that much bigger than iPhone 5s and could potentially be much smaller than the Samsung Galaxy Note 4.
At this point, the Samsung Galaxy Note 4 is expected to retain the 5.7-inch size but pair it with QHD resolution.
A recent shipping manifest from Zauba, discovered by SamMobile, appears to confirm the 5.7-inch screen size of the Galaxy Note 4′s display. Furthermore, a User Agent Profile string for a SM-N910A, presumed to be the AT&T version of the Galaxy Note 4, recently showed up on Samsung's website with a QHD display on board.
Samsung recently installed a QHD display on a Korean variant of the Galaxy S5. The company is so excited about the display that it recently issued a lengthy blog post trumpeting the benefits of the new technology and how it's superior to the regular old full HD display on the regular Samsung Galaxy S5. Yup, it inadvertently dissed its own flagship.
As we noted in our LG G3 review, the addition of a QHD display would bring some noticeable improvements to the table, primarily for games, movies and reading. It's more than just marketing and the video below will give you some idea about how a QHD display would work on the Galaxy Note 4.
So here are the key things to know:
Apple's iPhone could offer two screen sizes as opposed to one on the Galaxy Note 4.
Galaxy Note 4 display will almost certainly be larger than one iPhone 6. The 5.5-inch model could be close to it in size though without photos of the Galaxy Note 4, we can't make that distinction.
The iPhone 6 is expected to have a higher resolution Retina Display that could help it keep pace with the Galaxy Note 4's all but confirmed QHD display.
Specs
While the displays and designs will be a focus of both the iPhone 6 and Galaxy Note 4, both of these devices will come equipped with a number of other specifications to help bolster their spec sheets. Here, we put the latest rumors together. These are partial spec sheets but they should give you an idea about what to expect from each device.
iPhone 6
iOS 8
4.7-inch/5.5-inch Sapphire Displays
16GB / 32GB/ 64GB / 128GB storage options
3.2MP front-facing camera
802.11ac WiFi
Touch ID Fingerprint Sensor
Samsung Galaxy Note 4
Qualcomm Snapdragon 805 and/or Exynos processor (64-bit processor rumored)
5.7-inch QHD display
Fingerprint Sensor/Retina Scanner
Software
The iPhone 6 will likely run iOS 8, an operating system that will look and perform much different than the Android software found on the Samsung Galaxy Note 4. iOS 8 doesn't look a whole lot different than iOS 7 but it will come with a number of notable changes including improved Notifications, improvements to photos, and more.
As for the Galaxy Note 4, we fully expect it to run the latest version of Android. Whether that's Android 4.4.4 KitKat or Android L, we can't be sure. Android 4.4.4 KitKat is out right now and Android L should be out later this year though Android L rumors point to a release late in the fall, after the Galaxy Note 4 launch.
Whatever the case may be, the Galaxy Note 4′s software will likely look and perform differently than iPhone 6's thanks to its bundled S Pen stylus, one of the unique aspects of the Galaxy Note series. Here is a list of four possible features we might see on the Galaxy Note 4:
Smart Fingerprint –  It wasn't fully detailed but it's assumed that it has something to do with being able to customize a fingerprint reader for certain actions.
Multi Network for Booster –  Could be similar to the Download Booster feature on the Galaxy S5 that combines Wi-Fi and cellular data for faster download speeds.
Swipe to Launch Motion Launcher –  Could be similar to Motion Launch on the HTC One M8.
Aqua Capture – Possibly similar to the Aqua Mode found on the Samsung Galaxy S4 Active. Aqua Mode allowed Galaxy S4 Active users to take photos underwater.
Price
Rumors tell us that if Apple does release two iPhone models, the larger iPhone 6 will be more expensive than the 4.7-inch model. Analysts continue to point to a $100 price difference between the two with rumors pointing to $199.99 and $299.99 price points. This makes sense given how Samsung has structured its Galaxy S and Galaxy Note price points.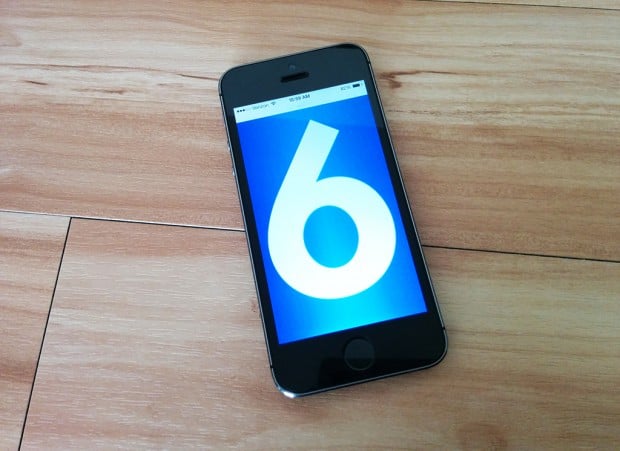 Samsung Galaxy Note 4 price rumors are non-existent at this point though there is a very good chance it will be priced at its usual $299.99 on-contract price point.
Release Date
Samsung's last three Galaxy Notes, the only Galaxy Notes the company has ever launched, were all announced in Berlin, Germany during the IFA trade show. IFA 2014 is set to kick off on September 5th, perfect for a Samsung Galaxy Note 4 launch date.
In fact, just about every rumor, every whisper that we've seen has pointed at IFA 2014 for the Galaxy Note 4′s Unpacked event. Over and over, we're seen rumors point to September with the latest coming from a SamMobile report that puts the Galaxy Note 4 at IFA with a brand new VR headset, expected to be called Gear VR.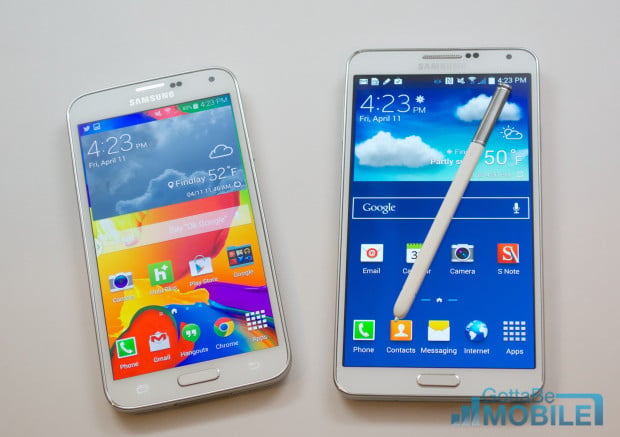 Android Geeks, the site that accurately leaked last year's Galaxy Note 3 launch date, claims that the Samsung Galaxy Note 4 will launch on September 3rd, two days before the start of IFA. Of course, the exact date isn't important here. What's important is the window and all signs are pointing to a window that spans across five days: September 1st, September 2nd, September 3rd, September 4th, and September 5th.
A recent report out of Korea suggests that production on the Galaxy Note 4 will start in July. The early production could perhaps lead to a release date soon after the device's launch in September. A specific Galaxy Note 4 release date has not been rumored just yet but it's clear to us that Samsung is aiming to get this device out on shelves as fast as it possibly can.
iPhone 6 release date rumors also center around the month of September. The latest iPhone 6 release rumors once again put the larger 5.5-inch model outside of the initial launch date with a launch potentially coming in 2015 rather than in 2014. This differs from most rumors which put both devices inside the current year.
While the 5.5-inch model could be delayed, sources agree that the 4.7-inch iPhone 6 will be out ahead of the holiday shopping season. September 19th has been thrown around as a possible release date though that, like many other iPhone 6 rumors, remains unconfirmed.
Quick Advice
Here are, in our opinion, the most important things to know:
Both are rumored for September.
Both are expected to feature some big time upgrades including changes to the design, processor, camera and display.
The iPhone 6 and Galaxy Note 4 will run two different pieces of software, iOS 8 and Android.
These two devices are almost certainly going to be two of the best devices of the year and at this point, given how close we are, we suggest waiting a few weeks before diving in with a new smartphone. Not only will these two devices be quality but we should see them force some price drops upon other devices like the iPhone 5s and Galaxy Note 3.

This article may contain affiliate links. Click here for more details.